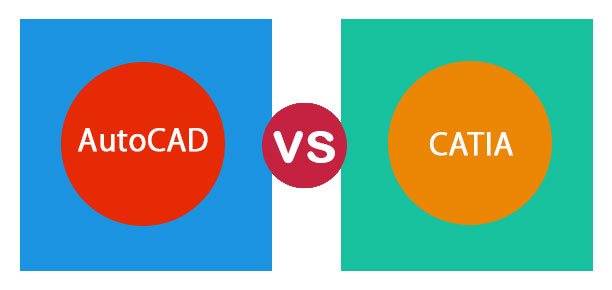 Difference Between AUTOCAD and CATIA
Drawing has played an important role in the progression of mankind from the early ages of cave dwellers to the contemporary world of Skylab and Space shuttle. Early efforts to refine the physical means of well being gave a drive to the onset of the "art of engineering". Without drafting, it would have been demanding for a man to evolve and record the boundless riches of engineering knowledge that has been assembled to date. A drawing can be defined as a visual or a pictorial rendition of a real object, and graphics can be termed a demonstration of ideas by line or etching. So drafting can be considered a visual language that uses pictures drawn bylines to convey views and ideas. AutoCAD vs CATIA is the tools that can help in designing and drafting. The CAD (Computer-Aided Design) can be termed as an interactive process, with graphics playing a vital role. A smooth interchange of information between the computer and the designer leads to a good and efficient CAD system. CAD allows you to fulfill design and drafting activities using a computer. AutoCAD is a CAD software package that permits you to create designs and produce drawings to document those designs.
The first release date of AutoCAD was in December 1982. It can be used to create rough idea diagrams, provides accuracy, productivity for repetitive operations. The creation of a 2D or 3D computer model is possible with AutoCAD. It can be used to provide manufacturing equipment such as mills, lathes, laser cutters, or 3D printers with analytical data to engineer a product. As a first CAD system, AutoCAD provides you with a good foundation for learning other CAD packages. It delivers you with large capabilities in the CAD domain. As it is the most widely used CAD software program, it gives you a great likelihood of being able to share CAD files and associated data and information with your clients, vendors, and colleagues. CATIA is a major product development solution and CAD software for all manufacturing organizations, from OEMs to small self-reliant producers through their supply chains.
The range of CATIA potential allows it to be applied in a broad variety of industries, such as industrial machinery, automotive, aerospace, electrical, electronics, shipbuilding, and consumer goods, including design for such products as clothing and jewelry. It was first released in 1977. It provides tools for the collective development of a product such as a car or a bicycle. Using these tools enables you to interact with others on the design team on the same design. The data and work can be shared concurrently on the same design by the design team. CATIA permits you to do this by saving all files on a common database so that people with the right permissions may edit and access any part of the product. As a solid modeling tool, it connects the 3D parametric features with 2D tools and addresses every design through a manufacturing process.
Head to Head Comparison Between AUTOCAD and CATIA (Infographics)
Below is the top 9 difference between AUTOCAD vs CATIA

Key Differences Between AUTOCAD and CATIA
Both are popular choices in the market; let us discuss some of the major difference:
Drawing in AutoCAD is powerful and easy to create. Creating a drawing is a difficult task in CATIA as it is an advanced design software with engineering capability.
It is not possible to design mechanical components with higher accuracy in AutoCAD, while in CATIA, it is possible.
CATIA has features like Assembly, sheet metal design, weldment, while AutoCAD does not have these features.
AutoCAD cannot calculate lifecycle management, while CATIA can.
CATIA has mold design tools, while AutoCAD does not have them.
CATIA can perform simulation on any product. It is not possible in AutoCAD.
AutoCAD works with nonparametric technology, and CATIA works with parametric and Parasolid technology.
The latest version of CATIA can be customized using VB, C++, and CAA. While AutoCAD can be customized using AutoLISP, VisualLISP, VB, Dot Net, and C++. It supports file formats like.DWG and .DXF.
AutoCAD shows a plain and clean layout of the model, CATIA makes a design of a model in a 3D view.
AutoCAD is the most preferred and is the optimum choice for 2D drafting. Its 3D modeling is considered primitive compared to CATIA, which is a solid and efficient tool for 3D modeling and the most favored one for surface modeling.
AUTOCAD vs CATIA Comparison Table
Below are the 9 topmost comparisons.
Basis of Comparison 
AutoCAD
CATIA
User Interface
Black user interface
White user interface
Type
The CAD ( 2D and 3D (Simple) )
CAD, CAE & CAM
Tools and Features
Good for 2D modeling and drafting
Good for 3D modeling and surfacing
Application
Used in civil/architect and electrical field
Used in the automotive industry, aerospace industry
Cost
Cheaper than CATIA
Costlier than AutoCAD
Languages Supported
English, Dutch, Polish
English
Learning
Easier to learn
Difficult than AutoCAD
Integrations
Navisworks, Bing Maps,

Bentley Systems' MicroStation

Product Data Management (PDM), Product Lifecycle Management (PLM), and ERP systems
Community
Autodesk
Dassault Systèmes(CATIA Community)
Conclusion
AutoCAD is a computer-aided drafting software, and CATIA is a computer-aided designing software. AutoCAD is used for 2D drawings and drafting, and generally, it drafts images with the same archetype as the drawing done in engineering graphics. On the other hand, CATIA is powerful modeling software used to draw 3D designs. It also offers CAE (Computer-Aided Engineering) functionality, where you can apply analysis tools, though the functionality is only elemental. Architects and civil engineering students generally use AutoCAD to design the dimensions of a room or floor, whereas mechanical engineers use CATIA for 3D designs like tool design, car design, and many more.
CATIA allows customers to design shapes and reach top levels of surface experience with its 3D sketching, visualization features. Using CATIA, product developers can take a cohesive systems engineering approach. It is possible to do requirements engineering, define systems architecture, simulation, and detailed modeling to manage the composite development process. AutoCAD is still suggested to almost everyone because of its simplicity, and it also gives a glimpse of design engineering for beginners and provides an insight into the basics of design. It is a stepping stone for many upcoming designers in the making.
Recommended Articles
This is a guide to the top difference between AUTOCAD vs CATIA. Here we also discuss the AUTOCAD vs CATIA key differences with infographics and comparison table. You may also have a look at the following articles to learn more.