Updated July 5, 2023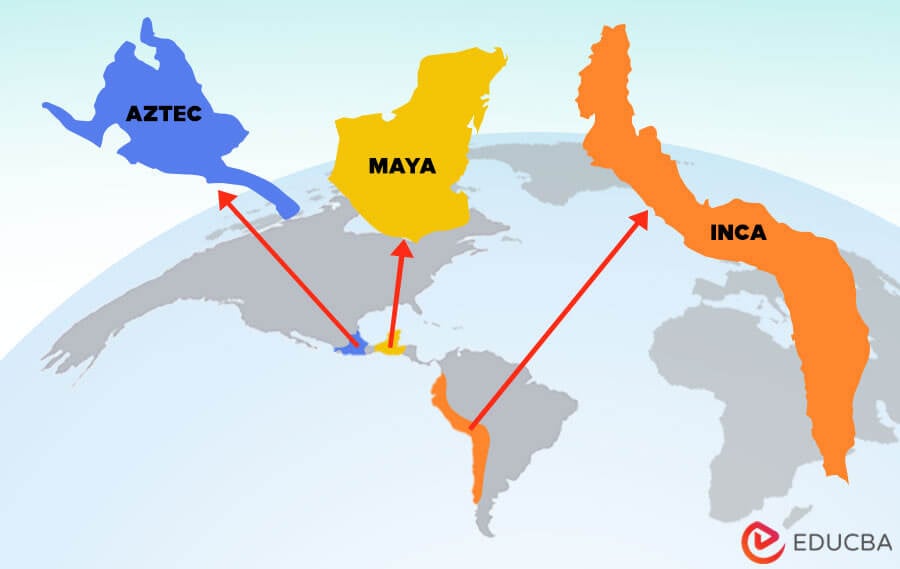 Difference Between Maya vs Aztec vs Inca
Maya, Inca, and Aztecs were three remarkable civilizations that thrived in the southern parts of America at different points in history. The Maya civilization, known for its amazing calendar that accurately predicted events such as floods and eclipses, holds a prominent place among these civilizations. The Aztecs and Incas also contributed immensely to America with their culture, heritage, power, and intelligence.
This article explores some captivating stories and notable differences between Maya vs Aztec vs Inca civilizations. But before we jump into their rich histories, let's first learn some basic facts about these three civilizations.
Maya Civilization
The Maya civilization appeared around 2600 B.C. in southeastern tropical parts of Honduras and El Salvador. The Maya people had a highly advanced culture, a developed writing system, and remarkable advances in mathematics, astronomy, etc. It was unique among the pre-Columbian civilizations in the Americas. They lived in farming villages on the Yucatan Peninsula and the southern highlands.
Aztec Civilization
The Aztecs, on the other hand, grew in the Valley of Mexico from 1300 to 1521 with a good environment for agriculture due to its moderate climate and rich natural resources. The Aztec capital, named Tenochtitlan, was the largest city. The Aztecs were famous for their farming, warfare, and temple-building skills. They were also famous for their diverse culture, beautiful sculptures, and advances in many other aspects.
Inca Civilization
Around the year 1200, the Inca civilization settled in central Peru of South America and also parts of Ecuador, Bolivia, Columbia, Chile, and Argentina. The Inca was the largest in pre-Columbian America, extending approximately 2500 miles (4000 km) from north to south. The population was around 16 million people. They were famous for their impressive stonework and temples made without mortar (a mixture of cement and sand).
Head To Head Comparison Between Maya vs Aztec vs Inca (Infographics)

Key Differences Between Maya vs Aztec vs Inca
The Maya were native people of Mexico and Central America, while the Aztec covered most of northern Mesoamerica between c.1345 and 1521 CE, whereas Inca flourished in ancient Peru between c.1400 and 1533 CE and extended across western South America.
Given below is a detailed explanation of each difference between the Maya, Aztec, and Inca civilizations.
1. Political Organization
Maya: Maya society was in city-states handled by a king or ruler. The kings held political and religious authority, believed to be divine rulers communicating with the gods. The city-states were usually organized hierarchically, with the ruling elite at the top and commoners at the bottom.
Aztec: The Aztec Empire was under the rule of an emperor, Huey Tlatoani, who held absolute power. Each province of the empire was under the governance of a local ruler appointed by the emperor.
Inca: The Inca Empire had a single emperor, the Sapa Inca, who was divine and held absolute power. The empire was a division of provinces governed by a local leader called an Apu, who reported to the Sapa Inca. The administrative and political center of the empire was Cusco, the capital city.
2. Social Structure
Maya: Maya society had a hierarchical social structure. At the top were the ruling elite: the king, nobles, and high-ranking priests. The ruling elite enjoyed privileges and controlled the wealth and resources of the civilization. Below them were the skilled craftspeople, merchants, and soldiers who played important societal roles. The major part of the population was farmers and laborers. Slavery was also practiced, with prisoners from war often serving as slaves.
Aztec: The Aztec society was hierarchical, with the emperor and nobles at the top, followed by the warrior class, merchants, artisans, and commoners. Slavery was also a part of Aztec society, although it differed from the chattel slavery system that treated people as materials in other civilizations. Slaves in Aztec culture had certain rights and could even own property.
Inca: The Inca society was of distinct social classes similar to the Aztec. The lowest class included slaves or individuals who the Inca had conquered.
3. Agriculture
Maya: Maya civilization developed advanced farming techniques to support their growing population. One of their contributions was the domestication and cultivation of maize (corn). Maya farmers also grew beans, squash, peppers, cacao, avocados, and various fruits. To maximize productivity, they had innovative agricultural practices, such as terracing, raised fields, and irrigation systems.
Aztec: The Aztecs constructed chinampas and artificial islands as fertile floating gardens. They cultivated maize (corn), beans, squash, and chili peppers.
Inca: The Inca cultivated crops like potatoes, maize (corn), quinoa, and beans. They also developed a system of irrigation and storage facilities to ensure a stable food supply.
They all had terrace farming by building steps into the mountainsides to create flat areas for cultivation.
4. Architecture
Maya: Maya architecture is well-known for its impressive pyramids, temples, palaces, ball courts, and observatories. These buildings were often constructed with stone and decorated with detailed carvings and murals. The Maya displayed advanced engineering skills, using corbel arches, slanting roofs, and exact alignment with astronomical phenomena.
Aztec: The most iconic design in Aztec civilization was the Templo Mayor, devoted to Tlaloc (the god of rain and fertility) and Huitzilopochtli (the god of the sun and war).
Inca: The Inca were well-known for their massive stone structures without mortar, using "ashlar masonry." The most famous example of their architectural achievement is Machu Picchu, a stunning city in the Andes Mountains.
5. Writing and Communication
Maya: The Maya developed a complex writing system using a combination of visual symbols and phonetic elements. They carved inscriptions on stone monuments, painted murals, and created intricate codices (books) made from bark paper. Maya writing recorded historical events, religious rituals, astronomical observations, and genealogical information.
Aztec: The Aztecs created codices and bark-paper books containing illustrations and glyphs that conveyed historical, religious, and astrological information. However, the Spanish destroyed most of these codices during the conquest.
Inca: The Inca civilization did not maintain a written language in the traditional sense. Instead, they used Quipu, strings of different colors and knots describing various numerical and symbolic meanings. The quipu recorded numerical and statistical data.
6. Religion and Beliefs
Maya: The Maya worshipped many gods and goddesses associated with natural elements, celestial bodies, fertility, and agricultural cycles. Maya priests, who held significant power and knowledge, performed complex ceremonies, including bloodletting and human sacrifice, as offerings to the gods.
Aztec: Aztec society worshipped gods and goddesses, with Huitzilopochtli and Tlaloc among the most important gods. Human sacrifice was a central aspect of their religious rituals, believed to confirm the sun's rising and the continuation of the world.
Inca: The Inca had a polytheistic religion, worshiping various gods and goddesses. Inti, the sun god, considered the Inca rulers' ancestor, was the most important deity. Other significant gods included Viracocha, the creator god, and Mama Quilla, the moon goddess.
7. Economy
Maya: The Mayans' complex economic system relied on trade, agriculture, and craft production. Trade networks connected Maya cities and extended beyond their region, facilitating the exchange of goods such as jade, obsidian, textiles, feathers, pottery, and luxury items. Maya society also had a market economy where they could buy and sell goods. Tribute and taxation systems were to support the ruling elite and maintain social order.
Aztec: The Aztec economy survived on agriculture, trade, and tribute. The empire had a vast trade network, exchanging goods such as cocoa beans, jade, feathers, and textiles.
Inca: The Inca empire implemented a labor praise system known as mit'a, where individuals owed compulsory labor to the state. The Inca also developed an extensive network of roads and bridges, known as the Inca Road or Qhapaq Ñan.
8. Calendar
Maya: The Maya had multiple calendars, including the 365-day solar calendar (Haab), the 260-day sacred calendar (Tzolk'in), and the Long Count. The Maya used their calendar system for tracking time, religious ceremonies, agricultural cycles, and star observations.
Aztec: The Aztecs had a complex calendar system. They used two calendars simultaneously: a solar calendar of 365 days called the xiuhpohualli and a ritual calendar of 260 days known as the tonalpohualli.
Inca: The Inca used a calendar divided into twelve lunar months and had a solar calendar. The Inca tracked time using celestial events such as solstices and equinoxes.
9. Mathematics
Maya: The Maya made significant advancements in mathematics, particularly in arithmetic, geometry, and astronomy. They had a positional numeral system that included the concept of zero.
Aztec: The Aztecs developed a sophisticated mathematical system that included positional notation and a base-20 number system. They made astronomical advancements, accurately predicting celestial events and using them in their religious rituals and architecture.
Inca: The Inca civilization had a decimal system and a concept of zero. The Inca had skills in measurement and engineering, as obvious in their precise stonework and agricultural terraces.
10. Arts and Craftsmanship
Maya: Maya art was diverse that depicted religious scenes, mythological narratives, historical events, and everyday life. They used various materials, such as jade, obsidian, clay, pigments, and feathers.
Aztec: Aztec art included various forms such as sculptures, pottery, jewelry, and textiles. They were famous for their elaborate stone carvings, colorful featherwork, and detailed gold and silver ornaments using sophisticated metalworking techniques.
Inca: The Incas had excellence in pottery, metalwork (particularly gold and silver), textiles, and stone carving with intricate designs and vibrant colors.
11. Education and Science
Maya: Education in Maya society was primarily for the elite and those destined for leadership roles. Maya scientists made significant advancements in astronomy, accurately predicting celestial events, understanding celestial bodies' movements, and developing a complex understanding of the cosmos.
Aztec: Education in the Aztec civilization was mainly within the family and community. Young boys and girls studied practical skills, religious rituals, and the cultural traditions of their society. They also had specialized schools for training priests, scribes, and warriors.
Inca: Young boys in the Inca civilization attended schools known as Yachay Wasi, where they learned farming techniques, engineering, and religious rituals. Girls received education at home, where they were taught domestic skills and weaving.
12. Healthcare
Maya: The Maya healers, often shamans or priests, combined herbal remedies with rituals and spiritual practices to treat illnesses. They practiced surgery, including trepanation (drilling holes in the skull), and knew anatomy and herbal medicine.
Aztec: Aztec medicine had a detailed understanding of medicinal plants and used them for treating various diseases. Healing practices included herbal remedies, surgical procedures, and spiritual rituals to restore health.
Inca: The Inca utilized herbal remedies, such as coca leaves, for medicinal purposes. The Inca also had a system of public health that included sanitary measures and the establishment of hospitals, known as kallankas, where individuals could receive medical treatment.
13. Decline and Conquest
Maya: The reasons for the fall of the Maya civilization are environmental factors like deforestation, soil erosion, and drought. Internal conflicts, political instability, and overpopulation may have also contributed to the decline. Due to the Spanish arrival in the 16th century, many Maya cities had already been abandoned, and the remaining city-states fell under Spanish conquest.
Aztec: The decline of the Aztec civilization began with the Spanish invasion led by Hernán Cortés in 1519. Factors such as superior weaponry, diseases brought by the Spanish, and the disruption of Aztec society contributed to their defeat. The Spanish exploited internal divisions within the empire, formed partnerships with local tribes who were enemies of the Aztecs, and ultimately conquered Tenochtitlan in 1521.
Inca: The Inca Empire faced its decline with the arrival of Spanish conquerors led by Francisco Pizarro in the early 16th century. The Spanish exploited the Incas with superior weapons and diseases like smallpox. The capture and death of the last emperor, Atahualpa, marked the end of the Inca and the beginning of Spanish colonization.
Maya vs Aztec vs Inca Comparison Table
| | | | |
| --- | --- | --- | --- |
| Category | Maya | Aztec | Inca |
| Geographical Location | Mesoamerica (Mexico, Guatemala, Belize, Honduras, El Salvador) | Mesoamerica (Mexico) | Andes Mountains (Peru) |
| Time Period | 2000 BCE – 1500 CE | 14th – 16th century | 13th – 16th century |
| Political Organization | City-states ruled by kings. | The centralized empire under the rule of an emperor. | An emperor ruled the centralized empire. |
| Social Structure | Is Hierarchical, with the ruling elite, commoners, and slaves. | Hierarchical with emperors, nobles, and commoners. | Hierarchical with nobles, commoners, and slaves. |
| Agriculture | Created advanced farming techniques, maize (corn), and terracing. | Used chinampas (floating gardens), maize, and terracing. | Famous for terrace farming, potatoes, maize, and quinoa. |
| Architecture | The civilization left behind pyramids, temples, carvings, and murals. | Their architectural marvel included temples, pyramids, carvings, and murals. | They were skillful in building stone structures, Machu Picchu, and temples. |
| Writing and Communication | Their writing techniques included a Hieroglyphic writing system. | They preferred a pictorial writing system and ancient manuscripts that no longer exist. | They came up with Quipu (knotted cords) for recording information. |
| Religion and Beliefs | Mayans worshipped many gods and encouraged human sacrifice. | Aztecs also worshipped many gods and followed human sacrifice. | Incas devoted themselves to multiple gods and were faithful to their divine emperor. |
| Economy | Carried out trading of jade, obsidian, textiles, feathers, pottery, and luxury items. | Had a vast trade network of cocoa beans, jade, feathers, and textiles. | They mainly focused on labor and agriculture. |
| Calendar | They designed highly accurate and multiple interlocking calendars. | Aztecs had their solar and ritual calendars. | They were famous for lunar and solar calendars. |
| Mathematics | Developed advanced arithmetic, geometry, and astronomy. | Developed base-20 number system, astronomy. | Had a decimal system and zero concepts. |
| Arts and Craftsmanship | The artists were skillful in sculpture, pottery, murals, and textiles. | The art of stone carvings, featherwork, and jewelry was remarkable. | They preferred to work for pottery, metalwork, and textiles. |
| Education and Science | They only had schooling for the elite with astronomy, mathematics, and sculpture. | The education was available from family and community education and specialized schools. | They focused more on practical skills and religious teachings. |
| Healthcare | The healthcare included herbal remedies, surgery, and spiritual practices. | They advanced in medicinal plants, surgery, and spiritual rituals. | They were surviving due to herbal remedies and public health measures. |
| Decline and Conquest | Their decline was due to environmental factors, internal conflicts, and the Spanish conquest. | The civilization fell due to the Spanish invasion, superior weaponry, and diseases. | The people could not survive the Spanish conquest, internal conflicts, and diseases. |
Frequently Asked Questions (FAQs)
Q1. Do any Mayans still exist?
Answer: Yes, there are still Mayans alive today. They comprise around six million individuals, making them the largest indigenous group in North America after Peru. The main Mayan populations are in Mexico, with significant groups such as the Yucatecs (300,000), Tzotzil (120,000), and Tzeltal (80,000).
Q2. What Indian languages did the Aztecs speak?
Answer: The Aztecs spoke the Nahuatl language, a member of the Uto-Aztecan language family. Nahuatl was the primary language of the Aztec and Toltec civilizations in central and western Mexico.
Q3. Is the Maya language still spoken today?
Answer: Yes, Maya is still spoken today. There are approximately 7 million speakers of Mayan languages, with around 4 million in Guatemala and 2.5 million in Mexico.
Recommended Articles
This has guided the top difference between Maya vs Aztec vs Inca. Here we also discuss the key differences between infographics and comparison tables. You may also have a look at the following articles to learn more –