Updated September 14, 2023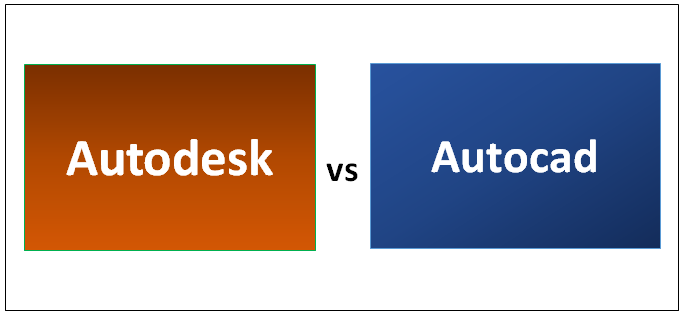 Difference Between Autodesk and Autocad
Autodesk, as a company, has gone through several distinct phases of life. The multinational software corporation, Autodesk, uses its software in various industries such as manufacturing, engineering, construction, media, entertainment, and more. It is based in America. It helped them to create a sophisticated graphic design. Autocad stands for Auto Computer-Aided Design. Autocad is a software program for creating blueprints in construction, architecture, and engineering for buildings, bridges, computer chips, and other projects. It had transitioned from a software publishing business utilizing the efforts of multiple independent programmers into a classic small company with a single product – Autocad.
There were the "Early Years", which covers the time from when Autodesk was founded as a loose programmer-centric collaborative in early 1982 to the company's initial public offering in 1985. The "Adolescent Years", during which the company grew rapidly but seemed to do so without any clear direction, and the "Mature Years. Having a strong creative process is rarely enough to have a good understanding of Autodesk's role in work. The latter phase began when Carol Bartz became president and CEO in 1992 and continues to the current time. Even under Bartz, there were several well-defined periods of growth as well as some fairly stagnant years.
Autocad is a 2-D and 3-D design and drafting software developed by Autodesk Inc. It was one of the first CAD programs for personal computers. The initial version, Autocad-80, was showcased at a conference in 1982 and could run on machines powered by Zilog Z80 or Intel 8080 microprocessors. Jamal Munshi purchased the first revenue copy, and over 1,000 copies were sold, grossing over $1 million. This success led to deprioritizing the development of other Autodesk packages.
Head To Head Comparison Between Autodesk and Autocad (Infographics)
Below is the top 5 difference between Autodesk vs Autocad

Key Difference Between Autodesk and Autocad
Autodesk is a company, Autocad is a product, Autocad is a flagship product from Autodesk company. GstarCAD is another CAD software that comes from another company; let us discuss some of the major difference:
Autocad is a General-purpose CAD software. So many people misunderstand it as only 2d software. That (2D v/s 3D in bare Autocad ) is a subject of a separate discussion, so we will discuss it may be in a blog post. Using Civil 3D, we can learn to upload a total station survey data, make a surface model of it in 3D, make a surface, make earth cutting & filling volume calculations.
Autodesk's Revit Architecture is a separate program from Autocad, designed for architectural building information modeling (BIM). It can import and export Autocad's DWG files.
Autodesk apps are available on iOS and Android, making design technology accessible to professionals and amateurs alike.
Autocad offers access to specialized toolsets for all new subscriptions, and eligible existing customers can opt into a One Autocad subscription. The Architecture, Engineering, and Construction Industry Collection will include the software in a forthcoming update. Autocad's account team assists in navigating the change and provides the necessary information to make the best decision for the business.
Autodesk mainly uses it for building design, infrastructure design, construction, product design, manufacturing, factory layout, modeling and animation, visual effects, and rendering.
Autocad in 3D Printing: For a 3D print of an object, one has to choose the object, get a virtual 3D representation and then feed it to the 3D printer. A 3D print has its own advantages for designers; this is where Autocad helps them. The software enables file compatibility, which allows designs to be exported to various preferred formats.
Autodesk vs Autocad Comparison Table
Below is the 5 topmost comparison:
| | | |
| --- | --- | --- |
| Basis of Comparison  | Autodesk | Autocad |
| Definition | It is a multinational software corporation. | Computer-Aided Design Drafting |
| Usage | 3D CAD modeling software designs visualizes, and tests product ideas. | Used to create blueprints for buildings, bridges, computer chips, etc., |
| Integration | With its complete Autodesk integrations in days, Wizards simplify data mapping and process automation. | Architecture is integrated with the Autocad design platform. The commands and features of both applications are blended within the user interface. |
| Products | Different types of products offering across multiple markets. | There are different types of products. |
| Features | 3D, Rendering, Print Studio, Modern documentation, etc., | 2D, text appearance, dimensions will create, etc., |
Conclusion
Autodesk drives future design and manufacturing technology development to accelerate product development and improve customer experiences. It incorporates materials, processes, costs, and manufacturing processes to make impossible designs possible, promoting innovation. Teams can work from a common data environment that connects design and manufacturing workflows throughout the product cycle. The studio combines product development and automatic design to reduce errors and iterations, delivering better products to customers.
Autocad functionality is getting too far away from without. In this scenario, the business plan changes from perpetual to subscription license manager changes would be made to hopefully simplify the processes of managing mixed perpetual/rental software environments, while many of us work in environments where 3D tools such as inventor, solid works, Revit means we don't use Autocad files, or we deal with contractors/consultants who can use Autocad. It pays to stay informed about Autocad's gradual evolution into a more web-enabled tool. Developing hardware and software for both rapid prototyping and manufacturing will change manufacturing, marketing, and business processes.
Improvements in hardware like 3D printers, laser, and metal sintering will enable us to effectively produce complex parts, even in small series and from various materials like plastics, textiles, ceramics, or metal. Customers will purchase products as a license, and a 3D model will be downloaded from the internet and manufactured on hardware connected to a local store or home computer. The time needed to deliver a product to the market will decrease further. It's also useful as special software for transferring CAD files (as PRO-E, SolidWorks ) to CNC machines. After modeling and drawing come programming, it is easier to understand CNC machines to make designed models as solid objects. In 2019, the software included industry-specific toolsets; improved workflows across desktop, web, and mobile; and new features such as DWG™ compare.
Recommended Articles
This has been a guide to the top difference between Autodesk vs Autocad. Here we also discuss the Autodesk vs Autocad key differences with infographics and comparison table. You may also look at the following articles to learn more –