Updated May 2, 2023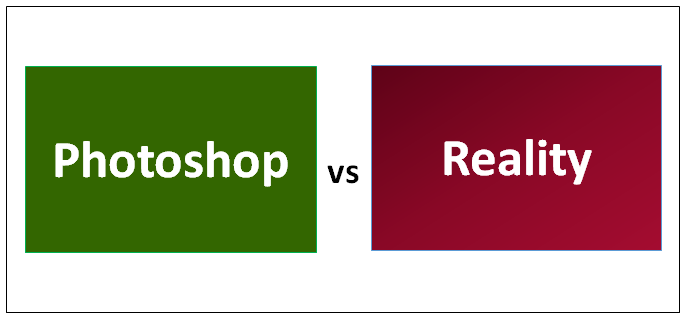 Difference Between Photoshop and Reality
Photoshop is software for editing and manipulating graphics, Photo editing, image editing, etc. Adobe Photoshop is a raster graphics editor that works on pixels and Vector graphics. It can edit a raster image in multiple layers that support transparency and are available as masks. In reality, when we click a picture, we get an image with the actual figure, shape size, scenery, and background; everything is real, i.e. any photographer clicks an image for the newspaper, they can adjust the camera position, fix the lens, zoom in and zoom out, posed people and adjust brightness and contrast up to a certain limit only.
Photoshop
Americans developed Photoshop software in 1987; later, they sold the license to Adobe in 1988. So first official version of this software, Photoshop 1.0, was released in 1990.
Now that time, Adobe Photoshop has become a synonym for image editing.  They support alpha and various color models. It can edit or render text, 3D graphics, vector graphics, and video. This software supports operating systems Mac OS, Windows, and Linux. Photoshop support 26 languages. Photoshop license available on a rental basis. Creative Cloud offers various associated software that comes under the creative cloud (cc), like Adobe Image Ready, Adobe Fireworks, Adobe Bridge, Adobe Device Central, and Adobe Camera Raw.
Adobe is also planning to launch a full version of Photoshop for iPad by 2019.
Besides Photoshop, Adobe also launches various supportive tools like Photoshop Element, Photoshop Lightroom, Photoshop Express, Photoshop Fix, Photoshop Sketch, and Photoshop Mix.
This software is mostly used by professionals like photographers, Image Editors, Graphics designers, Web designers, 3D Artists, etc.
The main application of Photoshop.
Photo editing like fixing colors, adding effects, controlling noise, and saturation, fixing brightness contrast, and touching up photos. Creating high-quality graphics, posters, banners, patterns, and texture designs for politics and social media, designing quote images, Logo design and branding, correcting picture mistakes, light deformed shapes, creating movie posters, book covers, and many more things.
Photoshop files save as in.PSD and.PSB extension format, PSD stands for Photoshop document. PSD files' height and width limit is 300,000 Pixels, and the length is 4 EB. This file format can be exported to any other Adobe package software.
Photoshop Features can be extended by adding some Adobe or third parties plugins, providing an additional effect. Plugins act as a catalyst for Photoshop.
These are some plugins developed by Adobe.
Filter Plugins, Import Plugins, Export Plugins, File format Plugins, Automation Plugins, Selection Plugins, and Parser Plugins. Adobe Camera is a raw plugin supplied by Adobe free of cost. The most popular plugins are Filter Plugins which are available under the filter menu in Photoshop.
Many popular companies also developed plugins.
Color correction,
Special effect,
3D effect plugins,
Photoshop Versions
Photoshop had launched its version in numbers starting from 0.07, 0.63, 0.87, 1.0….7.0 end this series by 2002. Later on, they launched their version in CS format, starting from CS1 (8.0) to CS6 (13.0) end this series by 2012.CS stands for Creative Suite.
Afterward, adobe launch in CC format, starting from CC (14.0) to CC (19.0) by 2018.CC stands for Creative Cloud. The most recent version of this software is CC (20.0), launched by Oct 2018.
Reality
We always look in the popular magazine for models, singers, actresses, actors, players, and politicians various personalities and scenes, so what we think about these?
There are various questions that come to mind.
How Cool?
How Cute?
What an amazing personality?
What a lovely picture?
What beauty?
Is it all real??
"NO''
These all are not real these are photoshopped.
The photographer more focuses on the picture, but at the same time, if the photographer shoots a picture for the wedding or modeling purpose, then he will try to add some extra effort through the available possible tools in cameras. Maybe he tries more power lens, maybe he adjusts brightness and contrast or clicks to different pose, but is it sufficient to get a better picture maybe not; these images would be better if we photoshopped these pictures on any software. Normally in all smartphones, we have software or app to improve our picture quality, edit photos, change the background, and many more things to do. So what we click through the normal camera is a real photo and what we get after passing through Photoshop software is a photoshopped photo.
Head to Head Comparison between Photoshop and Reality (Infographics)
Below are the top 11 differences between Photoshop vs Reality:

Key Differences between Photoshop and Reality
Both are popular choices in the market; let us discuss some of the major differences:
Adobe Photoshop
Adobe Photoshop is most widely used for image editing purposes.
Photoshop has many filters like brightness, contrast, Frame tool for easy masking, etc.
Multiple Undo
Usability improvements
Live blend mode previews
Symmetry mode
Color wheel
Home screen
Content-aware fill reimagined and top customer request
UI size preference
Better export as experience
Flip document view
Reality
Photography is an art that captures the moment with the help of some techniques and applications.
Generally, a camera device used for photography uses lenses to focus the light reflected or limited from the object into a real object on the light-sensitive surface inside a camera during a timed exposure.
You can rotate the camera according to view.
You can attach lenses according to your purpose
You set up the light.
You can adjust brightness, and contrast.
You can adjust the pose.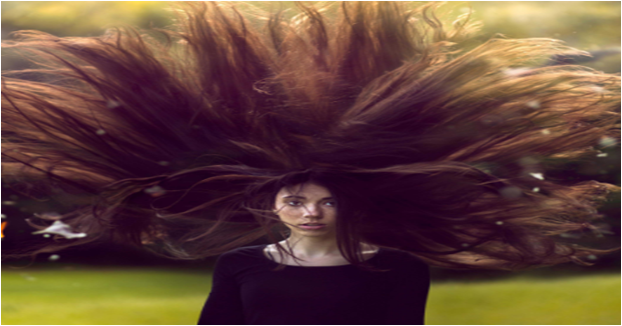 What do you think about this picture?
Is it real or photoshopped?
Of course, it is photoshopped; in reality, it's impossible.
Suppose a photographer has done to change the composition of the photo. You can detect the changes by looking closely for errors in lighting.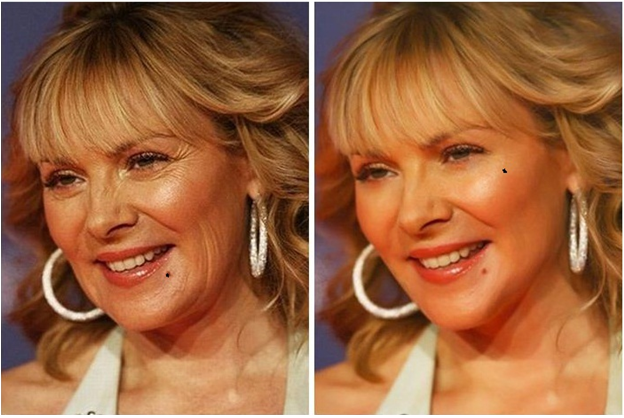 Reality                                                                      Photoshopped
Yes, this is a famous Hollywood actress Kim Cattrall.
You can easily differentiate between real and Photoshopped. You can observe wrinkles on the face in reality, but you cannot observe them in the photoshopped image.
In Photoshop, various filters and tools are available that have the ability to make any model or actress younger and more beautiful.
There are some ways to detect the photoshopped image.
Visual inspection
Lights and Shadows
Noise grains
Bent surfaces
Through web apps and Google search
Comparison Table Photoshop vs Reality
Below is the topmost comparison:
| | | |
| --- | --- | --- |
| The Basis of Comparison  | Photoshop | Reality (photography) |
| Definition | It is an image-editing software | It is an image-creating technique |
| Tools | They have various filters and tools to edit images | They have some basic tools like adjusting brightness, contrast, zoom in and out, etc |
| Merging | It can merge various images | It doesn't |
| Composition | You can adjust the composition | It doesn't |
| Imagination | You can add indignation that never been existed | In reality, it's not possible |
| Effect | You can add any effects | It doesn't |
| Distortion | An image may be distorted or doctored | It doesn't |
| Background | You can change the background at any time | In reality, it's not possible |
| Changing | You can change shape, size, skin, hair cloth accordingly in Photoshop | In reality, it's not possible |
| Base | Photoshop is an application | Reality is what we see in actuality or what the camera clicks; photography is an art. |
| Application | Everywhere to look image more glorious, we use this software Magazine, advertisement. | Newspaper, General photos, books, etc |
Conclusion
You can't differentiate between Photoshop vs reality (photography); they are a sequential processes. We just add some imagination, apply some filters, and adjust pictures through various tools available in Photoshop. In Photography vs Reality, Photoshop can be used for many different things, from basic photo editing to the creation of digital art, whereas Reality ( Photography ) allows you to enhance reality ( real pictures )
We get the real image through photography and make glorious adventures interesting and charming by applying filters in Adobe Photoshop.
Recommended Articles
This has been a guide to the top difference between Photoshop vs Reality. Here we also discuss the key differences between infographics and comparison tables. You may also have a look at the following articles to learn more.