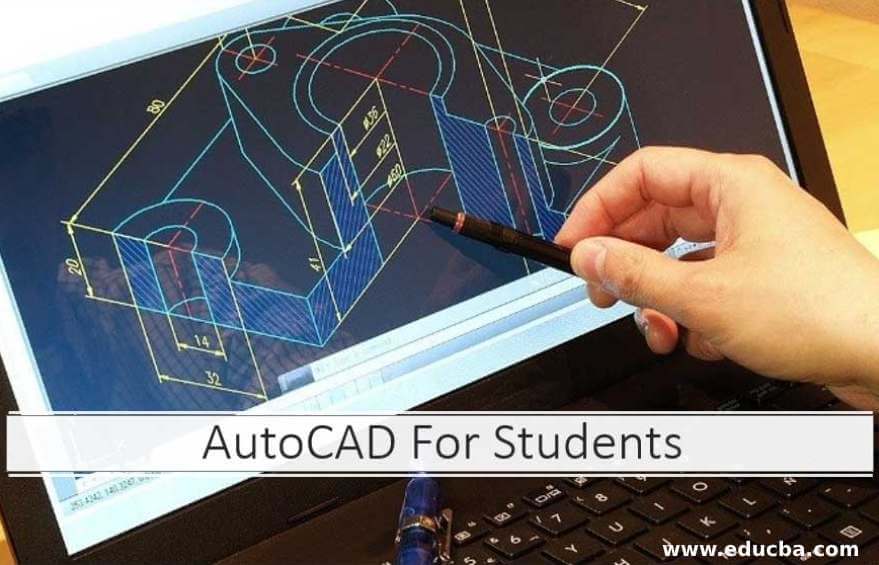 Introduction to AutoCAD For Students
AutoCAD is a commercial software application used to draft 2D & 3D models with the help of a computer. It is generally categorized as a CAD program and drafting application. AutoCAD was discovered in 1982 by Autodesk. AutoCAD is also available as a student version, and it can be downloaded from the website. The student version is like the full commercial version. AutoCAD is licensed for free to students, educators, and institutions. AutoCAD is widely used by designers, engineers, drafters, and surveyors. For most designers and engineers, AutoCAD has proved a time saver and an efficient program.
AutoCAD For Skill Students
Digital literacy is one of the skills a student must have in today's time. AutoCAD can be used for students in many ways. Since AutoCAD is a huge program, it embraces applications in many ways.
The students can use AutoCAD for: –
Engineering Drafting tool
AutoCAD provides unique drafting tools that are used in drawings of engineering components, designs, and infrastructure. It also minimizes human errors and helps the users to bring their imagination to life with accuracy. It also provides solutions for designing mechanical components and solving design issues that may arise.
Act as a Graphic Design tool
AutoCAD supports the operation of DWG and DXG files that can be exported from its interface to other CAD applications for more advanced animation projects. AutoCAD can even work simultaneously with 3D Max and other applications as well.
Used as an Architectural designing tool
With the availability of built-in design layouts that comprises numerous templates specially designed for architectural planning and building construction, the users can work on projects that create architectural arrangements for construction purposes with just minimal knowledge of the software.
Use in 3D printing
AutoCAD is compatible with file formats that most 3D printers and slicing software use. The designs can be exported in the most preferred format, that is, .stl that almost all the 3D printers use. AutoCAD helps the users to create lifelike 3D models on its workspace.
Use for Industrial planning and designing tool.
AutoCAD is well versed with the CAD interface, and with its usage, the industrialists can create working prototypes of an object as well as test its functions during the process of designing. The designers can even use the essential prototype for presentation for promoting their designs.
Also used in the Fashion industry.
The CAD software, which has the most amazing interface, blends easily and eases the complications of designing difficult shapes like octagons, tetrahedrons, and many more that are generally used in designing fashion items.
How to Use AutoCAD for Students?
The very first step is to download the program and install it on the computer. The student can get a free license from Autodesk, and all the features are available free of cost. Learning how to use 2D first will be the primary step, and then proceeding to 3D drawings. The Student must know the use of different tools and toolbars in the workspace and their functions.
Following are the steps to use AutoCAD-
First, Understand and get to know the workspace, the tools, and the menus.
Start working on a drawing and try to know different basic tools like pan, zoom, snap, polar, plot, etc.
Create different shapes using basic 2D tools like Polygon, Polyline, Line, Circle, Rectangle, arc, chamfer, fillet, join, trim, copy, text, etc. They can use tutorials on the Autodesk website for understanding it better.
Getting to know the command line output and practicing it by creating different shapes and designs.
Learn different dimension styles, font styles, tables, hatch, mirror, blocks, line types, etc.
Learning to use Macros, custom commands, LISP, etc.
Overview Tips for The Students
The Content Explorer tool is situated in the Content panel under the Plug-ins Ribbon tab. This search bar allows the user to look for all the examples of the search term. From Layers to text or anything that the user wants to search is displayed in the Content Explorer. This search is not limited to the text that is inside the drawing.
Using the MTEXT command and import text from the tools panel, the user can easily import TXT and RTF files in AutoCAD.
The users can even create their own templates, buy pressing Ctrl+ Shift+ S. They can change the file type from DWG to DWT.
AutoCAD Industry with its powerful features
AutoCAD is a real-time program that can reduce the problems that arise before it exists. It is not just software, but it is an industry, and for most designers, engineers, and architects, the one-stop solution to many of their problems is AutoCAD.
Some of the most powerful functions are –
Easy edits are possible in AutoCAD with the usage of commands like copy, mirror, stretching, scale, and many more. So, creating a drawing in AutoCAD is just easier and quicker than doing it manually.
It enables the user to create drawings with minimal dimensions and define accuracy to any number of decimal places which is next to impossible to get in hand-drafted drawings.
It even helps to model 3D objects with colors; materials are applied to different surfaces, making it easier for the user to visualize the final product, which is not achieved in manual 3D sketches.
It saves the time needed for revisions and modification. It has inbuilt tools that allow any number of modifications easily and quickly. The user can even save the previous versions of the file.
Conclusion
AutoCAD for Students is the most widely used computer-aided software for producing architectural drawings. It is not only on computers, but it is also available as a mobile app that has a huge demand and attracts many students and beginners.
So, the opportunity to use a CAD application is a craft that can serve well in the future. With the advancement in the digital world and technology growing every day, learning CAD programs will raise the portfolio and enhance the quality of work.
Recommended Articles:
This has been a guide to AutoCAD For Students. Here we have discussed the basic uses of AutoCAD For Students, how to use AutoCAD For Students, etc. You may also look at the following article to learn more –