Updated September 12, 2023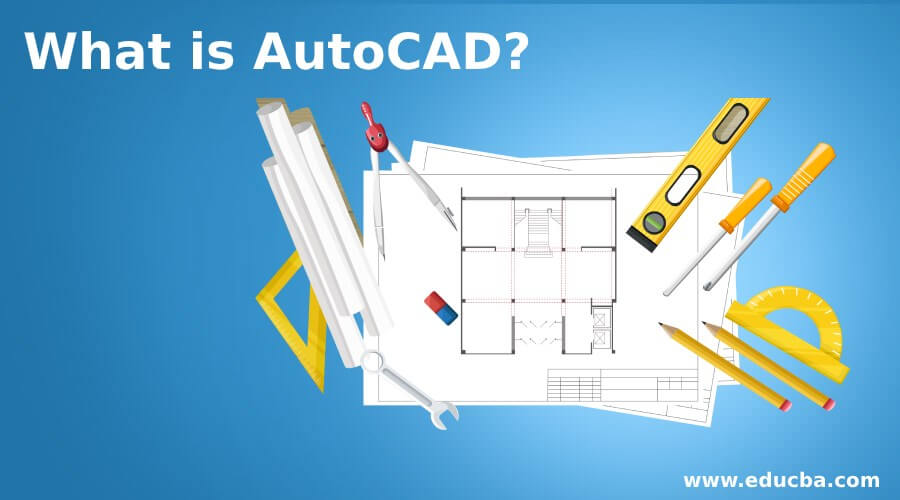 What is AutoCAD Software?
AutoCAD is the starting of modeling and designing on a digital platform. This is a CAD software application developed by Autodesk in the year 1982. Prior to the intent of this application, people used to design and create sketches and models by hand. This was a troublesome task. Also, it took a lot of time and money. But with the invention of AutoCAD, everything got simplified and easier. It is a powerful program used across the globe by engineers, architects, students, graphic designers, and even fashion designers.
Understanding AutoCAD
It is a standout program amongst the most well-known CAD programs created to help designers, engineers, and architects. With this application, the user learns how to create 2D sketches precisely and within a shorter duration of time. The interface of the application is also friendly and easy to use. It is upgraded within regular intervals. This application helps to present drawings progressively and digitally.
Some of the elements are-
The drawing area is where the user creates and updates the models.
The viewport option helps the user to adjust the views and appearances directly on the viewport artboard.
The Planar segments can draw geometries directly on the point clouds using dynamic UCS tools.
The command preview allows minimizing the count of undo commands. In addition, the workspace-control buttons help in previewing the creation in 3D.
Customize User Interface Editor is an essential element within the software interface. It helps in the customization of the UI by changing the XML-based file. Users can Create or modify workspaces, macros, keyboard shortcuts, commands, and double-click actions.
How Does AutoCAD make Working so Easy?
It specializes in developing great artwork by saving time and effort. It is also helpful in creating a reusable library and smooth edits. It works best with copy, rotates, scale, and stretching commands.
These allow the designer to draw precise artworks with fractional dimensions that reduce the risk of errors. Also, these precise drawings are impossible to achieve with manual drafts. This is how it makes the workings of users easier, time saver, and effortless.
Top AutoCAD Companies
Some of the Top companies are –
Cadcentre Inc
Design and Build
HNTB Corporation
Golden State Water Company
Meador Staffing Services, Inc
Various Subsets
The different subsets are as follows –
Viewing – Plan and Zoom in on artwork and control the order of overlapping objects.
Geometry – Create basic geometrical shapes such as circles, lines, and hatched areas.
Layers – Organize the sketches and artwork by putting them into specific layers.
Properties – Change individual objects' color, size, and type or assign default properties to layers.
Modifying – Used to perform editing operations like erase, move, and trim.
Dimensions – Create multiple types of dimensions and save the dimension setting.
Printing – Output a drawing layout and save & restore the printer settings.
What can you do with AutoCAD?
It is helpful for Mechanical, Civil, and Electrical systems. It aids in designing, analyzing, and solving design issues that give accurate outputs. This is used in architectural planning and Engineering Drafting. With this application, the user can draw engineering components and infrastructure designs.
With this, the users can export the DXF and DWG to other CAD applications that help them create more advanced animation presentations. Thus, it is design software loaded with essential tools to design anything of the designer's choice.
Working with AutoCAD
It comes with different industry-specific benefits toolsets for various fields. It has several toolsets such as Architectural, Electrical, Mechanical, Plant 3D, MEP, Map 3D, and Raster Design Toolset. It also supports the Web and Mobile Apps and attracts more audiences. For example, the users can draw piping, plumbing, and ducting designs with mechanical tools. Access spatial data stored in files, databases, and web services.
Advantages of AutoCAD
Some of the major pros of using are-
Better Communication.
Creating and recording the database for the manufacturing of products.
Improve the quality of designs.
Increase the productivity of the designer.
It helps create realistic models and objects and shapes the user's creative imagination.
Easier to learn and grasp.
Technically used in a lot of industries.
Creates drawings with accuracy and quickly.
Required Skills
Before learning this, the users should understand the CAD environment and its tools and presets.
The users should be passionate about learning the software.
They should have creative thinking and imagination to create realistic and precise sketches.
Why Should we Use AutoCAD?
It was the beginning of CAD programs and started an era of digitalization over manual drawings. This has preset tools and features.
We should use it for the following purpose –
To draw & Print architectural floor plans.
Civil 3D for environmental engineering.
Wiring diagrams, piping diagrams, store planning layouts, fixing topo maps.
Import geometry into drawings, including SHX font files, render images, and True Type text.
The selected objects stay in the selection set, even if zoomed or panned to the maximum value.
AutoCAD Scope
It has proven wonders to many beginners and is still the best program to start. The application has a lot of scope in the future as it is upgraded and updated regularly.
It offers a robust toolset and functions that help users acquire positive results successfully. AutoCAD has a bright scope with features like Photo Studio, 3D Navigation, 3D scanning, Point Clouds, Tables, Fields, Layouts, layout Viewports, Section planes, and many more.
Who is the Right Audience for Learning these Technologies?
AutoCAD is a powerful software that anyone keen to study CAD programs and 2D & 3D sketching and modeling can learn. The program can be studied by engineers, architects, educators, medical students, fashion designers, graphic designers, and freshers.
How will this Technology help you in Career Growth?
By learning AutoCAD, the user not only learns the tools and techniques of the software. But also, he acquires the skills that will help him boost his career and future opportunities. This technology is beneficial, easy, and a time saver to all those using manual drawings earlier but now are forced to use AutoCAD.
Conclusion
It is constructive and useful software for learning product designing and manufacturing planning. It is widely accepted and used in various sectors and has attracted a huge audience with its incredible workflow and user experience. It embraces many skills and abilities and guides users to grow and boost their careers.
Recommended Articles
This has been a guide to What is AutoCAD? Here we discussed the working, top AutoCad companies, advantages, scope, and career growth. You can also go through our other suggested articles to learn more –