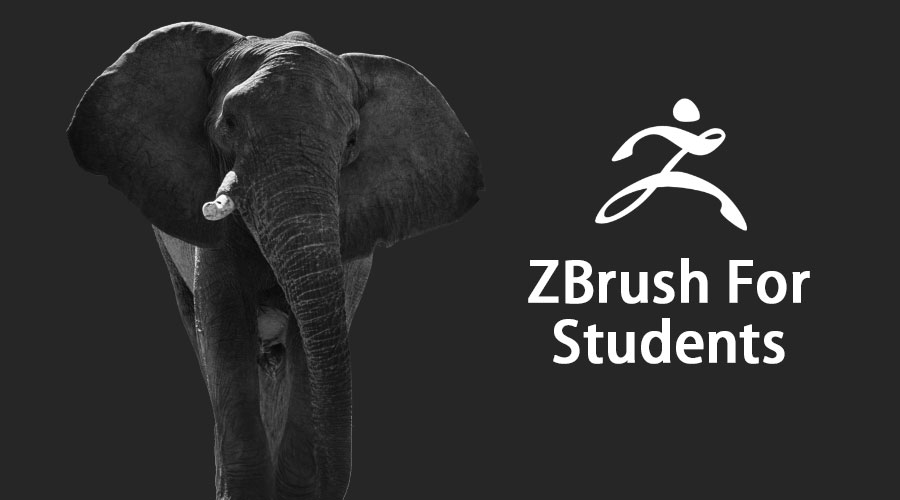 Introduction to ZBrush For Students
A digital sculpting program that blends 3D and 2.5D modeling, painting and texturing in ZBrush. ZBrush was first created by the company PIXOLOGIC INC, that was founded by Ofer Alon and Jack Rimokh in 1999. ZBrush offers a combination with Autodesk, Maya, Max, Blender, Poser Pro, DAZ Studio. ZBrush is a powerful program that has transformed the 3D industry with its dynamic and instinctive interface and workflows. It is built with an amazing interface that offers the users with the most advanced tools. Generally used by today's digital artist, ZBrush has incredible User Experience that even inspires the artist from within.
ZBrush For Skill Students
ZBrush is a highly commercial yet skill based software, that not only can be used for creating realistic renders but also can be used for 3D printing modeling. The best thing about ZBrush is that the user need not to worry about buying the expensive graphics cards and can sculpt and paint with a huge number of polygons without using it.
The most basic features of ZBrush for Students are: –
ZModeler: It is basically designed to ease the creation process of the user. It is used for creating powerful and quick new shapes. Fusing polygons, removing full blocks of geometry connecting parts with new paths with just a single click are some of the uses of this feature.
Gizmo 3D: This feature is used for sculpture manipulations and transformation with accurate control. Used for accurate transformation, Gizmo 3D can be easily placed at any location or orientation in the interface. The user can also quickly adjust the pivot point for scale, rotation or Move.
DynaMesh: This feature allows the user to create models without practical limitations. This powerful feature can recreate geometry in just a few seconds by removing all stretched polygons.
ShadowBox: It allows the user to create 3D meshes by just sketching a shape.
Live Boolean – With this attribute the user gets to see real-time Boolean. That is, they get to see live resulting mesh.
Primitives: ZBrush can create complicated scenes that blend several smaller objects. It allows helps in creating a never-ending array of complicated shapes all from a single primitive.
When a user creates or uses a texture map on a 3D model it needs UVs. ZBrush has a Master plugin for UV that creates effective UVs for the models with a single click, that otherwise is a time-consuming task. ZBrush comes with amazing SpotLight Painting system that provides image editing and helps in projecting the image to the surface of the model with the help of painting brushes.
The most important and used feature of ZBrush is Sculpting. ZBrush feature comprises several sub-tools that can be used by the students for various projects. These tools are 3D brushes, 3D layers, Surface Noise, Transpose, Vector Displacement Maps, Alpha 3D, Lazy Mouse 2.0, Deformations, Projection Master, Instances, MicroMesh, Fiber mesh, HD Geometry.
Rendering in ZBrush consists of BPR (Best Preview Render), Materials and MatCap, Surface Noise, ZBrush to KeyShot.
Popular Course in this category
ZBrush Training (3 Courses)
3 Online Courses | 18+ Hours | Verifiable Certificate of Completion | Lifetime Access
4.5 (1,174 ratings)
---
Related Courses
ZBrush has a powerful tool known as GoZ that is an easy solution for working with other programs. ZBrush has a Decimation Master that generally reduces the polygon count of a model while the resolution is maintained.
How to use ZBrush for Students?
ZBrush has many attributes that help in the sculpting of models and meshes. The students can use ZBrush by using the most basic tools of the software and by learning them. It is a complex software but still the most advanced and used software for digital sculpting. ZBrush comes with so many different and latest tools and features that distinguish it with others. 3D brushes, GoZ, Illustration, Polypaint, ZSpheres, Shadowbox, ZRemesher are some of the most advanced and latest tools of the program. Using these tools the students can easily create any model, mesh or sculpture they require.
Overview Tips for The Students
To slide the UI elements Press and hold Ctrl + Click & Drag. The ZBrush User Interface can be personalized and has a lot of empty space to fill the elements that the user wants to add.
The user can press the number "0" on the keyboard to set the full-size view and "Ctrl+0" to see the Anti-Aliased half document.
A very helpful tip is that in ZBrush, the user can change the attributes of the poly frame and the playgroups. This can be done by going to the "Draw" menu from the Preference Palette.
ZBrush has an option under the Transform palette that allows the user to activate a visual presentation of the polygon pixel density. In this, Red color represents the low density while blue is for high pixel density.
3D Industry with its powerful features
Today, Technology has made it possible to link our imagination a bit closer to the reality and it can be done by 3D modeling, printing, rendering and more. With every update and with continuous new discoveries, people are more attracted towards the technology that is offering them to create amazing and advanced designs. The 3D industry has blown up in the past several years and has become the most demanding industry. 3D printing is one of the most powerful features of the 3D industry. The 3D printing uses many different technologies. The most common being the Fused Deposit Modeling. 3D printing is used in both Rapid Prototype and Additive Manufacturing. 3D industry is a giant industry that incorporates powerful and basic features that makes it a progressive industry.
Conclusion – ZBrush For Students
Even though ZBrush has transformed the 3D industry it is also a powerful illustration package. ZBrush is based on the power of Pixol that takes digital printing to another level. Contrary to the ordinary pixels present in other 2D applications which consists of only color and position info, ZBrush's Pixol contains color, position, depth, lighting and material info.
ZBrush on a whole has a phenomenal interface and extraordinary workflow that attracts the students and digital designers.
Recommended Articles:
This has been a guide to ZBrush For Students. Here we have discussed the basic features of ZBrush For Students, how to use ZBrush For Students, etc. You may also look at the following article to learn more –