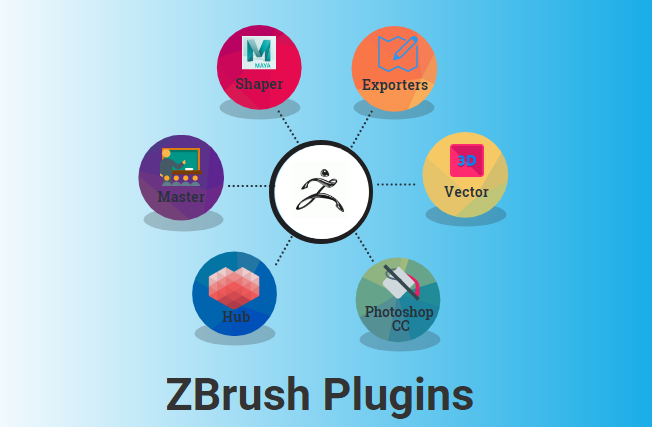 Overview of ZBrush Plugins
ZBrush Plugins are optional additions to ZBrush that provide extra functionality. ZBrush is software developed and serviced by Pixologic Inc Company. It is the most common software used for movies, gaming and animation character and properties sculpting with high detailing with combines 3D/ 2.5D modeling, texturing and painting. These features of the application and its tools are used to create high poly, and best-detailed characters and particles model with high resolution can be made up to 40+ million polygons which are used in Movies, Animation and Gaming projects. Models in ZBrush can be sculpted using a dynamic level of resolutions which achieves in getting a bump, curved, muscular, nerves, terrains and other high details with a required poly count.
This model can be exported in high poly mesh count and low poly mesh count. 3d models can be duplicated once after creating the first one and placing them in data where ever required. Models can be projected to Real-time coordinates with the help of georeferenced if required. It's been in the most used software for detailed sculpturing since 1999, and Pixologic kept on updating the software features and attributions as per the requirements of multiple studies of gaming and movie making for creating unique characters for the visual improvements for an audience and user experience. Poly-paint is used to pick the imagined accurate color and paint the model as required to get a realistic feel. The software has set industrial standards to achieve good sculpturing outputs to the finishing and exporting quality models from the software.
ZBrush Plugins
ZBrush has its own shortcuts to save time and complete work in a smart way using shortcuts to switch between tasks while working. It also has features like 3D Brushes (smooth, Curved, Pointed, etc.) to add curve details in the model as required. The transpose option helps in isolating the needed portion from a huge model and make edits on it as required by this detailing and change, taking time for rigging reduces.
Along with this, we also have plugins to ZBrush, which add time and increase productivity and efficiency of workflow.
List of ZBrush Plugins
A few of the most used plugins are listed below with details:

1. Maya Blender Shaper
This plugin is also called Blend Shapes, which is the key element in the character's animation models with different facial shaping expiration based on the scene like anger, smile, ego, etc. This takes the model to the next level easily. The developed model can be directly transferred to Maya or Blender and other 3D working software for further work.

2. 3D text & Vector Shape
The creation of shapes and titles in text for introduction videos with high accuracy can be done here. Logos creation can be done using this plugin. 3D text can be modified and personalized as required with different formats and unit fronts within the plugin to improve a user experience while projecting. The tool has to import and export options of vector files which are in SVG format, to convert the contents in 3d Shapes. The text movements and effects can be added by typing left to right or opposite.

3. Multiple Map Exporters
This plugin is automated along with ZBrush installation. It creates automatic map creation by its positioning and exports the model. High poly models contain lots of polygons to be textured, exported by map exporter, and then start texturing using Photoshop. The tool accommodates textures within the map based on space available and can bring the texture a realistic look and feel real. Resolution and detail a configuration of the map can be changed as per the requirements of final quality.

4. UV Master
This tool is used to coordinate the needs of texture for both 2D and 3D related models with accuracy. Especially characters of humans, animals and imaginary characters texturing can be done easily by applying to map and texturing moves on both sides of the characters equally without deviation with the best use of texture. Small detailing of characters like ears, eyes, nose, etc., can be textured in good quality by managing the mesh count. Created UV by UV master can be exported to Photoshop and add colors, shades, and details.

5. ZBrush to Photoshop CC
The model is designed in ZBrush, which can be rent for render passes to Photoshop to show extent detailing such as Depth, Mask, Shadows and many more details as required. Once the plugin is installed, the ZBrush menu bar will be loaded with a new option icon by clicking it (Send to Photoshop). It sends the selected models in ZBrush to Photoshop for further stages of layering and effects.

6. 3D Printing Hub
This is the future of ZBrush developments to manufacture Toys designed in ZBrush. The designs and models developed in ZBrush can be exported to .obj(object file format), .vrml or other 3D file formats and can be given as inputs to the 3D printing machine with UV and texturing details which the 3D printing machine will develop as per the configured size and designs measurements. Manual adjustments of a dimension of the model can be done if required before printing the toys or models. 3D building designs, toys, model houses, etc., can be done.
Overall, ZBrush has a few more amazing plugins that can save time and increase the image's speed to the virtual reality world.
Conclusion
ZBrush is an advanced modeling tool used by all animation, gaming and designing artists as they can achieve high accuracy of detail, curves, 3D models for a demo, introduction videos and 3D text with effects and many more. For beginners, it fell like they are playing with clay virtually, but when we start using the attribution and detailing giving to the model, we will come to know the real use of the application. May experience artists use ZBrush in their daily project requirement of game characters design and a few other texturing activities. The application is unique in the fields and must be tried by the animators, gamers, and moviemakers to understand and compare the quality of visual output from the tool when compared with other similar software.
Recommended Articles
This has been a guide on ZBrush Plugins. Here we discuss concepts of ZBrush and top plugins with their features. You may also look at the following article to learn more –