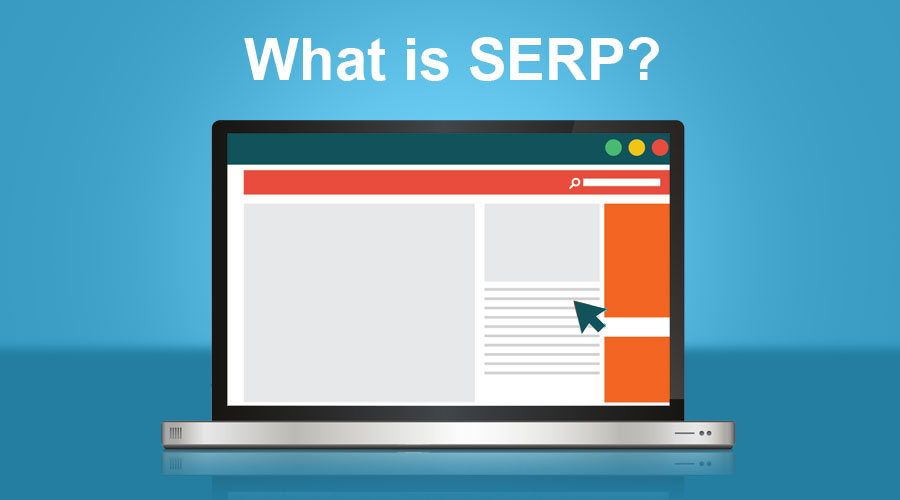 Introduction to SERP
SERP stands for Search Engine Result Page. The main role of SERP is listing a set of pages over the web based on the keywords research. In other words, when you open the browser and search for the information over the internet through search engines, then the list of web pages comes as a result. These results are nothing but a SERPs.
SERP results can be organic search results or can be paid advertisements. Organic search results are very important than the paid advertisements as many times users ignore the paid advertisements. The rank of the web pages on the SERP is page rank. High page ranking helps organizations to get more visitors on the site and increases the number of impressions.
As per the statistics, 75% of the users don't navigate after the first or second page. So it is essential to ranking at top position i.e. on the first page.
How Does SERP Works?
As we already discussed it is a set of web pages the user will get when they search for a particular Keyword using a search engine. Users enter the keyword i.e. query he wants to know. Bases on that keyword search engine will present the results to the user.
Search engine result pages change as time passes. Their appearance changes as search engines like google, yahoo, etc updates regularly to give the best services for their users. In other words, because of the emerging of new technologies in the search engine appearance of search engine result pages of today may differ from the appearance of search engine results emerging of new pages of previous.
For every search query, it shows unique results even if you use the same keyword and same search engine. The reason behind their unique feature is all search engines customize their strategies to provide the best results based on a certain factor like user browsing history, location, social settings, etc.
SERP Types of Results
Search engine result pages show two types of results – organic result and paid result. Let's discuss those in detail.
1. Organic Results
Organic results show the list of web pages that the search engine gives by performing some searching algorithms. SEO specialist that is search engine optimization professionals know how to optimize content and rank website at the top position in organic results.
To understand organic results in a better manner refer to the below image which shows the list of organic results.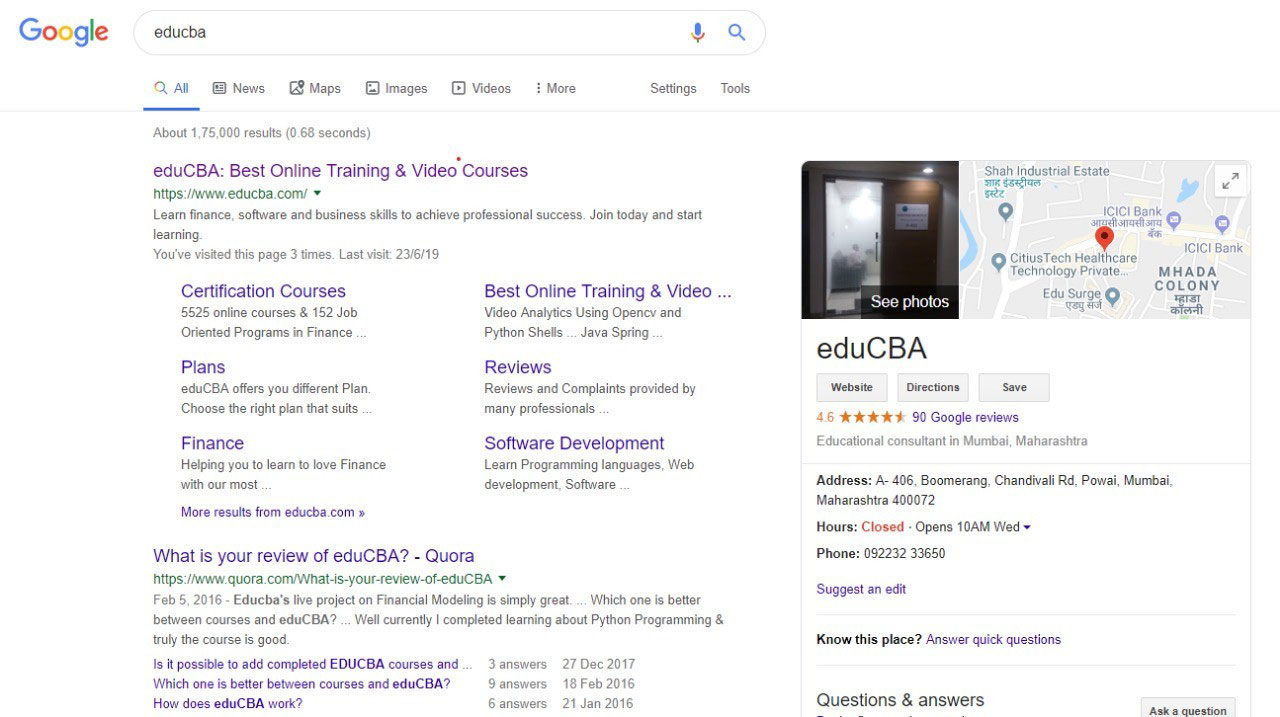 I have searched for educba, it gives the SERP i.e list of webpages as shown in the figure.
There is a box you can see at the right-hand side of the SERP, this box is called a knowledge graph or knowledge box. Google introduces a knowledge graph in 2012. The goal behind this feature is to fetch the data for the queries from the available source across the world wide web to give answers to the queries at particular locations on the SERP
In the above-mentioned image, you can see the information about educba, such as an address, phone number, office timing. Every fact has its own links to other web pages. Some of them gives significant organic results than others. This happens because of the different meanings of various searches.
Internet searches can be of three types of informational searches, Navigational searches, and transactional searches.
Informational Searches: Users find the information for a given topic for eg: educba. It will give the result of educba on SERP rather than placing ads.
Navigational Searches: Navigational searches are those in which users visit the specific site through search. For eg, if you don't remember educba site URL, you will type educba in search engines. This will give a SERP related to educba and then you visit the site through the SERP.
Transactional Searches: In transactional searches, paid results are shown on the SERP.
2. Paid Results
Paid results are those that have been paid by an advertiser to display their content at the top position on SERP. In earlier days, paid results limited to text-based ads that had a small duration of time. Those ads were displayed in the corner of the screen above organic search results. But nowadays, paid results are in various forms. There are so many different formats in which paid results are displayed.
To understand paid results in a better manner refer to the below image which shows the list of paid results.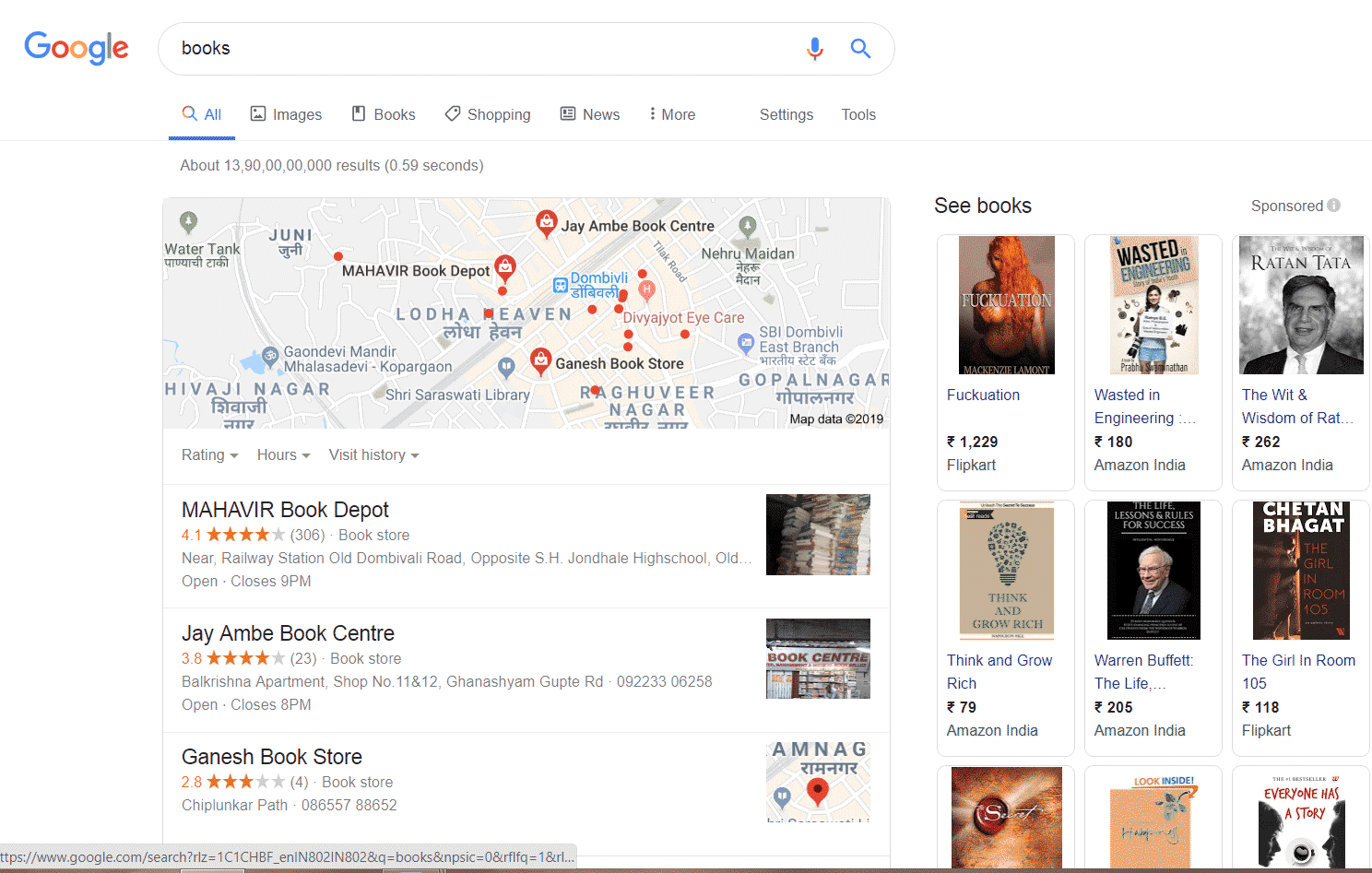 In the above-mentioned example, you can see I have searched for Books, it has given the list of web pages on SERP, these all are paid results. Also, there is a list of nearby book stores and maps based on the SERP of the keyword. These are the Only findings on this SERP that are not explicitly laid out are the map and company listing. This map is displayed based on the place of a user and listings of features for local companies setting up their free Google My Business listing. Google My Business is a free company directory that can assist smaller local businesses to improve their visibility to Geolocation-based search engines.
You can see there is a large text-based ad in the image given below.
These paid ads appear on top of the SERP viz. prime position for advertisers. These are PPC( Pay Per Click) ads. Shopping advertisements are the image-based advertisements on the right of the page, a feature provided on the Google AdWords platform that enables product data for e-commerce distributors to be displayed along with other SERP outcomes. These advertisements consist of a broad variety of data, including specifications, accessibility of products, detailed customer reviews and rankings, offers and more.
Conclusion
In this article, We have seen what is it and How it works on the internet. It is a set of web pages the user will get when they search for a particular keyword using the search engines. I hope you'll find it helpful for your work. Shows two types of results – organic result and paid result.
Recommended Articles
This has been a guide to what is SERP?. Here we discuss the basic concepts, how it works on the Internet and the types of Results shown in searches. You can also go through our other suggested articles to learn more –