Updated April 8, 2023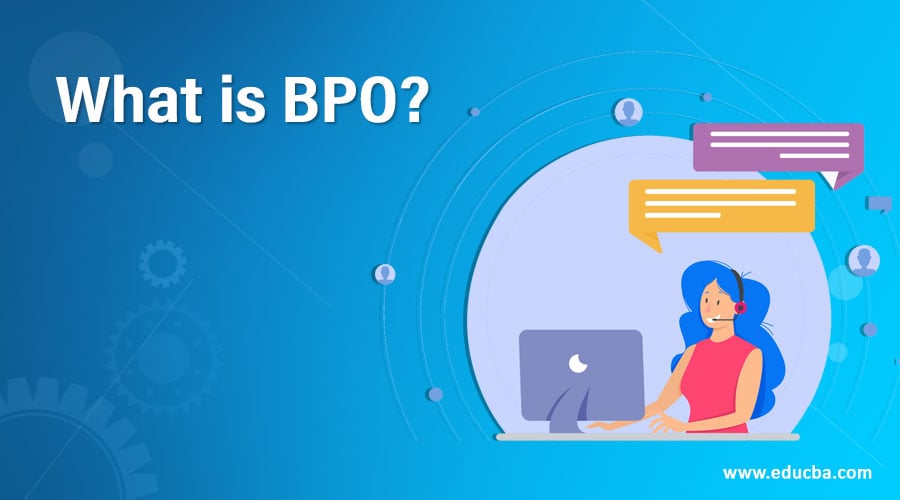 What is BPO?
Before understanding in detail about BPO and how it has controlled the whole business, we need to understand the term 'Outsourcing'. Being in an IT company, we all have heard of the word Outsourcing but does not know its real meaning. Now it's time to know what Outsourcing means? Outsourcing is an agreement in which one company hires a third party to perform its specified task or activities, which often involves transferring of employees and assets from the company to a third party or vice versa.
Let us have an example of some multinational companies like Adobe, Amdocs, Amazon, etc., which are product based companies (which means they are more into the development of project/software); if they have a requirement for testing or support for their project from their client, then they will have an agreement with some other company like Tech Mahindra, Infosys, TCS, etc. which will work on their behalf for the client. In this way, organizations outsource third-party companies for their specified task or activities. This outsourcing includes both domestic and foreign contracting. Employees of an organization working as a third party can either work in their own company, or sometimes they are moved to their hiring company to do their work as per the requirements.
So, BPO, which stands for Business Process Outsourcing, is a subset of Outsourcing which involves contracting the operations, business responsibilities to the third-party service providers. These business responsibilities can be payroll, HR (Human Resource), Accounting, Customer Support (which involves the handling of customers and resolving their queries either through emails or calls). BPO has its roots in almost all industries like Manufacturing, IT, Financial Services, Engineering Services, etc. Now the companies can outsource any task/work/job to BPO service providers. With the change in business realities, now the companies are looking for new ways to optimize their cost where BPO plays a major role in this. Companies are outsourcing a diverse range of services from a low level which includes customer support, to a high level that involves market research and analysis, which requires highly skilled labor.
Types of BPO
We can categorize BPO's on a different basis.
BPO is generally categorized into two categories on the basis of services:
Back Office Functions: Organizations that outsource vendors for a range of back-office functions or internal office functions like payroll, accounting, HR, QA(Quality Assurance).
Front Office Functions: Organizations that outsource vendors for customer services like tech support, marketing.
On the basis of the location of the vendor, BPO is categorized into 3 categories:
Offshore: When an organization outsources the task to the companies that are outside their own country. For example, if some US company outsources its project to India.
Nearshore: When an organization outsources the task to the companies that are near to their country. For example, if some US company outsources its project in Mexico.
Onshore: When an organization outsources the task to the companies of their own country but can be in a different city, state, etc. For example, if some Indian company of Delhi outsources their project in Bangalore.
Advantages of BPO
Below mentioned are some of the advantages:
Increased Efficiency: Outsourcing companies are more efficient than the in-house department as they specialize in their specified task/field. Outsourced companies hold years of experience and expertise in their respective domain, so efficiency is much higher than in-house employees.
Reduce Cost: The main benefit of outsourcing that the companies are looking for is the reduced cost. There is a wide currency difference in western and eastern countries so the companies outsource their work to the companies of the country that cost them minimum with high efficiency as this would benefit them and the outsourcing vendor companies as well.
Focus only on Primary Objective: With outsourcing, there is no need to pay extra overhead to all the task and hence freeze their energy to focus only on enhancing the business, creating new clients and in research and development of business.
Highly Skilled Labor: In outsourcing, project/task given to the vendor companies have highly skilled resources who are experts in their domain and hence provide the best results for their assigned task. They have experience catering to customers in that field for years.
Better Coverage of Resources: Outsourcing companies have already maintained the pool of resources so that the work would not hamper if they would have excessive work or emergency situation with resources.
Save on Infrastructure: With outsourcing the work, there is no need to set up the whole infrastructure and invest in it unnecessarily as the outsourced company takes the whole responsibility of it and charge according to that.
Why do we Need BPO?
Many big companies and business chose BPO for their own reasons, and every business people have their individual perspective for choosing it. The primary motive of all is to flourish and expand their business with less overhead and focusing only on the core objective; BPO helped them a lot in this. Keeping in mind the advantages of BPO mentioned above in detail like reduced cost, efficiency, more flexibility, to expand their global presence, etc., more and more companies are opting the outsourcing of business operations.
Not only in IT but in every field outsourcing is helping business people like talking about the manufacturing industry, manufacturing of big firms is done in some other company whereas retailing, marketing, testing of textiles or machines are outsourced somewhere else. Moreover, outsourcing is creating a two-way business as the company which is outsourcing their work is getting its own benefits, and the outsourced company is getting their new client and hence making money through them. This is increasing and enhancing business chaining.
How does Cloud Computing BPO Work so Easy?
Businesses around the globe are aware of the benefits of cloud computing and are benefiting from it. A few years before, small-scale companies or startups cannot come into the picture of the business process because of a lack of resources and knowledge of the market. But now, many enterprises are moving towards a cloud-based environment, especially the small and mid-sized companies, as it provides big cost reduction and flexibility to them since they don't need to maintain whole complex infrastructure in their in-house systems that they can't even think to afford.
BPO is expanding the business and profiting the organizations by contracting the business responsibilities and operations, whereas the cloud provides a medium to those businesses by enhancing the value chain engagement through speed and efficiency. It's no wonder that BPO and cloud are going well together, showing their individual advantages by offering scalability, agility, cost reduction, flexibility, and ensuring enormous organizational growth and success.
Below mentioned are some of the benefits that BPO with cloud computing:
Ease of Access: Now, the BPO service providers do not need to maintain large data center infrastructure at their work location to use it. With cloud computing, it has become easy for organizations to access the data that is stored on the cloud at a shared platform that is accessible by both companies. This has the open possibility for small or mid-scale companies too to involve in business outsourcing.
Agility: BPO service providers can take advantage of cloud computing as they don't need to wait for more data-intensive business process. Any changes made by the client are reflected on the shared platform and hence reducing the time to discuss and make changes in their own infrastructure. For example, if a QA task is outsourced, then any changes made in an existing feature or implementation of the new feature is done; it will be pushed by the client on the cloud and hence accessible by BPO provider and vendor.
Cost Reduction: There is no need to maintain the whole infrastructure and spend money on recruiting IT people to look for BPO service providers. Pay per use is the key feature of cloud computing. The cost has been reduced drastically for BPO providers even for the time of disaster recovery as a cloud has its own built-in disaster recovery plan.
Reliability: High reliability adds an advantage to host web applications on the cloud. However, critics have their views regarding the data security on the cloud, but it can be mitigated by choosing the data vendors carefully. Proper risk assessment should be done in the areas of privacy and recovery before hosting. But the cloud is reliable to a large extent as a comparison to in-house machines/servers and also enhanced the process of BPO.
Required Skills
Companies judge the BPO service providers on various parameters before outsourcing their business responsibilities. For that, they have experts who handle the whole process of outsourcing, including reviewing their work, resource management, cost management, process management, etc.
Some of the BPO skills that are necessary are mentioned below:
Quality Experts: Organizations takes this parameter very seriously as Quality is their primary objective. They have their experts that does analysis, metrics, and reporting the quality of work of the outsourced company. They observe the day to day work of them through smart tools available in the market and report to their managers if the outsourced vendors are not meeting their quality standards.
Training Experts: Training experts play a major role in outsourcing the project as while the outsourced company has no knowledge of the project so the training experts take online sessions, conference calls to train them about the project requirements and their expectations. These training sessions not only happens at the starting of the project but after every small interval or when there have special requirements.
Administration Experts: Outsourcing a project does not means only assigning the project or business requirement. It requires a lot of complex analysis and taking care of everything like holidays (when work will be off) from both sides, days of billing, allowing transport facility if the resources work in odd shifts, flooding arrangements if applicable, etc. All these works are handled by administrative experts.
Risk Experts: Risk analysis plays an important role in outsourcing business operations. Risk can be regarding the leak of data and the idea of their project, or it can be the risk of continuity of operation even in the event of a disaster. So proper risk analysis is done before outsourcing a project, and many legal documents are signed between two parties declaring the various risk factors and their respective consequences and solutions.
Risks of BPO
Hiring an outside vendor to do your business operation is a matter of high risk of efficiency, quality, and security. This is especially concerning as the companies have reported a lack of skilled resources, gridlocks due to political issues, etc.
Some of the risks in outsourcing of business processes are mentioned below:
Security: In outsourcing, companies often face the risk of privacy, especially in the case when BPO service providers are located in a different country having their different security requirements. Data and privacy breaches are a serious threat. Many organizations do not even provide full access to their private data to BPO providers.
Quality Issues: There are issues when the outsource companies do not provide quality results even after certain warnings. In this case, taking off the project from them and hiring another vendor can hamper the whole workflow and can affect the project badly.
Underestimation of Cost: Companies that hire BPO vendor sometimes underestimate the overall cost of the project as vendor companies include some of their hidden cost like hardware/ software update, currency fluctuation, a requirement of extra resources, etc.
Relationship Challenges: Companies at times face communication challenges because of language barriers which restrict many vendors from getting hired and hence delays the overall process of business operations.
How will BPO as Technology Help in Career Growth?
Outsourcing has achieved immense popularity around the globe and helps in bringing the competitive advantage between organizations. Outsourcing which was considered as a mere concept years ago, many organizations, either big or small, are now adopting it at a very fast rate. Now the organizations are redesigning themselves to provide ample of outsourcing services, but this requires a lot of planning, strategies, methodologies and a whole new set of managerial skills experts who can handle the whole process of outsourcing and hence it is creating ample jobs not only for middle level but for highly skilled professionals. Many people from different industries like traditional banking, accounting, calling profile are making a career in outsourcing seriously. As the companies are expanding both in resources and services, they need experts in various fields.
Some of the highly specialized career options are:
Transition Managers
Relationship Managers
Process re-engineering Experts
Strategic Planning Experts
Conclusion
Ensuring efficiency and quality at a low cost are the main objective of outsourcing, but it can be challenging at times. Many smart tools are available in the market to manage the vendors and reduce the associated risk and improving the communication between two parties, and enhancing quality like Smartsheets, which are used to automate the whole collaborative work. Outsourcing is doing wonders in the era of business, and no doubt, businesses can sustain well if integrated with technology.
Recommended Articles
This has been a guide to What is BPO? Here we discussed the concept, risk, career, required skills, advantages, and types of BPO respectively. You can also go through our other suggested articles to learn more –