Updated June 5, 2023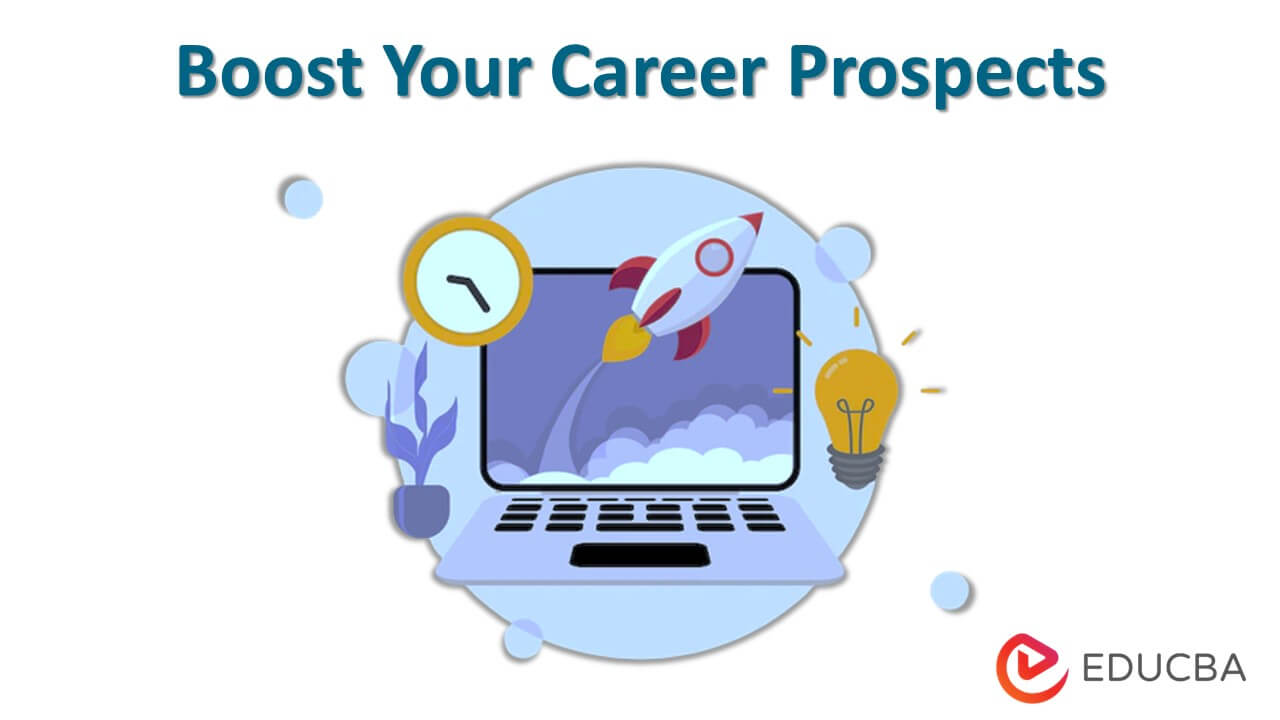 Career Prospects
Career prospects refer to opportunities for growth and advancement within a particular field or industry. It includes potential job openings, promotions, salary increases, and other career-related benefits. Factors that influence career prospects may include the demand for skilled workers, advances in technology and industry, and competition for jobs.
Studies found that one in every two college graduates is underemployed or employed in a less desired occupation due to student loan debts. Colleges are a better place to land a higher-paying job. Naturally, it is not easy; you must move cautiously, make wise decisions, and act smart to speed up your career progression.
Become a Winner in Campus Placements by learning Analytical, Decision-Making, Interpersonal, and Public Speaking skills. Know the technical aspects of soft skills- the techniques and the knowledge. Enhance your resume.
Improve Career Prospects
Below are some great tips to crack the competitors and get that first slot.
#1. Career Prospects- Plan Ahead
Some students have dreams about what they want to become and want to achieve. But some students cannot yet decide about their future. Seek a job after high school until you have planned what you want to do. There are many decent and highly paid jobs that undergraduates can do, like Market Research, Customer Support Service Providers, BPO, Voice Processors, etc. You can even sit at home and cultivate your skills. The online world has ample opportunities in the form of home-based works like:
Starting the blog
Running youtube videos
Giving online surveys
Digital Marketing
Becoming a writer
And the list is endless.
These part-time vocations will be a stepping stone for your career prospects, help you decide your future goals, and nourish your skills.
#2. Career Prospects- Be Ambitious
We all have our tastes and preferences and are passionate about something. For many of us, these are our endless hunches. But we cannot turn all our likes and passions into career prospects. In this world, we must be practical, find out what we are good at, and know our potential. Choose a new job career in a field you love the most. However, before proceeding, study the industry, prospects for growth, and the path. If you are considering doing business, you must check the industry for growth potential. It is highly suggested not to waste your time on anything you feel is not to your taste. Seek the advice of the elders and career counselors.
#3. Career Prospects- Extracurricular / Social Activities
If you become part of a society or a group related to the career prospects you want, you will gain skills and experience that will help you in career growth. Joining social groups or university activities will prove to be an asset. Taking up the leadership role and proving yourself as a responsible and caring person is best.
Extracurricular activities foster self-esteem, help in time management, increase the sense of belongingness and develop teamwork, social skills, and critical thinking.
#4. Career Prospects- Volunteer Service
You can offer volunteer service for noble activities in NGOs or community activities. Many organizations provide training and nurture skills in the activities and the work that you would do. Volunteering does not mean a lack of skill or confidence, but it means you have spare time to do something good for society.
Volunteering is not a pass time activity as many assume but a great way of self-marketing.
By volunteering for the organizations
You will enhance confidence limits and stop thinking of yourself as unemployed. 

It will make you feel good about yourself.

It would help you find a job easily.
The higher authorities will notice you.
You can add the experience to your work profile.
It displays your ability to take risks and initiative.
You can meet a wide network of people
You can get good references and build your credibility in the eyes of everybody.
Volunteering can give you experience.
#5. Career Prospects-  Keep in Touch with Tutors
Always try to keep in touch with your teachers/tutors as they are the persons who can guide you on the right course and have a wealth of resources in terms of contacts. They can be your references, guide you, and help you be in touch with people even before you have graduated. This can increase your chance of getting the job of your choice.
#6. Career Prospects- Contact a Career Counselor
Sit with your counselor for half an hour to achieve your long-term goals. They can advise you on several options and links to the websites and platforms where you can register as a job seeker. Besides, many websites present internal reviews of interviews and companies like Glassdoor. Many universities conduct workshops that you can join for personality development, learn interview titbits, learn conversation skills, how to write the best resume and other things to crack the interviews. Many big companies visit universities searching for good talent. Job fairs often facilitate companies in selecting candidates. The counselor keeps all students updated regarding the job fairs.
#7. Career Prospects- Create a Portfolio
We can understand that it is difficult and tricky to sit at night and note down everything you did the whole day. But it is a great idea to jot down all the activities or things you did during the day and create a portfolio. It is the best way to showcase your skills and everything you have done or have been doing. This would help you display all the qualities desired by the potential employees and remember the answers to the questions about your career prospects during the interview. Display your portfolio, improve your online presence, and use social media to find potential employers. Now that almost all companies have their presence on social media find them out and build contacts with them.
#8. Career Prospects- Do Something Unique
Instead of passing your time here and there, develop a business or creative project that nobody has ever done before. This brings out a creative side and shows the depth and level of your thinking power. Many thoughts and dreams must appear in your mind; don't let those thoughts wane. Instead of simply developing a CV pdf, create your blog page, video CV, or game. You can add the same in your CV and show you can go out of the box to do or perform something exceptional. The employers might like this, give an understanding of what you can achieve. You might then work on it and do the same full-time job.
#9. Career Prospects- Join a Short-Term Course
Join a short-term course to train and hone your skills during summer vacations. And also, try for awards or scholarships in your area of functioning that build your confidence and motivation. There are ample websites that can help you find lists of activities and things worth applying for and that you can do to make a difference in life. With this, you can also learn a second language. Learning a new language from Duolingo or any other website can open ample career prospects.
#10. Career Prospects- Cultivate the Time Management Skills
Fixing the schedule and cultivating time management skills is crucial to accomplish your dreams and doing whatever you want. Besides work, you need some time to relax and have fun to rejuvenate yourself.
Prepare a timetable, list what you want to do today, and prioritize your work. List the three most important things you want to do first and then move on to the least-priority activities.
Conclusion
Once you have entered the university or a college, you are mature and ready to shoulder responsibilities, if not towards family but at least towards yourself. It is you who have to build your career prospects. You need to make every possible move that can help you fulfill your aims, be smart and hardworking, and not miss any opportunity that comes your way. The World is a very difficult place to live and settle in, but if you are good towards yourself and the people around you, you will make the best career progress.
Recommended Articles