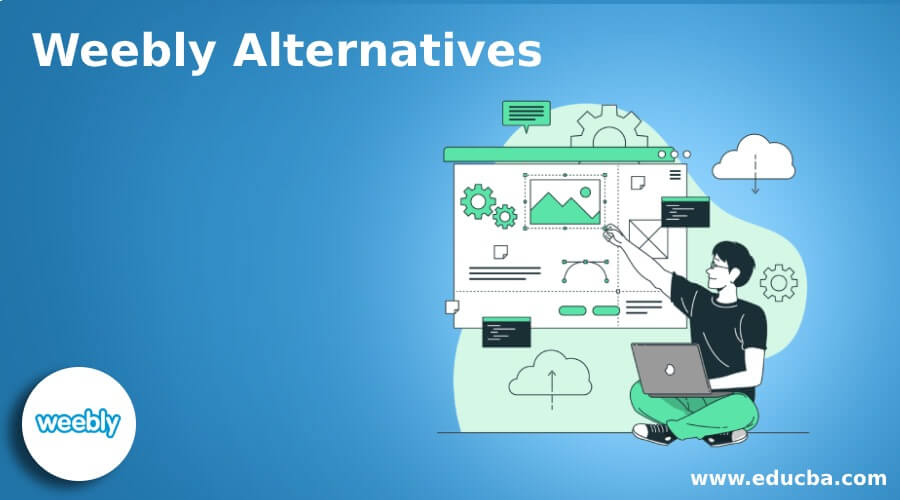 Introduction to Weebly Alternatives
The following article provides an outline for Weebly Alternatives. Weebly is a successful website creator, without a doubt. This application is distinguished by streamlined functionality and service-based market templates. But for everyone, Weebly isn't. Others find it isn't convenient enough to use. Others dislike its architecture. This article is for you if you dream about making a website with Weebly or you have an account, and you want to switch platforms. We have been looking for and researching website builders for years now and are in a prime position to contribute to seeking the best answer. We have ranked the best website builders on the market in general, but you do not necessarily have the best platform.
List of Weebly Alternatives
Given below is the list of Weebly Alternatives:
1. Wix
When it comes to website builders, Wix sets the benchmark. It provides an option of over 510 wonderfully made templates and an elegant drag-and-drop editor to boot. Wix has features like supporting e-commerce and blogs to service-based companies and multilingual sites. With a design-aided option, Wix ADI, website construction can also be made even easier.
Wix enables anyone to create flash websites. It encourages the development of a website from pre-built content, the import of custom content, or a combination of both. While Wix emphasises its ease of use. However, when it comes to integrating more personalized content into its structure, it is not always the most customizable or complex.
2. Squarespace
For creative industries, Squarespace is tailor-made, with creative templates; hence everyone thinks a web developer has designed the website. Squarespace has more than just looks, but it doesn't have the same number of features as Wix does, but Squarespace brings a premium quality.
3. Jimdo
Jimdo is definitely the fastest website creator that we have attempted to create. Jimdo gives you all the ranking tools if you have a strong plan in place. Not because others are incredibly difficult, but because of its fast drag and go feature and its fantastic user interface, Jimdo only controls you entirely. They have no weak e-commerce, and the SEO is above average.
4. Webnode
It is also a popular website developer. For a professional email address for your domain name, you need to pay extra for Weebly. For their Mini plan and beyond, Webnode provides it free. But their emphasis on multiple languages obviously works for them – they allow you to develop your website in over 20 different languages and even to deliver multiple languages. Let's see if it's appropriate to top Weebly from a sales perspective.
5. WordPress
WordPress does not need as much an introduction as any of the others above, but because it is in its own class. You pay just for the extras that you require. WordPress is a free site. Second, opposed to Weebly, it is so complicated and sophisticated that it sounds like a whole new species., WordPress protection is as before; your responsibility is not exactly logical. It's your responsibility. You can still use the tool for free. The model is totally different. However, as you can see below, prices add up elsewhere.
6. SITE123
SITE123 is a bit more stripped-down, concentrating on simplicity and user experience, than the other website builders on this list. Its incredible assistance and support, especially via live chat, is a testament to the efforts of SITE123 to make its platform as user-friendly as possible. It also provides you with design assistance, making the development of sites convenient.
7. Strikingly
Strikingly is also a widely used website builder, which provides fast speed and simplicity at the core of all it does is striking. It's not a platform for you if you need to design a large, innovative or complex site for simple personal websites such as blogs, online resumes, etc.
8. GoDaddy
GoDaddy is one of the best website developers online. GoDaddy has you covered, whether you're aiming to create a website, host a website or just want to buy a domain name. It has a website builder named GoCentral, concentrated on speed. Creating a survey about the site's objective helps to create the initial design of your website for you.
9. Duda
If you want a well-designed website but lack the creative skills to bring your vision to life, Duda is ideal for you. The templates give you a great starting point, and along the way, there are helpful tips, including suggestions and guidance on how to create the perfect website. You can bring it anywhere you like, too, so you're not stuck to a rigid template.
10. Shopify
Shopify is becoming more developed in the field of e-commerce. Shopify offers different kinds of Ecommerce-specific templates, and it is Great for stores of all sizes. It is easy to use.
Conclusion
In this article, we have seen various alternatives to Weebly. You can choose any of them based on your requirements.
Recommended Articles
This is a guide to Weebly Alternatives. Here we discuss the introduction and list of Weebly alternatives for better understanding. You may also have a look at the following articles to learn more –