Updated July 5, 2023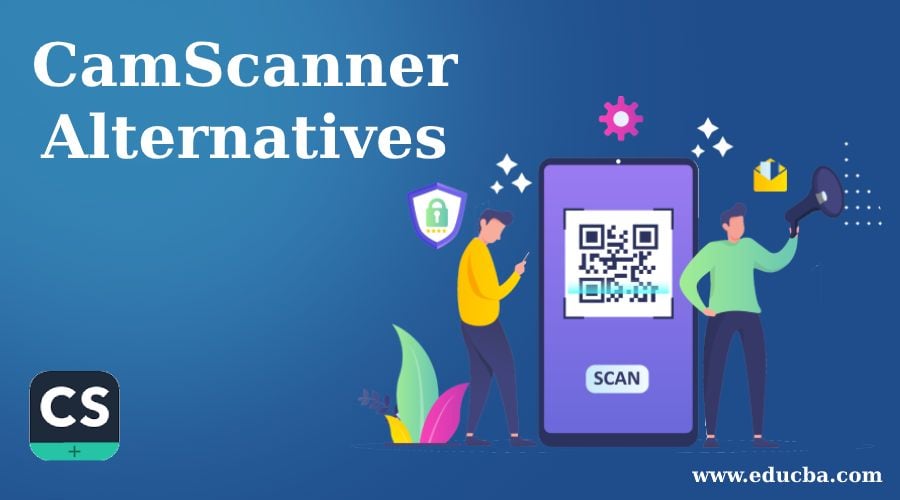 Introduction to CamScanner
CamScanner was a great tool for document scanning. However, malicious malware that could display intrusive advertising in Android smartphones was found to be released. Since then, CamScanner has been removed by Google from the Play Store, and everyone must uninstall the app for safety. Then, if you need a CamScanner replacement, we have compiled a list of the best alternatives for the CamScanner in this post. We have ensured that consumers have a good experience with these apps and honest developers have no shady behavior history. After that, let the article continue and explore applications with CamSanner-like apps.
Now we will see the alternative of Camscanner, which are as follows:
We have 8 CamScanner alternatives that are good for scanning and features commonly used for CamScanner. In reality, both Android and iOS are scanner applications listed here. Moreover, several apps don't have a watermark for CamScanner, so they're cool. Let's go through the list and find a CamScanner substitute for you.
Top Alternatives for CamScanner
Below are the CamScanner Alternatives:

1. Scanbot
Scanbot is a popular application for on-the-go PDF scanning and creation. The collar and collar of CamScanner are distinctive and realistic in certain respects. Scanbot can scan papers, receipts, whiteboards, ID cards, QR codes, etc., starting from Scanbot. It also features CamScanner auto-creation capabilities and smart edge detection. You also have a multi-page search, essentially OCR text recognition document editing, batch mode, and CamSanner annotations. The only thing about Scanbot is that by searching for the text, you can even search for files in documents missing from CamScanner.

2. Evernote Scannable

Evernote Scannable is the best application to scan documents if you have an iPad or iPhone. Evernote Scannable has similar features and a better user interface than CamScanner. First, you can search with great clarity notes, business cards, receipts, and virtually any paper document. It also uses intelligent edge sensing and automatically crops the image. In addition, the scanned material can be saved in your camera roll or exported as PDF files. Email and cloud integration are available in the app to allow you to search and send a document to a colleague or friends without any problems. Evernote Scannable does the basics well but has no extra features, including OCR and annotation. You can go to Evernote Scannable if you want a smooth scanning experience.

3. Google Drive

While surprising, Google Drive has an integrated scanner in the app. If you click the plus button, you will quickly scan the papers, notes, and receipts. Let me say it's not as functional as a CamScanner; it gives people who require a simple scanner application simple scanning and upload functionality. In the edge sensing feature, Google Drive also has a basic Image Editor. Given the barebone scanner, we have chosen Google Drive as an alternative CamScanner because your documents are secure.

4. Notebloc

Notebloc is a strong competitor if you want a feature-packed with the CamScanner alternative. You can scan different documents first and create a high-quality image scanner. Smart edge detection works very well and can be easily compared with CamScanner. Your application can also be supported with batch scanning, OCR support, cloud integration, and document editing. Nonetheless, the best part of Notebloc is that there are no watermarks in the scanned documents, which is fine. Many complained that the CamScanner and Notebloc had an unreasonably large watermark.

5. PhotoScan
Let me point to PhotoScan when using a CamScanner to scan printed photos. PhotoScan is a wonderful Google app to scan printed photographs with incredible clarity and accuracy. It uses the efficient post-processing algorithm of Google to create a digital picture without lost data. It has no glare or defects, unlike other scanners' photos. The edge detection and automatic cuts are also much better than the edge detection of the CamScanner. As mentioned above, PhotoScan is the only program you need that you are searching for to scan your printed images.

6. Fast Scanner
This Scanner is a decent CamScanner alternative. It can simultaneously search documents from notes to several pages. The after-processing on this application is very fast, and we were surprised when the scanned documents saw the level of detail. Besides, you have edge detection. However, at best, it is decent, and you must adjust the boundaries sometimes. You can directly share scanned documents via email or cloud services such as Evernote, Google Drive, etc. You can also save the documents as exported as JPEG or as PDF in your image gallery.

7. TurboScan
Finally, we have a decent TurboScan app with CamScanner features on it. You may search documents of all sorts, whether printed sheets, whiteboards, or notes. The sharpening mode is unique and works well with scanned documents. The images that may be exported in PDF, PNG, or JPG are scanned. Auto edge detection, multi-page monitoring, Dropbox integration, and email integration within the app are also provided. The only omission is that the OCR functionality suitable for most people is unavailable.

8. Adobe Scan

Adobe Scan is one of the best, if not the best, CamScanner solutions. As Adobe, a document management company, designs the application, you can be confident that the software has endless features. First, with your smart scanner, you can scan documents, receipts, notes, ID cards, or paper documents. It can identify the document type and save you time and trouble intelligently by clicking the image. The app also has different options to improve the image quality of scanned documents.
Recommended Articles
We hope that this EDUCBA information on "CamScanner Alternatives" was beneficial to you. You can view EDUCBA's recommended articles for more information.