Updated November 28, 2023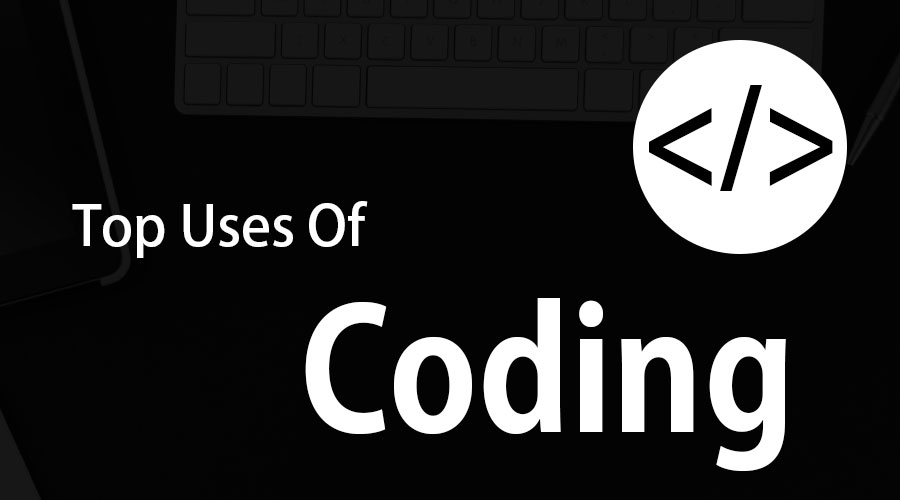 What is Coding?
Coding can be any code written in a language to be understood by the person or system it is meant for. In computers, coding is done to understand what is expected for it to be done. The benefits of learning coding are many, and the most beneficial ones. Coding helps you build applications, put them over servers, and use them so multiple users can use them and get the benefits. Let us see the uses of coding below.
10 Benefits and Uses of Coding
Please find the below sections, where Coding has been used widely and effectively. Below is the list of the top 10 uses of Coding:
1. Make your own website
Once you get the basic of any language, you can do wonders with that. To create a website, you must code in HTML, CSS, JavaScript, Angular JS, etc. These languages help you code and create a user interface for the people accessing your website. If you own a business, then having a website is a must. Even if this is not the case and you wish to have your own blog or portfolio site, these skills can easily reach people. You will become a creator on the internet and not just a consumer. You can craft your solutions and design them as required.
2. Have a career in coding
Many IT industry employees are stuck in support, testing, and infrastructure-related jobs. These mundane jobs lead to a person looking for a change. Once a person learns to code, these jobs before much easier and more enjoyable. You can quickly look for a change in your career path once you learn to code. There is a high demand for coders in the market in all fields like development, testing, machine learning, cloud services, data analytics, etc. All these jobs are highly paid and consist of the current market. You can excel in any language and start working on it to get the most exposure. The best languages for coding these days are Python, Java, R, etc. The growth of this job will be 30% in the coming years.
3. Starting your own venture
You may have many ideas to start your own business or work related to a software product or E-commerce. But what you lack may be the skillset. You may have the capability and idea to create the next Google, Amazon, or Facebook. If you learn to code, you can become an entrepreneur and build a small software business. Instead of hiring a team of coders, you can start with your code, and then once the base is built, hiring people to continue your work will fully boom. The kind of business you can start is selling software, mobile applications, opening an e-commerce website, etc.
4. Understanding how a computer works
This can be considered as one of the biggest benefits. You use mobiles, laptops, the internet, and various applications. You will get an insight into how all these applications work. Once you understand this, you will have your scripts to perform daily tasks like sending emails, handling data, editing texts, and doing calculations.
5. You will have a whole new set of possibilities
Once you know coding, a new door of opportunities will open up for you. When you learn a computer language and its basics, you step towards personal growth, career advancement, career change, or becoming digitally literate. You can build applications and software for all needs that you require. Also, if you have basic coding knowledge, you can easily learn new technologies. With Machine learning and big data taking over the market, it will be easier for you to grasp these concepts. In addition to this, different SEO tools, like Tumblr, WordPress, etc., can be used.
6. Pursue it as a hobby
Uses of Coding can be exciting once you start getting the hook. You can develop this skill in your free time by reading different articles on the internet for beginners. This material can help you gain proper knowledge and also develop your skills. You can easily develop games, and manage your data well by creating databases, etc. The uses of Coding will help you brainstorm and will help develop your logical skills.
7. Earn more and work for fewer hours
Once you are into applications of coding, you can easily take up projects and work on them independently. Many people and businesses are looking for freelance developers. These people give you lots of money and time to work on their projects. These projects can vary from web development, selenium testing, Java development, etc. There are various projects available in the market as per your coding requirements. The number of hours you work in a day depends on you as the client's deadline gives you enough time, and you can work accordingly.
8. It is a skill that is always relevant
Learning to code will get you a skill that will never be outdated. You will acquire a skill that will always be in demand. Learning any one language can help you to understand the uses of coding. This can be easily applied to all other languages with a few syntactical changes. As a result, knowing this will help you stay in the run forever. With little changes and up gradation, you can always look for new opportunities.
9. Improve your digital literacy
Digital literacy is the capability of properly managing information by using technology. Once you learn to code, you can automatically tune in more with your computer. You can explore more tools and applications of coding, which you can use daily.
10. You can work remotely
You can work independently and on many opportunities as you choose. Even on vacation, you can work and code at your convenience.
Conclusion
Hence uses of coding is the hottest topic in town. Once you learn to code, you can quickly enter any field of interest and create wonders. You also choose and excel in new technologies like big data and machine learning.
Recommended Articles
This has been a guide to the Uses of Coding that helps you build applications. Here we have discussed the basic concept and various benefits and uses of coding. You may also have a look at the following articles to learn more –