Updated October 7, 2023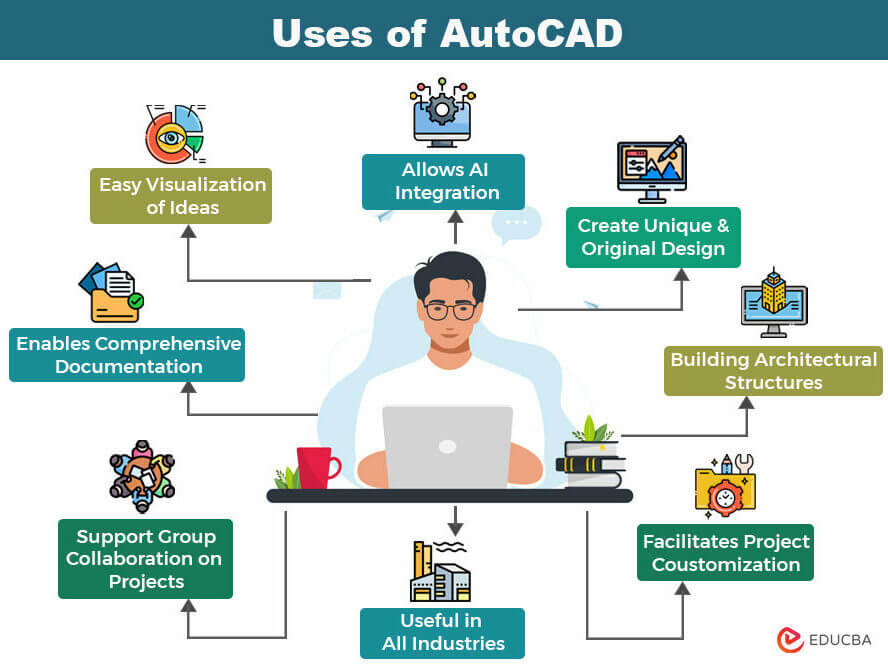 What is AutoCAD?
AutoCAD is powerful CAD software created in 1982 by John Walker and Autodesk. It allows professionals and students to create precise 2D and 3D drawing designs for various industrial projects. The several uses of AutoCAD software are as follows:
Top 8 Uses of AutoCAD
Here is a detailed explanation of each one of the uses of AutoCAD.
1. Creating 2D & 3D Unique Designs
AutoCAD is primarily known for its drafting and design capabilities. It lets users create detailed 2D and 3D drawings of objects, structures, or products.
AutoCAD tools/features used:
Drawing Tools: Useful for creating intricate designs for architecture and mechanical drawings.
Geometric Shapes: Helpful for adding shapes like circles, squares, and polygons.
Measurement Tools: Useful for adding precision to your designs with length, angle, and dimension measurements.
Who uses these features?: Architects, engineers, interior designers, product designers, etc.
Example:
Consider an architect using AutoCAD to create a detailed floor plan for a client's new house. AutoCAD helps measure and place doors and windows accurately. AutoCAD's 3D tools also help turn the 2D plan into a 3D model. Now, the clients can virtually walk through the house before it's even built.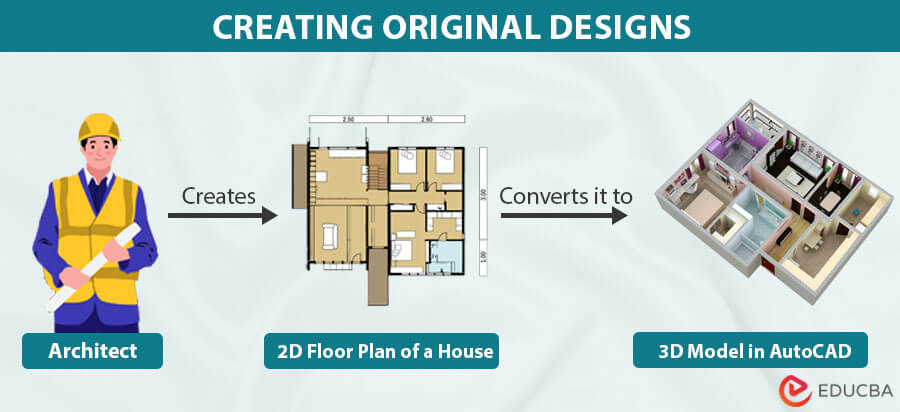 2. Building Architectural Structures
AutoCAD is the go-to software for professionals in engineering and architecture. It helps design projects like buildings, bridges, mechanical components, and more.
AutoCAD tools/features used:
Precision Tools: Help to accurately measure and align objects in your drawings for proper dimensions and placement.
Parametric Designs: You can create drawings and automatically adjust interconnected parts to make changes.
Structural Analysis: It helps the engineers and architects check the structure's strength and stability, ensuring it meets safety standards.
Who uses these features?: Civil engineers, structural engineers, architects, mechanical engineers, etc.
Example:
Imagine civil engineers using AutoCAD to design a bridge. They draw the bridge's support structures and calculate their load-bearing capacities to find out how much weight each part can handle. This ensures that the bridge is safe for cars and people.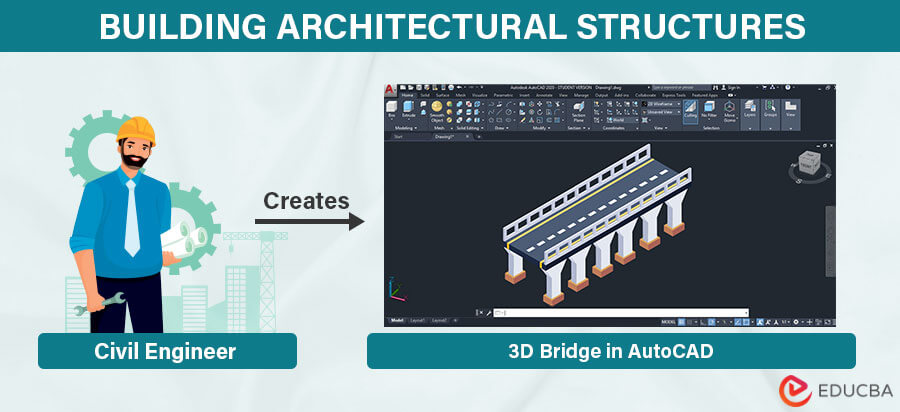 3. Easy Visualization of Ideas
AutoCAD helps users visualize their designs in 3D, allowing a better understanding of how a project will look in the real world.
AutoCAD tools/features used:
Rendering: It converts the 3D models into lifelike images, making them look as if they are real with complete colors and textures.
Lighting: Adjust the brightness and direction of light to illuminate the 3D scenes realistic.
Shading: Shading in AutoCAD adds depth and helps designers see how light affects their creations, making them functional and attractive.
Who uses these features?: Designers, architects, urban planners, etc.
Example:
A product designer uses AutoCAD to model a new smartphone. He uses 3D modeling features to visualize how the phone will look from different angles, helping him refine its design before production.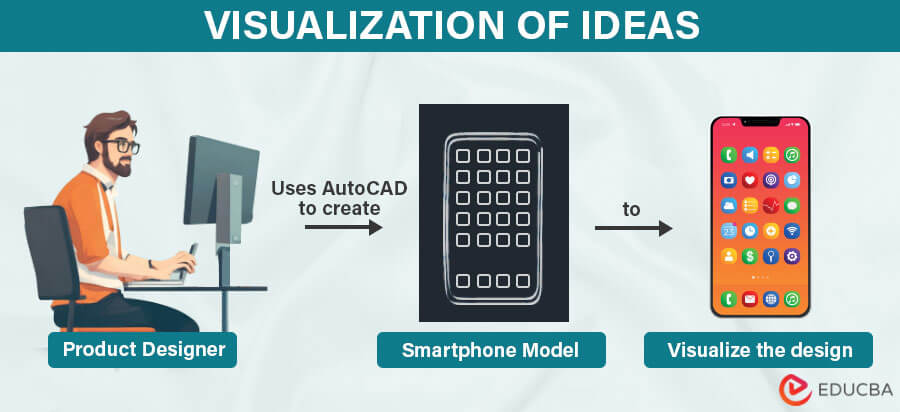 4. Allows AI (Artificial Intelligence) Integration
In 2023, users can easily use AI tools with AutoCAD to enhance their design experience. These AI-powered features simplify design processes, improve accuracy, and assist professionals in various ways.
AutoCAD tools/features used:
Object Recognition: AutoCAD's object recognition feature helps AI algorithms identify and accurately categorize objects within drawings.
Generative Design: Generative AI algorithms in AutoCAD optimize designs based on the user's preferred choices.
Design Documentation Assistance: AutoCAD's AI-assisted design documentation feature involves generating detailed design documentation, including annotations, schedules, and more.
Who uses these features?: Architects, Civil Engineers, Drafters & Designers, etc.
Example:
An interior designer uses AI integrated with AutoCAD to create the layout of a restaurant. The AI tools help the designer by suggesting furniture placements, lighting, color schemes, etc. The designer can easily modify these suggestions within AutoCAD to match their plan.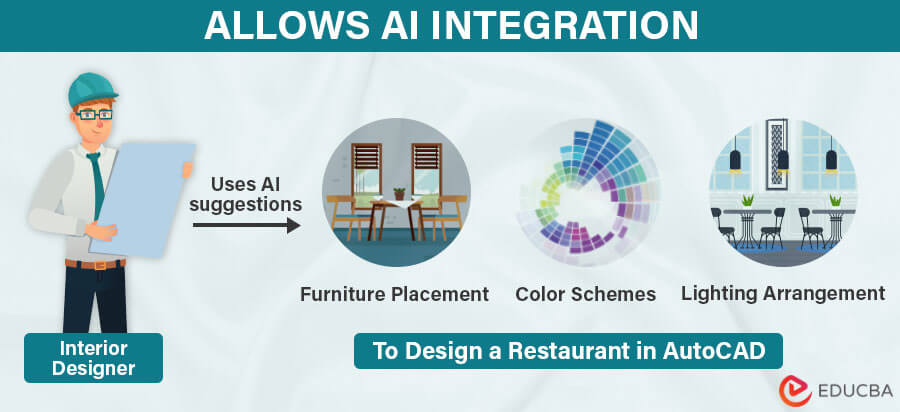 5. Supports Group Collaboration on Projects
AutoCAD facilitates teamwork by allowing multiple users to work on the same project simultaneously, regardless of location.
AutoCAD tools/features used:
Cloud Collaboration: Allows multiple people to work on the same project from different locations, ensuring everyone can easily access project files.
Real-Time Sharing: Helps to instant share and view the AutoCAD drawings with others so that everyone stays updated with the latest progress.
Markup Tools: The tools are like digital highlighters and comment boxes. They help to provide feedback among team members during the design and review process.
Who uses these features?: Architects, designers, and project teams collaborating on complex projects.
Example:
An international team of architects collaborates on a skyscraper project. They use AutoCAD's cloud collaboration tools to work on the project simultaneously, providing feedback and making real-time changes despite being in different time zones.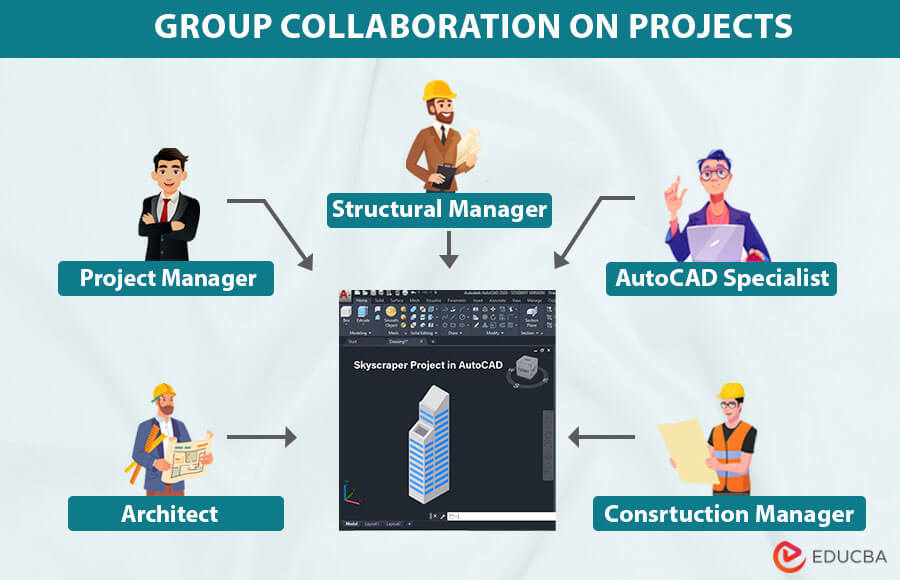 6. Enables Comprehensive Documentation
AutoCAD also has an important feature for creating comprehensive documentation such as blueprints, construction plans, and technical drawings.
AutoCAD tools/features used:
Annotation Tools: This tool adds labels, text, and symbols to your drawings to provide explanations or information about the objects.
Dimensioning: This tool makes measuring and displaying accurate distances and sizes of objects in your drawings easy.
Layer Management: It lets you organize and control the visibility of different elements in your drawings, making it easier to work on complex designs.
Who uses these features?: Drafters, architects, and engineers responsible for creating project documentation.
Example:
A mechanical engineer uses AutoCAD to create a detailed technical drawing of a complex machine. This drawing includes annotations, dimensions, and part numbers, which are crucial for manufacturing and assembly.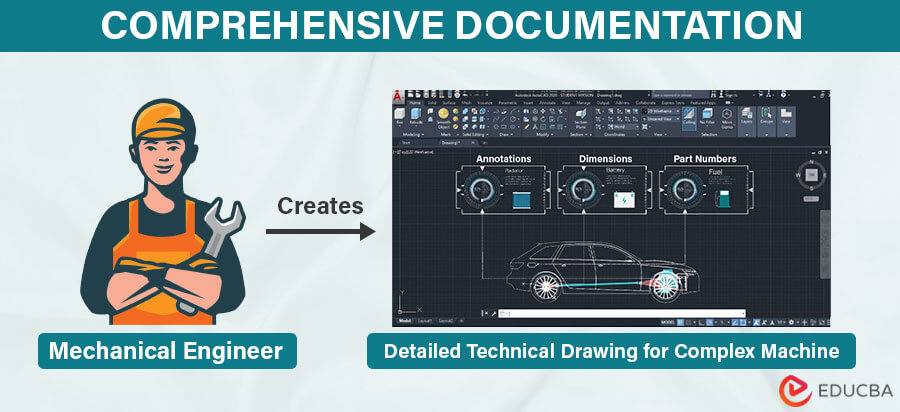 7. Facilitates Project Customization
Professionals can customize AutoCAD to suit specific project needs. They can create custom tools, shortcuts, and templates to improve workflow efficiency.
AutoCAD tools/features used:
Customization Tools: It allows you to create custom menus, commands, and templates to optimize your workflow.
Scripting: It involves creating predefined instructions that the software follows, saving time, and ensuring that designs are consistent and error-free.
Programming Capabilities: This tool enables you to write custom programs or use existing ones (like LISP or . NET) to automate complex tasks.
Who uses these features?: CAD managers, power users, and companies with unique design requirements.
Example:
A CAD manager within a manufacturing company customizes AutoCAD to include specific templates and shortcuts tailored to their industry. It ensures that every designer in the company follows standardized procedures and maximizes productivity.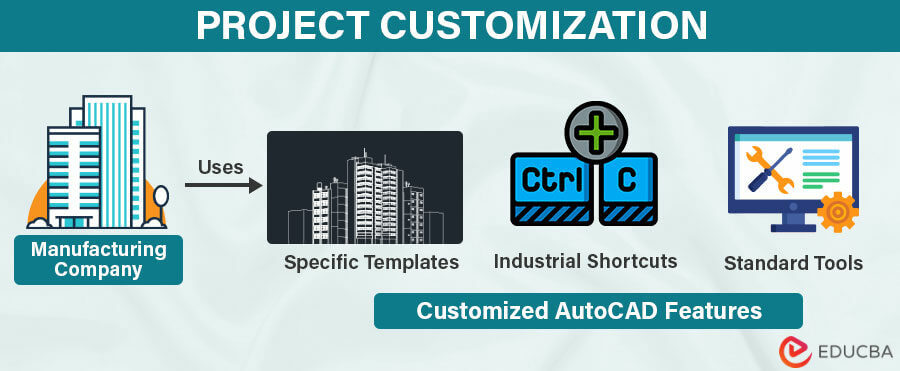 8. Useful in All Industries
AutoCAD has become the go-to software for architects, engineers, designers, and other professionals. Here are the various industries that use AutoCAD.
AutoCAD is the backbone of architectural design. Architects use it to create detailed and accurate floor plans, elevations, sections, and 3D models of buildings. Its universal tools allow for precise scaling and layer management, making it necessary for creating construction documents. AutoCAD's 3D modeling capabilities enable architects to visualize and effectively present their designs to clients.
Tools/Features used: 3D Modeling, Annotation Tools, Layer Management, Rendering, Precision Tools, etc.
It is important in designing infrastructure projects like roads, bridges, and water supply systems in civil engineering. Additionally, it is common in mechanical engineering to design machinery, components, and products. Engineers can create intricate 2D and 3D models, perform stress analysis, and generate detailed manufacturing drawings. Moreover, AutoCAD's modeling capabilities allow for easy modification of designs.
Tools/Features used: Structural Analysis, Dimensioning, Markup Tools, etc.
Interior, Fashion, & Product Designing
Interior designers rely on AutoCAD to develop detailed interior layouts, including furniture placement, lighting plans, and color schemes. The software's ability to import real-world materials and textures also enables fashion designers to create lifelike 3D renderings, helping clients visualize their designs accurately. On the other hand, it is essential for industrial designers and product engineers. It enables them to conceptualize, model, and simulate various product designs. The software facilitates the creation of prototypes and production-ready drawings, expediting the manufacturing process.
Tools/Features used: Layer Management, 3D Modeling, Pattern-Making Tools, Textile Design, etc.
Electronics, Aerospace, and Automotive Industries
The aerospace and automotive industries use AutoCAD for designing complex components and assemblies. AutoCAD's parametric modeling and simulation tools assist in optimizing designs for performance and safety. Moreover, AutoCAD's electrical toolset helps to create electrical schematics, wiring diagrams, and panel layouts. Electrical engineers can also perform wire and cable routing, ensuring efficient power distribution within systems.
Tools/Features used: Cloud Collaboration, Precision Tools, Dimensioning, etc.
AutoCAD is mainly used in the entertainment industry to design sets, stage layout, and lighting. It helps set designers create detailed and functional sets for theaters, concerts, and film productions. Lighting designers can simulate and visualize lighting effects to achieve the desired ambiance.
Tools/Features used: Scripting, Programming, Annotation Tools, etc.
AutoCAD is widely used in educational institutions to train future professionals in design and drafting. Students can learn the fundamentals of drafting, 2D and 3D modeling, and engineering design principles, preparing them for careers in various industries.
Tools/Features used: 3D Modeling, Scripting, Annotation Tools, etc.
Example:
A fashion designer uses AutoCAD to create patterns for a new clothing collection. They use the software's pattern-making tools to ensure each piece fits perfectly and looks stylish when manufactured.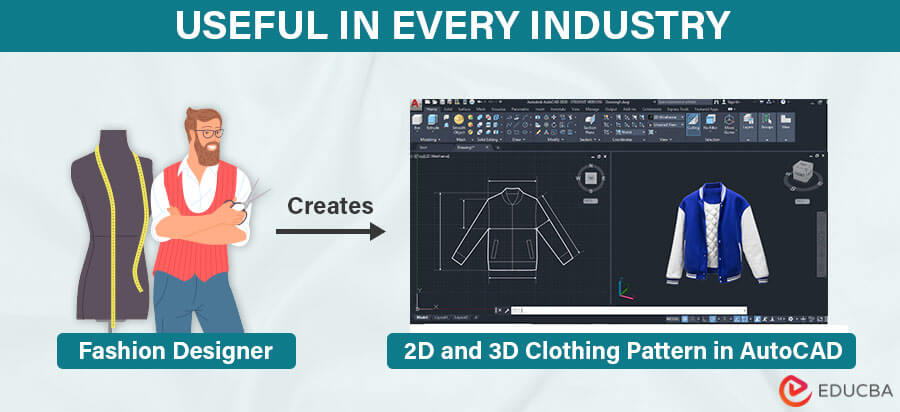 Final Thoughts
AutoCAD is currently in 14 languages, but in the future, more people worldwide might use it in their own languages. It may also work with systems like BIM (Building Information Modeling), VR (Virtual Reality), and AR (Augmented Reality). It could also have a friendlier interface with enhanced security to protect your work and data from hackers.
Recommended Articles
This EDUCBA article lists the 8 uses of AutoCAD in a comprehensive manner. To learn more about related design softwares, check the following articles: