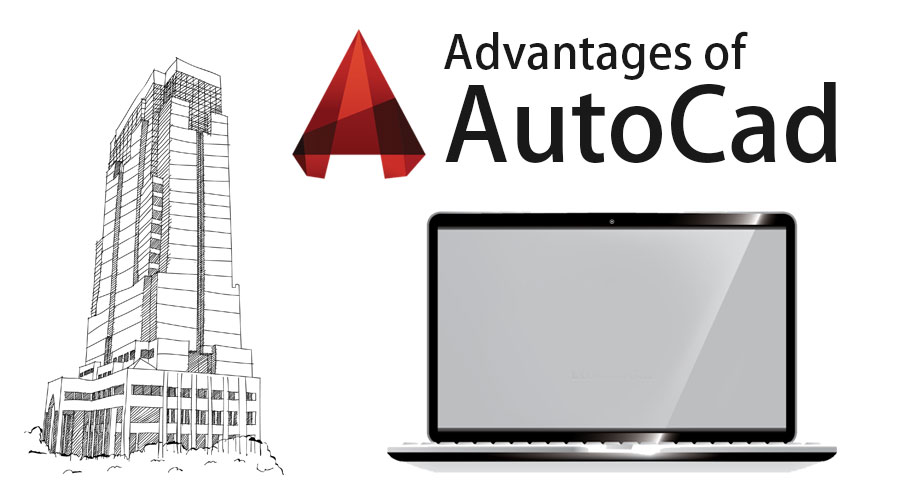 Introduction to Advantages of AutoCAD
AutoCAD is a computer-aided software program created by Autodesk that enables drafters, architects, engineers, and other experienced professionals to create two dimensional and three-dimensional models of solid surfaces and meshes. AutoCAD is widely used, and it helps in preventing product failures and warranty issues. With innovative ideas and creative imagination, the user can create realistic presentations with AutoCAD. It provides the necessary tools and workflow to design and build great products.
Earlier to the invention of CAD programs, manual hand drafting tools like drafting boards and pencils, parallel rulers, compasses, and triangles were only the options for the designers to create 2D designs. AutoCAD released in the year 1982, and since then, AutoCAD quickly became the most widely used CAD application because of its automated set of tools and features. It was a great advantage in the AutoCad stream.
Presently, AutoCAD has also been developed in a few other custom variants depending upon the requirement of the user. These programs include AutoCAD Architecture, Civil 3D, Plant 3D, Map 3D & AutoCAD LT. AutoCAD features include the capability to command the visual aspects of texts, design dimension styles automatically, add lighting and materials to the 3D models, control the shading and edges of the 3D models. These features help the users to achieve realistic renders and appearances.
Professionals across many industries use AutoCAD to do everything from designing and creating different buildings, constructions, and infrastructure. AutoCAD enables companies to design and plan projects virtually. AutoCAD supports a powerful yet easier workflow that works corrects and helps the users to execute the commands effectively and precisely.
Advantages of AutoCAD
The following are the top 12 advantages :
1. Accurate and Reduces Errors
The principle on which AutoCAD works is a dynamic engineering model. This model blends design and production drafting together, which allows the changes to be made to any part of the design at any point in time in the entire project. This results in error reduction and fewer chances of mistakes. Furthermore, the designs which are made digitally always have room for enhancements and improvement.
2. Save Time & Money
With a specific and user-friendly interface and workflow, AutoCAD works speedily, which saves the time of the designer. AutoCAD supports documentation tools that increase productivity and help the designers and architects streamline the designs and documentation workflows. It also provides solutions to implement modifications in the projects, thus reducing the time taken. It is an efficient program that undertakes the designer's work process and helps in saving time and money and reducing errors.
3. Easier Data Transfer
Using AutoCAD in Architect Designing has made it easier to share files with multiple people simultaneously. It is not easy to work on heavy files and then share them without any data loss. But, this software has made it easy to upload the designed data on the internet and sharing it with numerous other designers.
4. Controllable in nature
This advantage of AutoCAD supports the scanning feature for the data. This technique helps in measuring the quantity of the materials used. It also helps in calculating the exact cost of the products. Eventually, it helps in managing production and post-production processes.
5. Database for manufacturing
AutoCAD allows in creating manufacturing data such as materials required for components, dimensions, and shape of the models, product, and component drawings. This helps in creating and managing a wide database which is an important part of the production process.
6. Easier Import/ Export of files
AutoCAD Inventor supports file import and export features. AutoCAD allows the users to import models from Inventor, and it also manages to do it quite easily and speedily. AutoCAD also supports various other tools and features that boost the productivity of the program. Some of them being; PDF support, compatible with Autodesk 360, social media sharing, AutoCAD WS, DWG Convert, and many more. AutoCAD also supports PRESSPULL operations, allowing the users to create surfaces, solids, and offset curves with much ease. These meshes are dynamic in nature and can easily be manipulated. The designers can easily develop physical 3D Frameworks of their designs with the 3D printing capabilities of AutoCAD.
7. Apply Point Clouds
Point Cloud is a large collection of points resulted from 3D laser scanners to create a 3D presentation of default structures. The users can join these point clouds to use as a starting point for their designs.
8. Layering feature
This feature allows the user to hide or show specific details of a complicated, complex group of drawings for clear understanding.
9. Calculation
The user can calculate Mass, Area, volume, Center of Gravity in no time. This program has an Auto- Dimensioning feature that helps in designing easy and accurate sketches. The users can also generate 2D drawings from 3D models.
10. Commands
like Fill, Hatch, Section lines, chamfer, and fillet makes AutoCAD one-stop solutions to many designers as these operations are impossible in manual drafting.
11. Image tracing feature
This helps in a digital tracing of conventional diagrams and drawing.
12. PDF import enhancements
It also has an SHF text recognition tool that converts the geometries imported from PDF text to Text objects which can be edited more conveniently.
These are some of the advantages of AutoCAD. While the latest version of AutoCAD is more advanced and comes with an amazing set of tools and commands. With a new Autodesk print studio, the users can create a 3D print ready file and then they can directly print it. This file can be printed on almost all 3D printers.
The advanced and updated version of AutoCAD also has a new migration custom setting window that is more attractive and easy to understand. It also has enhanced graphics in 2D and 3D, which comes with updated and smooth featured and improvised performance. Another advantage of using AutoCAD is designers can even view, create, edit or share CAD drawings on their mobile devices or any web browser.
The designers can even publish their designs and share them on social media or in a web browser for more views. AutoCAD is a time saver program with customizable too palettes and command window.
Recommended Articles
This has been a guide to the advantages of AutoCAD. Here we have discussed the top 12 advantages of AutoCAD. You can also look at the following article to learn more –