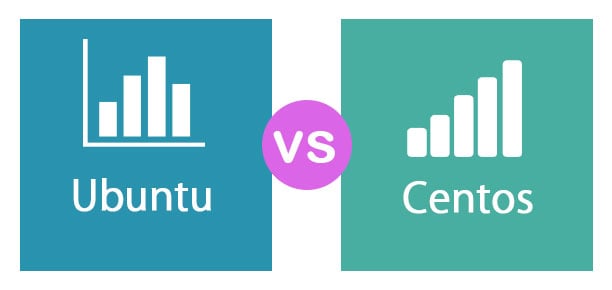 Difference Between Ubuntu vs Centos
Ubuntu is based on an open-source operating system. It is also referred to as Linux distribution based on Debian architecture. It has three editions that are Ubuntu desktop, Ubuntu Server and Ubuntu Core. It is the most popular operating system for the cloud and used as the preferred operating system for Open Stack. It comes with the ton of apps and Ubuntu software center has over thousands of applications available and its operating system is highly customizable and top security features. Centos is also known as the Community Enterprise Operating System. Centos is mainly used by the business and developers who do not require frequent updates and installation of application because of which it is more stable and secure. It is open-source. It makes the process fast and direct way to install the software.
Ubuntu
Ubuntu was developed by Canonical Ltd, which is the Ubuntu community. It is free. It is available in more than 55 languages. It was initially released in the year 2004. Ubuntu has a rich set of package groups and features, which are able to meet any type of requirement for the project. Ubuntu is mainly popular for running web servers and it is used as most considerably another Linux distribution. It is the most popular among the top 1000 sites. It is being used in large scale deployments as well. It is highly secured and it supports full disk encryption as well as other encryption like the directories of home and private. Ubuntu has released its many or different variants in the market to use over the period of time for the desktop, server, and cloud.
Centos
Centos is based on Linux distribution, which provides the computing platform and functionally compatible with its upstream source. It was developed by the Red Hat Enterprise Linux as part of the Centos project. It was initially released in the year 2004. Centos becomes the most popular Linux distribution in 2010 for web servers but later on, in 2012 it again reduces its popularity as Debian retook its popularity again with adding new features. Centos gives the freedom to develop in a dominant and one of the best Linux distribution out there. Centos is highly customizable, secure and stable as well. It has quite a few security corporate level updates which make it is the best choice to use for each and every user. Centos uses the Red hat Yum, the update package manager as with help of which it handles the update automatically whenever the new software has been installed.
Head to Head Comparison between Ubuntu vs Centos (Infographics)
Below is the top 6 difference between Ubuntu vs Centos:

Key Difference between Ubuntu vs Centos
Both Ubuntu vs Centos are popular choices in the market; let us discuss some of the major Difference Between Ubuntu vs Centos:
Ubuntu is frequently getting updated as it puts the new release every six months. Mainly it's desktop release that does not support for very long. Centos is not getting updated frequently and it put its new release in every 3 to 4 years. It is mainly getting released after every RHEL release as its clone of RHEL.
Ubuntu is mainly termed as less stable because of its regular releases whereas Centos is referred to as more stable because of its longer releases.
Ubuntu does not support cPanel/WHM as the alternative are available. Centos does support cPanel/WHM.
Ubuntu has more market share of around 14% and Centos has less market share of around 7%. The difference is almost double in % terms.
Ubuntu has a larger user and developer community. It has more documentation and tutorials available, which makes it easy to use. Centos has smaller user and developer community. It is not having much documentation and tutorial available.
Ubuntu is less secure out of the box whereas centos are more secure out of the box
Ubuntu is easier for the beginners as it is having less learning curve. Centos is having a great learning curve and it is difficult to learn.
Ubuntu is mainly used by those who require great and latest features available frequently. Centos is a good choice for them who do not want to have frequent updates in the system.
Ubuntu is having larger and massive repositories because of its popularity and online community. Centos has limited and targeted repositories. It will take a lot of time to set up the desktop with Centos.
Ubuntu always has newer packages whereas Centos does not have the new packages. It will maintain the old packages for the years.
Ubuntu installer has been perfected over the period of time and it is easiest to use of any operating system. Centos installer is mainly used by the system admins to get their ideal configuration running quickly.
Ubuntu does not offer support for web hosting service. Centos offer support for the web hosting service as it offers the compatibility that is required.
Ubuntu vs Centos Comparison Table
Below is the topmost Comparison between Ubuntu vs Centos:
| | | |
| --- | --- | --- |
| The Basis Of Comparison between Ubuntu vs Centos | Ubuntu | Centos |
| Architecture | It is based on Debian Architecture | It is the free clone of Red Hat Enterprise Linux. |
| Package Manager | It uses the apt-get package manager | It uses the yum package manager |
| Difficult | It is easier to understand | It is difficult compared to Ubuntu. |
| Secure | It is less secure | It is more secure |
| Features | It has a lot of features | It has fewer features as compared to Ubuntu. |
| Website | www.ubuntu.com | www.centos.org |
Conclusion – Ubuntu vs Centos
In this Ubuntu vs Centos article, we have seen both Ubuntu vs Centos are popular Linux distributions but Ubuntu is comparatively more popular than Centos. As Ubuntu is having larger community and support, Ubuntu is referred as one of the best to start with for the beginners. There is a lot of material like documentation and tutorials are available on different channels to learn the same.
Both Ubuntu vs Centos are having its own pros and cons. The Linux distribution can be selected on the basis of the requirement like if there is a requirement of new updates for the system than Ubuntu would be the best option. If you require stability and does not need the new release of the things at a frequent rate than Centos would be the right option and centos to provide you with more security and stability. The performance is almost the same for both of the Linux distribution. It would be mainly dependent on the system hardware. So, select and learn the Linux distribution wisely and according to requirements.
Recommended Articles
This has been a guide to the top difference between Ubuntu vs Centos. Here we also discuss the Ubuntu vs Centos key differences with infographics, and comparison table. You may also have a look at the following articles to learn more