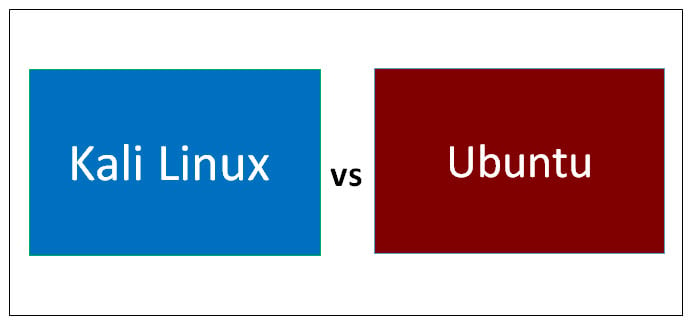 Difference Between Kali Linux vs Ubuntu
Kali Linux is basically a Linux distribution based on Debian. Its main motivation is advanced Penetration testing along with Security Auditing. This consists of numerous tools that are meant to protect and ensure information safety.
The main functions of Kali Linux are Penetration testing along with Reverse engineering and Forensics. Kali Linux was developed, maintained and funded by Offensive security. Offensive security, for your information, is one of the prominent information security training company. It deals with information security.
Ubuntu is a Debian based Linux distribution. It is an open source distribution. Considered as a suitable Linux based distribution for beginners, Ubuntu is sponsored by Canonical Ltd. The main target of this operating system was personal Computers. However, it can also be used on servers.
Ubuntu's primary version includes a GNOME or GNU Network Object Model Environment. GNOME is basically a GUI (Graphical User Interface) and a set of desktop applications in Linux. GNOME makes Ubuntu user-friendly and efficient.
Kali Linux was released as a rebuild of BackTrack Linux on 13th March 2013. It was developed under full standards of Debian development. It contains about 600 penetration testing tools. Many tools that were that didn't work properly in BackTrack were removed from Kali Linux.
There are many variants of Ubuntu apart from the regular distribution. These variants are: Ubuntu Server Edition, Edubuntu, for homeschooling and educational institutions, Ubuntu Studio for applications related to multimedia, Kubuntu that employs Kool Desktop environment (KDE), JeOS, basically a lightweight version of Ubuntu for virtual applications, and Xubuntu that is specially designed for computer systems with a constrained or limited processing power.
Ubuntu basically consists of everything that is needed for school, organizations, enterprise or home. Ubuntu Software Centre has pre-installed applications, such as office suits, e-mail, browsers, media apps, and thousands of other games. Ubuntu is available for download free of cost.
Kali Linux is a Git free open source.
Head To Head Comparison Between Kali Linux vs Ubuntu (Infographics)
Below is the top 8 difference between Kali Linux vs Ubuntu

Key differences between Kali Linux vs Ubuntu
Both Kali Linux vs Ubuntu are popular choices in the market; let us discuss some of the major Difference Between Kali Linux and Ubuntu:
Kali Linux is a specialized distribution that includes a few designed purposes including penetration and forensics testing.
Ubuntu is basically a server and desktop distribution that also includes a lot of purposes.
There are several similarities between Kali Linux vs Ubuntu as they both are based on Debian.
Kali Linux is originated from BackTrack that is directly based on Ubuntu.
Likewise, Kali Linux, Ubuntu is also based on Debian.
The focus of Kali Linux vs Ubuntu is very different from each other in terms of purposes and characteristics.
The main difference between Kali Linux and Ubuntu is their target audience that is influenced by the nature of applications that Kali Linux vs Ubuntu offers.
Ubuntu doesn't target any particular kind of audience apart from normal computer users.
Kali Linux, on the other hand, is specially formulated for information security purposes. So, most of its work is related to security and penetration testing apps.
As we know that Ubuntu is designed for general computer users, its interface is more user-friendly and it has an appearance that is less techy.
Kali Linux features more than 600 penetration tools that are pre-installed along with living boot capability.
Kali Linux can be called as an ideal platform for vulnerability testing.
Ubuntu consists of tools like a word processor, games, graphics programme, email, calendar, etc.
Ubuntu also has administrative tools such as command line greats and bash. Apart from this, it consists of standard Gnu toolkits for maintenance of the system, security and networking services.
Kali Linux has some restrictions due to the fact that its GUI is limited and constrained for purposes related to security.
Ubuntu offers a choice of GUI interfaces that includes KDE and GNOME.
Kali works in a great way if you have a lot of command line work as it is a window manager with a lot of screen type features.
Kali Linux is preferred more for secure servers that for security professional's workstation.
Kali Linux vs Ubuntu Comparison Table
The primary Comparison between Kali Linux vs Ubuntu are discussed below:
| | | |
| --- | --- | --- |
| The Basis Of  Comparison Between Kali Linux vs Ubuntu | Kali Linux | Ubuntu |
| Architecture | Linux Kernel | Ubuntu Architecture |
| Environment | GNOME | Unity |
| Main Purpose | Penetration Testing and Ethical Hacking Linux Distribution | To provide a user-friendly computer usage. |
| Mobile Support | Provide mobile support | Ubuntu can be a replacement for Android. High-end Ubuntu supported smartphones can be a replacement for PC. |
| Nature | Less user-friendly in comparison to Ubuntu | Its features and characteristics make it suitable for general computer uses. |
| Dependency Injection | Uses dependency injection | Uses dependency injection and allows modification |
| Structure | Based on Debian | Open source software based on Debian |
| Speed | Nominal speed | Slower than Kali Linux on some platforms |
Conclusion – Kali Linux vs Ubuntu
It was produced by Offensive Security and Mati Aharoni of Offensive Security through some changes of BackTrack, their past information security testing Linux conveyance in light of Knoppix. Raphaël Hertzog, one of the core engineers went along with them as a Debian expert to develop Kali Linux. Kali Linux is available for HP Chromebook, BeagleBone Black, CubieBoard, CuBox, CuBox-I, EfikaMX, Odroid U2, Odroid XU, raspberry pi, Odroid XU3, Utility Pro, Samsung Chromebook, SS808, and Galaxy Note 10.1. Ubuntu is at present supported by Canonical Ltd. On 8 July 2005, Mark Shuttleworth and Canonical reported the production of the Ubuntu Foundation and gave an underlying financing of US$10 million.
The motivation behind the establishment is to guarantee the help and advancement for every single future adaptation of Ubuntu. Stamp Shuttleworth portrays the establishment objective as to guarantee the coherence of the Ubuntu venture. Ubuntu partitions most software into four areas to reflect contrasts in permitting and the level of available support. The free software incorporates software that has met the Ubuntu licensing requirements, that generally relate to the Debian Free Software Guidelines. Special cases, be that as it may, incorporate firmware, in the Main classification, on the grounds that albeit some firmware isn't permitted to be altered, their dispersion is still allowed. Non-free software is generally unsupported; however, a few special cases are made for imperative non-free software. The upheld non-free software incorporates device drivers that can be utilized to run Ubuntu on some hardware, for example, binary-only graphics card drivers.
Recommended Article
This has a been a guide to the top differences between Kali Linux vs Ubuntu. Here we also discuss the Kali Linux vs Ubuntu key differences with infographics, and comparison table. You may also have a look at the following articles.