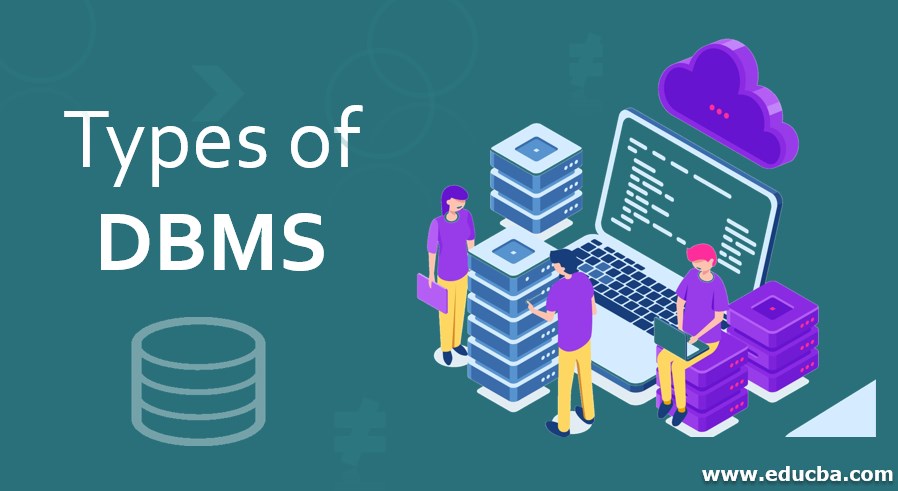 Overview of DBMS Types
DBMS (Database management System) is a software that can save and retrieve user data while taking adequate security actions. It includes a group of programs that manipulate the database. The DBMS accepts the application request and directs the operating system to supply the data. A DBMS can save and retrieve data on large systems through users and other third-party applications. DBMS enables users to create their own databases according to their needs. The term "DBMS" contains the user and other application programs of the database. It provides an interface from the data to the software. Here we will discuss the different types of DBMS in detail.
Types of DBMS (Database Management System)
We will now see DBMS types one by one that are explained below: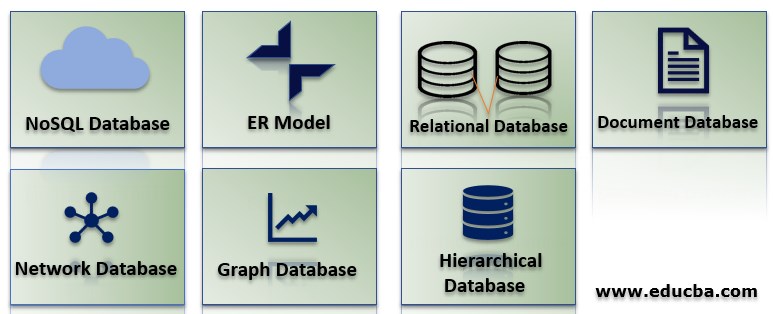 1. NoSQL Database
A NoSQL which originally means a non-relational database or non-SQL provides a data storage and recovery mechanism. This data is based on other means than the table relationships in reference databases. These databases were developed in the late 1960s but did not achieve NoSQL in the early 21st century until a rise in popularity. NoSQL databases are used in real-time web applications and big data and their application increase over time.
Sometimes, NoSQL systems also call not the only SQL to highlight the fact that they can support query languages like SQL. There are no defined schemes in the NoSQL database which makes NoSQL databases the prefect candidate for fast-changing environments. NoSQL allows developers without affecting applications to make fly changes.
2. ER Model
An ER model is usually used as a database. Each row of a table represents a single instance of an entity kind in simple relational database implementation, with each field in the table representing an attribute type. A relationship between entities is established in a related base by storing in the table of another entity the principal key of a particular entity as a pointer or "foreign key."
3. Relational Database
On each table, relational databases work has a key field that indicates each row and that the key fields can be used for connecting the data table with the other. You can easily compare details by grouping data in columns using a similar database. This uniformity is utilized by the relational database model to build new tables from the required information from existing tables. In other words, it uses similar data relating to increasing the data base's speed and versatility.
4. Document Database
The NoSQL database which stores the data in the type of documents is also document databases. The information it links to other data elements and the data attributes are represented in each document. Specifies a key-value form for the document database. Because of its document storage and NoSQL properties, document DB has become popular recently. Data storage in NoSQL provides a quicker storage and search mechanism for documents.
5. Network Database
A network structure is used to create relationships between entities by network data database management systems (Network DBMSs). Mainly on big digital computers, the network database is utilized. Network databases are hierarchical databases, but a network node can have a link with multiple entities, unlike hierarchic databases in which only one node can have a single parent. More like a cobweb or interlinked record network is a network database. The Network Data Model approval is similar to a hierarchy of data. Data is organized in many relationships in a network database.
6. Graph Database
Graph Databases are databases of the NoSQL system and use semiconductor query graph structure. A node represents a customer, person or a car in a graphic database. A node in a related database system is equivalent to a record. An edge in a graph database is a connection between nodes. Additional node information is added to the properties.
7. Hierarchical Database
In the early 1960s, IBM developed a hierarchical database system structure. Although the hierarchical structure is simple, because of the parent-child relationship, it is inflexible. Data will be stored in parent-child relationship nodes on hierarchical database management systems (hierarchical DBMSs).
A hierarchical database contains information about their parent/child relationship group, in addition to actual data. Hierarchical databases are widely used to create high-performance and open banking and telecommunications applications. A hierarchical database is easily accessible and modified because it is like a tree in this model framework, and the relationships between records are established in advance.
Recommended Articles
This is a guide to Types of DBMS. Here we discuss the overview and different types of DBMS that are explained in detail. You can also go through our other related articles to learn more –