Introduction to Open Source Project Management Tools
Open Source Project Management Tools – Are you looking out for the best open source project management tool to ever crawl the surface of the earth? Well, in that case, you're in luck! Your search ends right here with this article. Here, we will look into the effective open source project management tools that can help your business and you achieve project excellence and proper planning and execution of any project undertaken. These tools are precisely open source project management tools and serve the vast majority of businesses, whether small scale or large scale and start-ups, freelancers, and more. After careful research and trials, let me bring to you the top 7 open source project management tools that come to you from the deepest realms of open source.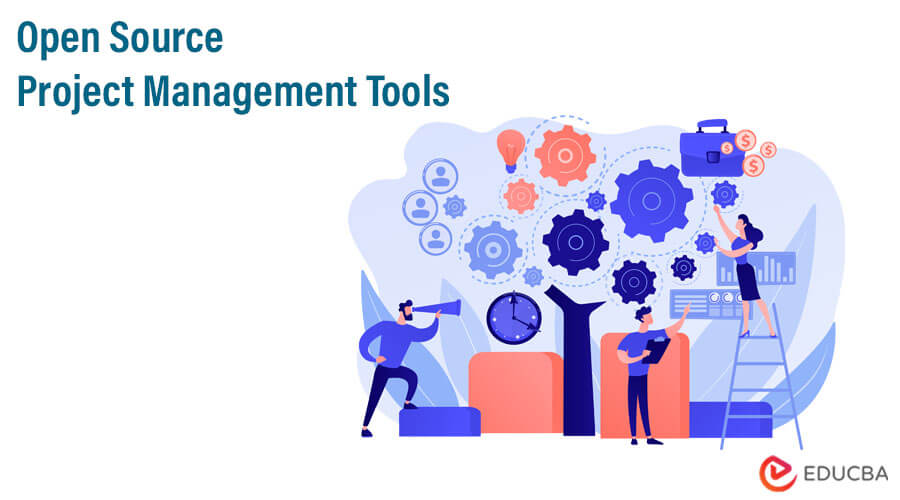 What is Open Source Project Management Tools?
Open source project management tools and software are computer software that has its source code available with proper licensing to the copyright holder, giving them complete rights to study, change, and adequately distribute these software among their circle for any purpose whatsoever.
Open source software can be built individually or in a collaborative manner and can be uploaded to repositories, such as GitHub, BitBucket, etc., for modulation, alteration, and subsequent distribution, as deemed fit by the license holder. It is basically understood as a development model aimed at providing universal access to code/blueprints/design of particular software across the market.
In these following sections, we'll have a look at the top 7 open source project management tools that have proven their worth, time and again, in our projects and are recommended by project professionals all around the globe. We will look at the following factors in these tools and software:
Target Audience
About this Tool
Features
Price
So, let's dive right into this.
1. Freedcamp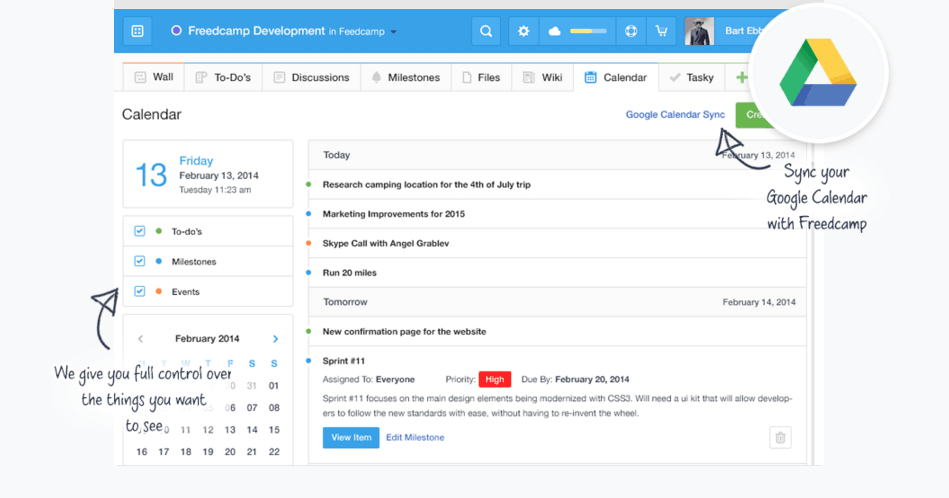 Target Audience
Freedcamp has a wide audience base and caters to small as well as large scale businesses. Apart from these corporate businesses, Freedcamp also targets and is widely used by non-profit organizations, schools, freelancers, and even individuals.
About this Tool
With its unlimited benefits and awesome features, Freedcamp is undoubtedly one of the best open source project management software you can find currently on planet earth. With great and sustainable features, here comes a tool for all your project management woes. With a web-based deployment feature, Freedcamp allows for unlimited users to be logged in and enjoy collaborative environments for all many projects and programs.
It frees project management from all its perceived complexities and ensures that a project manager can facilitate and provide the project with the necessary functionalities of tracking and management.
Features
Freedcamp houses some of the best features for project management and even encompasses a great deal of project management modules to its name, which can be efficiently customized as per your likes and company policies. These features are listed as follows:
Unlimited projects
User-friendly design and UI
Collaborative communication portal
Choice between Kanban or simple tasks
200 MB of storage (upgradable to 1 GB for $ 2.49 / month)
File sharing options
Gantt charts and other charting options
Seamless integration with e-mail
Issue tracking and management
Task management
Cost and budget management
Status and milestone tracking and management
Price
Absolutely free! The storage is upgradable factor to 1 GB coming at a cost to you of about $ 2.49 / month.
2. Producteev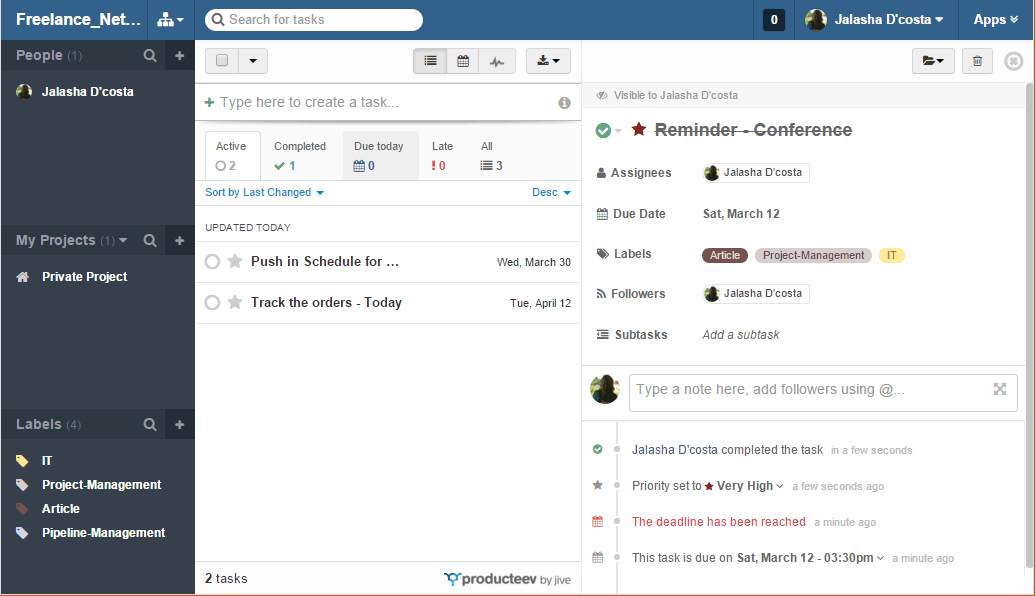 Target Audience
Producteev is a simple online software that doesn't need a technical individual to handle it. Like all other open source project management tools, Producteev does look at the different sizes of business but ensures that the facilities provided to them are top-notch and extremely what the users want in an open source project management tool.
About this Tool
Another jaw-dropping, unlimited users+project tool, Producteev was one of the first open source project management online tools that graced the surface of the Internet. Each feature inscribed into this marvelous tool is well-polished and extremely user-friendly. Tools like this one are very much created with the local user in mind.
Producteev allows itself on various and varied platforms, such as Android, OS X, Windows, iPhone, but maintains its unmatched simplicity. One feature that stands out for Producteev is the use of the term "workspace" for projects. Unlike other open source project management tools out there, Producteev doesn't boast of a task list and forms group structure with the list of tasks to be conducted at a particular time, with free tagging.
Features
Producteev makes everyday open source project management functionality into easier bits and pieces for everyone to follow. Some of these features are mentioned as follows:
Tasks management across multiple task lists
Real-time communication and collaboration
Results measurement and metrics creation
E-mail to task conversion
User-friendly
Dropbox integration
On Pro – E-mail Outlook integration
On Pro – Customized support
Price
Free! Free! Free! Unless you want to upgrade it to Pro.
3. MeisterTask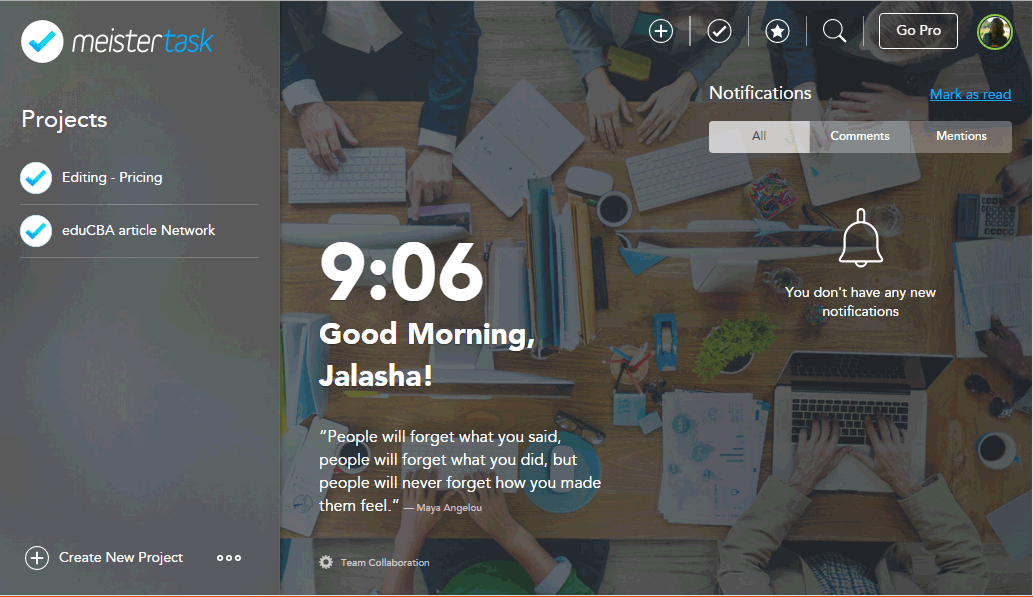 Target Audience
Another mean machine on the road targeted at audiences looking to incorporate Agile methodologies into their project frameworks. Right from Kanban arrangements through till the ways and techniques adopted in Scrum. MeisterTask is a perfect open source project management tool aimed at making life simpler for a project manager wanting to bring about a work culture change within the organization.
About this Tool
A visually appealing open source project management tool, MeisterTask is one feature-filled tool that should never go unnoticed by project managers wanting to make a difference within the organization.
Replete with flexibility and adjustability to businesses as well as personal use for any individual, MeisterTask provides intuitive and smart functions for you to tap on and easily adapts to whatever your organization workflow maybe. A widescreen pits all your tasks and projects onto a single page for you to work on and eventually prioritize as per the need of the hour.
Features
Visually, MeisterTask is candy to your eyes and can be quite a catch for those who aren't much on the task management scene within your team. The following are some of its best features that can surely help you out in understanding this tool:
Mesmerizing design
Provide easy widescreen for task viewing and prioritizing
Cross-platform integrations
MindMeister integration for mind mapping activities you might want
Drag-and-drop
Rich collaboration with internal and external project members
Easy traceability
Readily integration with file sharing and repository apps
Setting task relationships
Time and issue tracking
No storage limit
Completely customizable
Unlimited users and projects
Price
No cost at all… Zilch!
4. Asana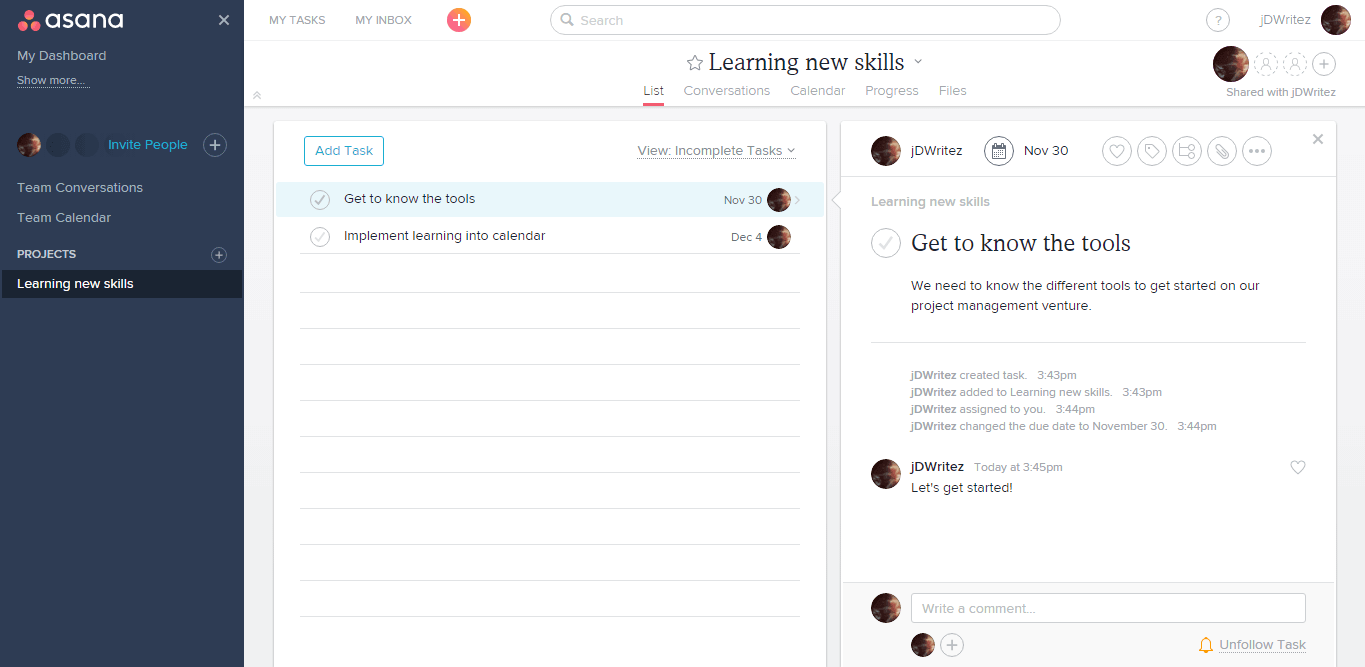 Target Audience
Asana comes to your aid whether you're a budding business or an accomplished unit, a freelancer or an employee dedicated to project and task management. Asana can be your way to go.
About this Tool
The most popular kid on the block, Asana houses and caters to a staggering number of users for their multiple projects and tasks to be conducted. This open source project management tool is a success coming straight from Dustin Moskovitz, the co-founder of Facebook. A simple and intuitive task and project management tool, Asana works best when put in a scenario with a team working at making real-time communication a reality.
With a vast project workspace for multiple projects, individual task lists, and ability to connect to multiple working networks to slate a project in, Asana helps you overcome all your project management woes that you would probably have with other tools. Right from tracking goals to checking out project deadlines and completing timelines, Asana can be your one-stop for everything you need in an open source project management tool.
With e-mail integration and file sharing management modules, Asana is your worksheet onto a single spread on your computer screen, right on the Internet.
Features
Having already heard a lot about Asana, and putting in a twist to making your open source project management tool selection a tad bit more difficult, here are listed a few of the noteworthy features that Asana carries on its person:
Sophisticated dashboards for quick and easy accessibility
Time tracking
Prioritization tags
Calendar function
Android-based app
Task to project conversion
User-friendly
Price
Free for up to 15 users.
5. Orangescrum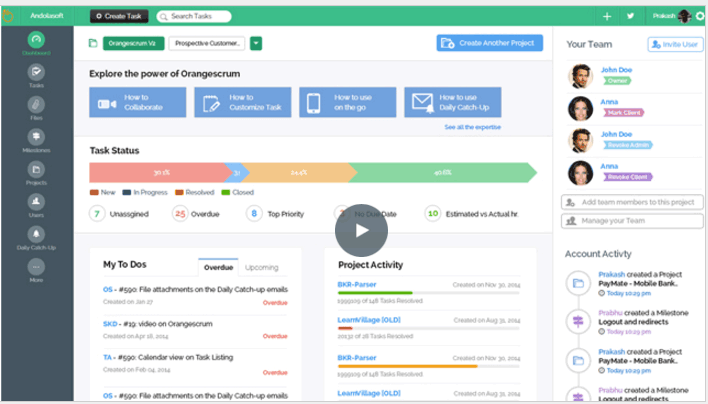 Target Audience
Targeted at small to medium-sized business, freelancers, and agencies, this open source project management tool is a modern tool encompassing the very essence of project management within an organization.
About this Tool
Orangescrum is a cloud-based project management tool that is built on top of the CakePHP framework, by AndolaSoft Inc. It's an open source project management under GPLv3 and is widely available on the GitHub repository
(https://github.com/Orangescrum/orangescrum).Orangescrum brings together the three aspects of a project (scope, time, and cost) and manages to keep the project correctly and accurately afloat.
Accessible through a simple web browser, Orangescrum has a lot of emphasis on being user-friendly and the design proves this. Project managers needing the project space to exuberate their project to an efficient level can find that very feature here in Orangescrum; all from a centralized access place.
Orangescrum comes with great visibility and transparency in their interface and design, and it also has a great control over every task that undergoes through this open-source project management tool.
Features
Assign, schedule, collaborate and track tasks
Automated time tracking for your team
Check your Resource availability and resource utilization
Schedule and create task dependencies
Create your own workflow as per your business requirement
Create, save and send accurate invoices to your customer/client.
Information-rich Kanban view for TO DO, In Progress, and Pending tasks
Get instant email notifications and reply on the go
Get daily team update right in your inbox with Daily Catch-Up
With Orangescrum open-source project management software, you can create and manage your entire
team from everywhere. No matter where your project teams are, it is available for mobile versions, also.
Download Orangescrum Open Source Project Management Software completely free.
Cloud Price
There are varied plans offered by Orangescrum. They are as follows:
Free Plan – 3 users for unlimited projects with 100 MB storage.
Startup – Basic – $9/month for 5 guest users, 15 projects with 5 GB storage
Professional – Team – $44/month for 11 users.
Enterprise – Customized pricing.
6. Tuleap Open ALM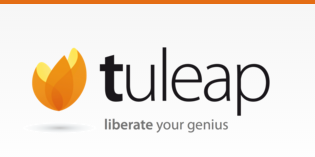 Target Audience
Basically aimed at enterprises, Tuleap Open ALM enables managers and developers to go on and utilize all the services provided for multiple project management methodologies. These managers and developers are normally part of fortune 500 companies, small and medium-sized enterprises, and many open source projects (R&D centres) that are on a roll.
About this Tool
This is the first of its kind, 100% open source project management tool. But this, my friend, isn't just another project management tool, it's an application lifecycle management tool as well. With support for the most efficient and desirable agile development and project management methodologies (traditional, hybrid, custom processes), Tuleap Open ALM also provides integration to version control systems, such as Git, Jenkins, SVN, and many more.
Along with professional support, Tuleap also, like other open source project management software has a vibrant and active community for all the possible documentation and worldwide support.
Tuleap is a Libre suite, providing facilities for unlimited users, unlimited projects, and unlimited time periods for work.
Features
A bundle of features, Tuleap Open ALM did come as a fine discovery to me and continues to be awesome in its own way. Listed below are some of its most sought-after features:
Software release planning
Work prioritization
Project progress monitoring
Status reporting
Software sources management
Documentation and guidelines maintenance
Collaboration
Sprint management and reporting
Task management
Capability Maturity Model Integration (CMMI)
Risk management
Price
A free enterprise project management tool. What more can be said!
7. MyCollab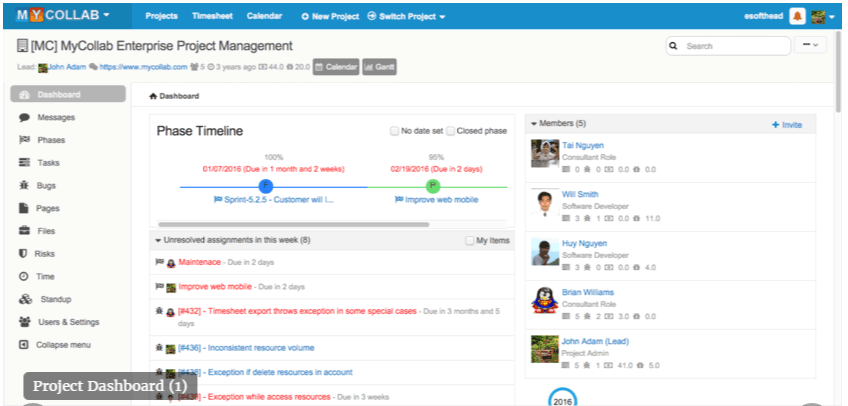 Target Audience
Just about anyone is invited to use MyCollab for all their project management needs.
About this Tool
MyCollab is an online, cloud-based collaboration tool that houses three crucial modules within its framework: MyCollab CRM, Document Management, and what we are looking at, MyCollab-Project. This open source project management module within MyCollab deals with all the project management needs that an organization has.
Built in Java, the source code for MyCollab is available on GitHub (https://github.com/MyCollab/mycollab) and the software is readily available for download on the tool's website. MyCollab provides a very sophisticated and professional look to an open source project management system, with a rich interface and stable versions.
Features
A feature-rich tool in your kitty is almost as if you have everything you need to conquer the world. Let's have a dive into what MyCollab has to offer you:
No installation
Daily backups
Gantt charts and milestone tracking
Issue management
Sales management
One-view pages
User-friendly
Customizable views
Mobile application
Price
No set-up cost and out of the three edition, the Community edition comes to you absolutely free.
Do share your views on the list that I've shared with you. Which of these open source project management tools did marvels for you and your business? Share in the comments section below and enjoy all your project management endeavors. Until the next time!
Recommended Articles
This has been a guide to Open Source Project Management Tools. Here we discussed the concepts, 7 important tools along with their target audience, features and price. You can also go through our other suggested articles to learn more –