Updated April 11, 2023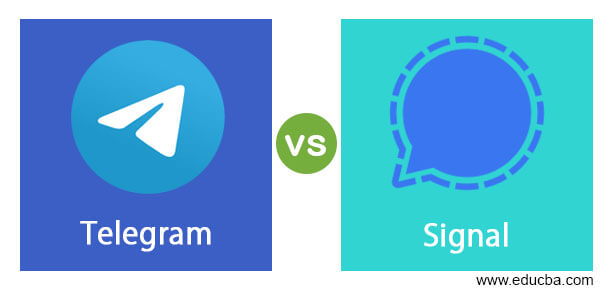 Introduction to Telegram vs Signal
Signal and Telegram are both confidential and reliable promoters. Nor is a major tech corporation owned either. The signal is operated by a non-profit corporation, while Telegram is owned by a profitable business. Signals and telegrams are both regular Chat applications with stickers, graphics, files, and voice and video calls. Telegram and Signal also offer iPhone, iPad, and Android applications. Everyone is free and all you need to log in is a telephone number. Both provide optional web applications so that you can talk with the full- keyboard on a Mac, a Windows PC, or a Linux system.
What is Telegram?
Telegram is a multi-platform messenger service founded by the Russian businessman Pavel Durov. It was released in Alpha on the 20th of October for Android, which now has over 200 million users a month. When a privacy issue strikes one of its bigger rivals, the Telegram user base continues to rise. Telegram may be one of the world's most famous delivery services, but there are many who still don't know about it. In online privacy and security debates, the software is always called off, but aren't all messaging applications secure? No.  Apps like Facebook Messenger and WhatsApp even have "end-to-end" coding. The main feature of Telegram is as much as any of the messaging applications: you can email other users of Telegram, build community messages, call and transfer files and stickers.
What is Signal?
Many messaging applications from Facebook Messenger to WhatsApp are on the move, but you want to download Signal if you're worried about privacy and protection. The signal may not be as popular as WhatsApp owned by Facebook – however – however, it has a few genius features, nice privacy tools, and very few user details. This is what you have to know about Signal, how it works, how it works, what it gives and some tips and tricks to get you started. Signal lets you do much of what a chat client would expect and even more. You can use the app like you can for competing applications like WhatsApp to send SM, addresses, voice messages, images, pictures, GIFs, locations, and files for free.
Head to Head Comparison between Telegram vs Signal (Infographics)
Below are the top 6 differences between Telegram vs Signal:

Key Difference of Signal and Telegram
Signal and Telegram are both private and stable. Nor is a major software corporation owned. A non-profit agency owning Signal and a profit-making corporation owns Telegram.
Telegram enables over 200,000 community users. Audio and video calls also can be supported. Any video call is encrypted from end to end. Signal offers community functionality of up to 150 participants. It introduced community video calls recently. The software also allows standard, end-to-end video and audio calls.
Telegram is for the time being an ad-free operation. But it recently revealed its currency preparation and said it would also be quick to use the ads interface. Signal is completely free of charge. A non-profit software is included. It does not sell or currency the data and has no commercials.
Optional end-to-end encryption is available. In Signal, everything is a hidden talk by default. It's a secret chat. All the messages in the Telegram are encrypted between you and the Telegram server, but the Telegram maintenance firm will display your message theoretically on their server if they wish – even when the "secret chat" is initiated.
Comparison Table of between Telegram and Signal
| | | |
| --- | --- | --- |
| | Telegram | Signal |
| | In Telegram, Optional end-to-end encryption is available | In Signal, All chats are end-to-end encrypted |
| | Telegram has in-built cloud backup however Secret chats not backed up | In Signal, local backups can be enabled but it is off by default |
| | It has less screen security than Signal. | Signal provides screen security |
| | There is less security for groups | Chats in groups are secured |
| | Self-destructing messages feature is available only for secret chats | Self-destructing messages feature is available for all the chats |
| | Telegram does not provide a video calling feature | Signal has a calling as well as a video calling feature. |
Conclusion
When it's wrapped, it's very clear the Signal is a very safe and stable call. While telegram includes a variety of features and enjoyable options for group conversations. At the end of the day, the intent and use of these messaging applications depend entirely. Some people would like to use signal for more simple preferences, while a few people who wish a much more enjoyable means of communication choose telegram. So in this article, we have seen key differences between Telegram and Signal. I hope you will find this article helpful.
Recommended Articles
This is a guide to Telegram vs Signal. Here we discuss the introduction, head-to-head comparison with infographics, key differences, and comparison table. You may also have a look at the following articles to learn more –