Updated April 20, 2023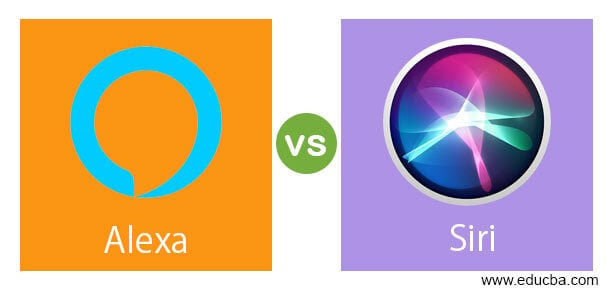 Difference Between Alexa vs Siri
The following article provides an outline for Alexa vs Siri. Siri and Alexa are the common words spoken, day in day out by computer users and they are called by the users to execute sundry tasks digitally. Siri and Alexa are the most popular digital assistant tools owned by Apple computers and Amazon respectively and many artificial intelligence technologies like natural language processing, voice recognition and machine learning are used in these tool to service the users innovatively. Google Assistant, Samsung Bixby and Microsoft Crotona are the other popular digital assistant tools in the market. Alexa and Siri have comparable features and capabilities matching with each other. These products underwent constant upgrades and enhancements during the last five years and they are on equal footing but still there is a slight difference in their performance.
Siri is a digital assistant software tool well integrated into IOS and this tool enable users to get responses on their queries answered on near restaurants or latest movies or weather conditions or flight details and perform actions based on users commands like sending emails, calling someone over phone and book tickets and confirming the action orally. This software recognizes the language as naturally spoken by the user and it does not expect the user to use special command or speak in a sophisticated way for it to act. With constant learning Siri adjusts itself with the way the user speaks and performs the task with minimal interaction. Even it understands long sentence spoken by the users and execute the tasks. Siri increases the productivity of users and saves time.
Alexa started as a smart speaker loaded with Alexa software, capable of listening to users query and responding back with answers, many house hold devices were later integrated through Alexa and controlled by smartphones from anywhere. Amazon designed Alexa platform to act as a digital assistant, entertainment device initially but its application and usage got expanded to IOT, web searching, smart office and smart home functionalities and it improved the way a common man interacting with technology dramatically.
Head to Head Comparison Between Alexa vs Siri (Infographics)
Below are the top 14 differences between Alexa and Siri:

Key Difference Between Alexa vs Siri
Let us discuss some of the major key differences between Alexa and Siri:
Both these assistants offer more or less same features and they keep evolving and honing the features of their products continuously. It is a difficult process to compare them but yet we will compare their hardware, software, services offered in various domains in our day to day life.
Basics: Though Alexa made its debut in Echo device, the software platform got expanded quickly to cover many household devices. Using the plenty of third party apps available, any home device compatible with Alexa can be connected and operated through smartphone and remote operation is also possible. Siri is fully integrated with Apple devices like iPad, Mac, iPhone, Apple TVs, Apple watches and Apple car play. It works effectively within Apple devices and integrations with other external devices are little difficult with few third party apps. But this gap is addressed by Apple now and development is in progress. Devices connected in Alexa platform works in an interactive manner. User need to wake up the devices by saying Alexa and issue command or queries for Alexa to act. Siri is a voice controlled platform made its debut in iPhone first and later got extended to other apple devices. It is an intelligent and intuitive digital assistant for apple devices.
Technology: To respond queries and executing command, Siri deploys natural language processing techniques. It responds to direct queries as well as random queries. Siri can control Home devices compatible to it. Alexa deploys new variety of voice based system that uses AI techniques related to conversation. With more one lakh third party apps, it can freely interact any device in the home, office and factory environment.
Voice Recognition: While the queries are responded to the level of each device's ability in both the assistants without having to repeat or rephrase the question much, these assistants are smart in recognizing voices of individuals in a multi member environment to provide personalized responses to each individuals and maintain confidentiality. Alexa maintains voice profile for all users and provide personalized services in media, shopping and call options. Siri is trained on the individual voices before the users start using the devices thus providing personalized services and prevent disclosing personal information to wrong persons. In the HomePod information this feature is not put into use.
Extendibility: New features can be easily developed in Alexa using third party apps in Alexa store or in house developers can develop new app using standard template and development kit provided by Alexa. Siri offers limited third party apps service in specific categories like To-do list preparation, taxi hailing and money transfer areas. Siri now allows customization using Siri shortcuts that creates custom phrases to talk to apps.
User Services: User services are given below.
a. Query Services: Alexa fares better in answering accurately in a crisp, short and straight answers whereas Siri has few limitations.
b. Music and Podcast: Siri scores over Alexa in terms of sound quality
c. Entertainment: Alexa excels in this area due to its integration with multiple devices.
d. Shopping: Alexa scores over Siri due to Amazon back end support.
e. Directions: Siri gives correct estimate of time and route suggestion better than Alexa.
f. Smart home: Alexa connects to multiple home devices through third party apps.
g. Availability: Siri is widely available across 30 countries and 20 languages.
Alexa vs Siri Comparison Table
Let's discuss the top comparison between Alexa vs Siri:
| | | |
| --- | --- | --- |
| Sr.no | Alexa | Siri |
| 1 | Echo device has cylindrical curves and wooden finish. | HomePod has an elegant look, wrapped in mesh fabric with a shiny touch surface. It has a premium build. |
| 2 | Echo device is available in more than seven colors. | HomePod is available in white or black color only. |
| 3 | Echo speakers are not that dexterous like HomePod. | HomePod is packed seven beam tweeters and a high excursion woofers. With A8 chip the sound quality in HomePod is superb. |
| 4 | Any devices compatible with Alexa can be connected/controlled easily through smartphone or display device. | Siri supports mostly Apple devices only and operational boundary of Siri is restricted to Apple devices. |
| 5 | Alexa allows third party apps to be developed and installed in it to support new devices and new operations. There are more than 1 lakh such apps available. | Siri support to third party apps started recently and only few apps are there now. |
| 6 | Any new requirement can be met with customized development of apps by in-house team. | Siri is slow to open out to customization. |
| 7 | Devices work in an interactive mode in Alexa. It can be woken up by saying "Alexa" followed up with commands. | Siri is voice controlled platform. Siri should get trained with user's voices before user command them. |
| 8 | Alexa maintains voice profiles for different users in a multi user home environment so that it can offer personalized services and maintain the confidentiality. | Voices of different users will have to be recorded and Siri will have to get trained with it prior to offering personalized services. |
| 9 | Alexa responds to queries with a crisp, short and straight answers. | Siri sometimes gives roundabout answers. |
| 10 | Presence is not widespread as compared to Apple. | Present everywhere in the world and it is available in 20 languages. |
| 11 | Shopping apps are powerful due to strong backend support of Amazon. | Not that powerful when compared to Alexa. |
| 12 | It offers variety of services in Entertainment area due to its integration with multiple devices. | Services in entertainment is not matching with Alexa. |
| 13 | Music services of Alexa don't match with Siri. | Siri scores over Alexa in music services. |
| 14 | Sets up smart home environment quickly with easy connectivity to multiple devices. | Connects only with Apple devices. |
Conclusion
Features and functionalities of both these platforms are on par. But due to its universality in connecting with multiple devices seamlessly, Alexa wins over Siri, a premium a sophisticated system.
Recommended Articles
This is a guide to Alexa vs Siri. Here we discuss the Alexa vs Siri key differences with infographics and comparison table. You may also have a look at the following articles to learn more –