Updated June 12, 2023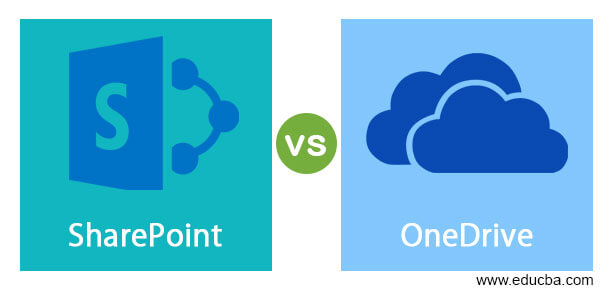 Introduction of SharePoint vs OneDrive
SharePoint and OneDrive are Microsoft's file management platforms. These two applications have a lot in common, users can share and store files for up to 15 GB with any tool, co-edit documents at the same time, and access the version history of a document. SharePoint and OneDrive are both mobile and support local file sharing between devices. They also link with Office 365 making work easy so that you will instantly synchronize all notifications and changes you make offline when you enter the cloud.
What is OneDrive?
Microsoft OneDrive is a program that installs, stores, and shares information with users. It is simply a file and paper online storage folder structure. There is a desire for people and a drive for the company. We will concentrate on the market push in this article. Any single user is able to save files in OneDrive for Company unless the user wishes to share a file with the whole team. Any team member or entity has access to the document until a file is exchanged with a team. Each user is given a terabyte of a disc, so whether the user loses no details for any reason when the device fails or records. Both OneDrive records are saved and backed up in Microsoft Cloud. This is because OneDrive storage keeps files clutter-free, allows device output to be improved, and decreases the number of IT tickets.
What is SharePoint?
SharePoint is an on-site and cloud-based application to store and share information. It is also available. The records, documentation, communication, and expertise is stored and accessible on an intranet within an organization. SharePoint can be used to create accounts and post them as blogs, which allows getting valuable information simpler for the coworkers. Another smart way to make it easy for your customers to find details is to connect applications to your SharePoint platform.
Head to Head Comparison between SharePoint vs OneDrive (Infographics)
Below are the top 6 differences between SharePoint vs OneDrive:

Key Difference of OneDrive and SharePoint
You build your content on a website with SharePoint which is freely accessible in the enterprise. It was uniquely built to work with and communicate with teams in the company in the best possible way. But OneDrive is designed for single-use, meaning that users can exchange their documents with others.
Most businesses use SharePoint for customer-facing their business website and post information for their staff or clients directly on the website. Content cannot, however, be written on one web page on OneDrive.
SharePoint has far more capabilities than being used by the enterprise as a backup library. You can view schedules, work lists, updates, and news with SharePoint, which makes it much more cooperative and communicating with end-users. When you share your information with your friends, OneDrive provides plenty of options for cooperation, but certain extra features are not included in SharePoint.
In addition to branding, internal team websites, several businesses now create and manage their business web pages using SharePoint. The CMS framework of SharePoint will publish any document which is stored on the site online. Similarly, integrated social media promotes exchanging highlights with the public and tracking the extent of involvement. Detailed analytics can also be used by businesses to build personalized apps for staff or consumers.
SharePoint vs OneDrive Comparison Table
| | | |
| --- | --- | --- |
| | SharePoint | OneDrive |
| | Accessible on an individual basis, although there is no market-focused version. | Available as a standalone service and a consumer version of the same name |
| | SharePoint application cloud edition dating back to Office XP | Built from SharePoint Workspace 2010 and Groove 2007 before |
| | Normal access to all features from a browser, but files from the local folder can be accessed | Upon user choice, you have access to a tab or local folder or app |
| | Users will use SharePoint as an admin-run branded corporate page that serves as the news table, the schedule, etc. | Users sign up for a company account of their own OneDrive without a shared GUI. |
| | Best venue for uploading team files or resources for shared use and/or check-in workflows | Best place for you to post a private work paper or a text with a restricted reach or lifecycle |
| | Can be viewed as an alternate internet site and/or file server | Can be assumed to be the cloud equivalent of your computer's My Documents folder |
Conclusion
In this article, we have seen key differences between SharePoint and OneDrive for file management. You can choose any of them based on your requirements.
Recommended Articles
This is a guide to the top difference between SharePoint vs OneDrive. Here we discuss the key differences with infographics and a comparison table. You may also have a look at the following articles to learn more –