Updated June 5, 2023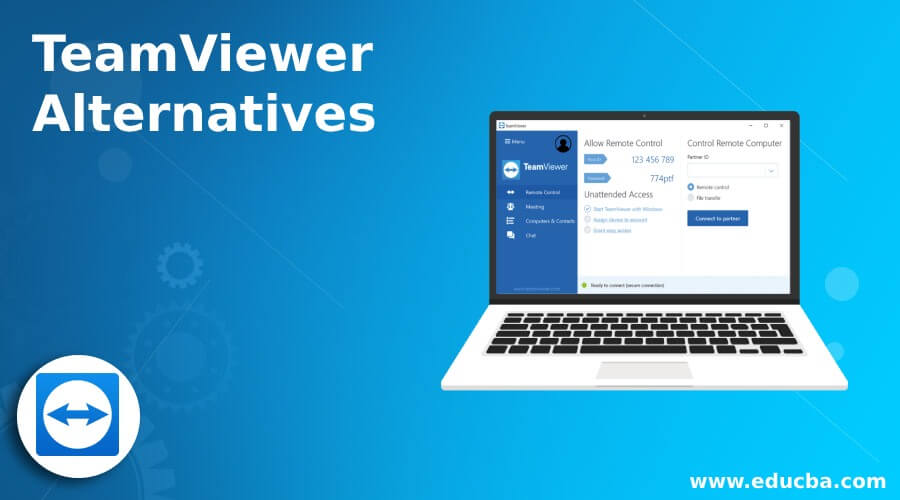 Introduction to TeamViewer
The following article provides an outline for TeamViewer Alternatives. TeamViewer is a virtual desktop software that allows users to connect remotely to multiple workstations. It improves the performance of remote control with hardware-accelerated image processing. It allows you to drag and drop files from one desktop to another. However, TeamViewer's main disadvantage is that professional version prices are very high, and it can get slower when upgrading to the latest version framework.
Also, it had a series of various malicious network attacks that caused data breaches and stole users' sensitive data. Therefore many users are looking for alternatives to TeamViewer. The TeamViewer alternatives contain commercial (paid) and open (free) software. These tools help connect devices anytime, anywhere for support, monitoring, administration, training, collaboration, and other purposes. These tools increase efficiency, reduce risk, and save money and time.
List of TeamViewer Alternatives
Given below is the list of alternatives:
1. Dameware Remote Support
Dameware Remote Support is a widely used remote desktop tool with fast and secure remote-access capabilities. It is available in two types: Dameware Remote Support (On-premises solution) and Dameware Remote Everywhere(Cloud-based solution). It provides remote support to Windows, Mac OS Linux desktops, laptops and servers, Android and iOS devices, and has a Built-in remote admin tool. It also has automated IT support tasks and a help desk to save users time and money for maintenance.
Features:
It provides remote assistance anytime, anywhere.
It eases Windows administration.
It helps to manage Active Directory (AD) remotely.
It provides an In-house ticketing system and a reporting engine to increase performance review.
Users can remotely reboot frozen or sleeping computers, take screenshots of other remote devices, and chat with other users.
It offers authentication and identity management for a secure remote desktop network.
2. Mikogo
Mikogo is a good alternative to Teamviewer as it can be accessed directly through various operating systems on smartphones, laptops, tablets, or desktops. It allows teams of up to 25 users to access a computer simultaneously with the help of an HTML viewer. It also allows swapping admin permissions fast and easily. Mikogo is available in versions such as standard, team, and professional.
Features:
In this, users can connect remotely through a web browser. There is no need to wait and download, which saves time.
It gives access to a remote mouse and keyboard control to assist customers.
It provides high-quality voice conferencing.
It allows the scheduling of remote meetings in advance.
3. Splashtop
Splashtop is a popular remote desktop tool with free and paid remote desktop solutions. It is supported by Windows, macOS X, Linux, Android, iOS, and smartphones. It provides multiple levels of data encryption; hence users' data is secure. Splashtop has high-quality video or audio streaming as latency is very low.
Features:
All remote desktop services in Splashtop are encrypted with 256-bit AES and TLS. It also used device authentication, multiple 2nd-level password options, and two-step verification.
It can be deployed through the command line or by sharing a link with other users.
4. Remote Utilities
Remote Utility is an open-source and automated remote desktop software. It is free to use for personal and business. It provides a secure connection to access systems from anywhere remotely. You can view the remote screen, send keystrokes, and move the mouse remotely.
Features:
It has various other remote access tools.
It allows establishing remote connections to up to 10 devices for free.
It provides 2-factor authentication for more protection.
It allows you to add new domain controllers and push-install the program through Active Directory Network.
It also supports portable mode.
It is very good software to use in isolated or restricted environments.
5. RealVNC Connect
RealVNC is secure remote access and support software for computers and smartphones. It offers toolkits and solutions for securely integrating real-time remote access into devices and services.
Features:
Share, collaborate, train, and support your team members.
It provides an excellent helpdesk service on demand which helps to enhance customer satisfaction.
6. Remote Desktop Manager
Remote Desktop Management, or RDM, allows you to securely manage all connections remotely on a single platform. The software has two versions free and enterprise.
Features:
It allows users to store all credentials and passwords in a secure and centralized system.
With the help of a granular protection access control, it protects connections from security attacks.
It allows the creation of a template for easy management.
Users can generate customized reports based on specific criteria.
Recommended Articles
This is a guide to TeamViewer Alternatives. Here we discuss the introduction and list of TeamViewer alternatives with features in detail. You may also have a look at the following articles to learn more –