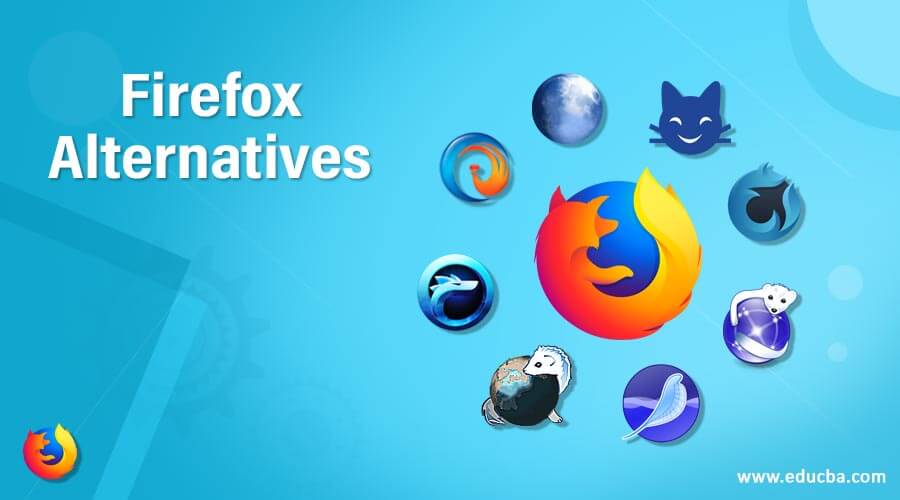 Introduction to Firefox Alternatives
Mozilla Firefox is a web browser with an open source so that everyone can take his or her source code and change it. Various initiatives have taken Firefox, either to simplify it, incorporate new features, or harmonize it with its ideology. Both these projects must publish their browsers with the source code and cannot name them Mozilla or use their official brand, as in the case of the Mozilla logo.
Top 9 Firefox Alternatives
Here is a list of alternatives to firefox.
1. Pale Moon
Firefox for Windows is also an "optimized" build from Pale Moon and has a 32-bit version as well. Pale Moon diverges from Firefox by modifying the standard configuration settings to disable open and parental control options, the default toolbar and status bar are the same as in previous Firefox versions. Like Waterfox, it also uses its setup tab.
2. SeaMonkey
The strategies for SeaMonkey are not Firefox-based but are closely associated. It has also included emails, IRC chat, HTML editing, and newsgroup capabilities for Firefox. The creation of the "Application Suite for Moselle" Such features have been removed from Firefox to make the Firefox web browser more oriented and fast. You may use SeaMonkey, the successor of the full Mozilla package if you are looking forward to Mozilla. The feed reader has also been incorporated.
3. Wyzo
Downloads and online media are tailored for Wyzo. This provides multi-source and optimized BitTorrent download capabilities. His homepage has links to videos, TV shows, and music that quickly searches for torrents. It's still based on Firefox 3.6.4 but has not been patched in some time. By installing extensions like FireDownload and FireTorrent, you can get a lot of its features on Firefox but these extensions still do not support newer versions of Firefox either. Nevertheless, the idea is important.
4. IceCat
Firefox version for Linux and other free operating systems is the GNU version of IceCat. Mozilla Firefox is open but supports closed-source non-free programming like the Adobe Flash Plugin. It didn't like that, so Free Software Foundation released its own version of Firefox, not promoting non-free plugins. In addition to not supporting proprietary applications and product improvements, IceCat is similar to Firefox, but it also has an extension that allows certain confidentiality improvements.
5. Waterfox
Mozilla does not yet sell Firefox 's official 64-bit compiled builds. By adding extra features or other modifications, Waterfox will take Firefox 's code and compile it to Windows 64-bit. The most plugin now has 64-bit versions, like Adobe Flash, and it is very easy to use a 64-bit browser regularly. You can also have to download the installer for the 64-bit version when you have already installed Flash. All 32 and 64-bit plugins are included in the new installers.
6. Iceweasel
Whether you 're using Debian Linux, you possibly have Iceweasel installed instead of Firefox. Mozilla won't allow Debian to package and modify their own version of Firefox without calling it something different, so Iceweasel was born. Iceweasel has a different name and logo, it has practically equivalent to Firefox.
7. CometBird
CometBird claims to be a powerful and fast web browser focusing on privacy and performance. There are also a few functions that distinguish it from Firefox, on which it is based. These apps include on-line bookmarks synchronizing your browsers and devices and an on-line video app to access any video you see.
8. ComodoIceDragon
ComodoIceDragon takes the Firefox core and adds many security updates, performance, and features while remaining completely supporting plugins and extensions of Firefox. Apps provide a connection scanning feature before visiting the site to search for malicious web pages. Users can use Comodo's Domain Name System ( DNS) servers, which can help you load web pages quicker and keep your malware domain filter feature safe online.
9. Swiftweasel
Swiftweasel is designed exclusively for Linux and is optimized for AMD and Intel processors, using non-marked graphics and logos. SWIFTWEASEL is 100% Firefox compliant and has numerous plugins, AdBlock Plus, including XForms, User-Agent Switch, and Fast Locale Switcher enabled by default. The GUI is almost the same as Firefox, except in terms of page loading it is designed to start faster and faster.
Conclusion
You may have also learned of SwiftFox, a Mozilla Firefox customized application for Linux. The Firefox 3.6 series hasn't been updated so you won't get a better place. Linux software bundles its own 64-bit operating systems customized Firefox builds. So, in this article, we have seen various alternatives to Firefox. You can choose any of them based on your requirements.
Recommended Articles
This is a guide to Firefox Alternatives. Here we also discuss the introduction and top 9 alternatives of firefox along with a brief explanation. You may also have a look at the following articles to learn more –