Updated April 6, 2023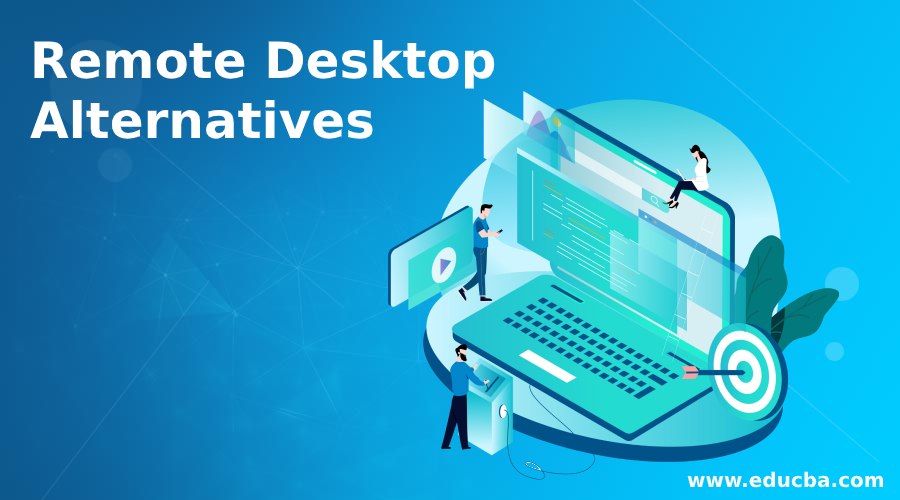 Introduction to Remote Desktop Alternatives
The following article provides an outline for Remote Desktop Alternatives. The remote desktop communication program enables the client, for some business purpose such as screen sharing, remote management, file transfer and so on, to access any other customer's computer in the local networks through a similar program. Such instruments are being used actively by organizations to help them resolve customer issues, thereby save time and the uncertainties while increasing customers' loyalty. Various other applications helps users with the same intent as Teamviewer and we are searching for the best solution to the remote desktop link management.
Alternatives of Remote Desktop
Given below are the alternatives:
1. TeamViewer
Team Viewer focuses on cloud-based progress to allow remote online support and cooperation all over the world. It is a catalyst for advancing and strengthening the thoughts of individuals and their ability to recognize and solve problems. Team Viewer is the full kit to view and share applications running on all smartphone and device platforms remotely. In addition, the team viewer offers an advance account for the court.
2. Remote Desktop Manager
Remote Desktop Manager is one of the most common remote desktop software that is commonly used to connect. It tells you how to set up remote communication tools, documents, the arrangement of passwords and allows the operation of a validated platform that is workable. Remote Desktop Manager manages the whole organization's protection and productivity test and reduces the risk factor. It is helped by various technologies such as conventions and VPNs.
3. RealVNC
It gives your device remote access from any location and at any point, where possible. A secure, stable screen sharing is supported by VNC Link. It combines users and gadgets to track, help, coordinate, test, plan, cooperate and so on. VNC Connect is a popular remote desktop program used by many global companies. It offers secure combinations of arrangements and a toolbox with constant remote access to gadgets and products. It continues on several levels.
4. Remote PC
Remote PC is a popular desktop software tool that remains linked without driving to the spot with your home or work device. It really calls for an individual to momentarily join our system to continuously manage introductions or documents. It is primarily used by small organizations that need remote access. With this Remote Desktop option, you can't go wrong.
5. LogMeIn
LogMeIn is a major remote desktop software organization that provides remote network access and supports various types of arrangements for small businesses and shoppers. Organizations use LogMeIn software for more effective remote working and commercial details. You are able to do your job. It just stores, shares and teams in one tick. The board has an impressive endpoint and provides a remote understanding of the leading help. File transfer with remote printing or unrestricted network access from one device to another without size containment.
6. Splashtop
Splashtop provides the best remote access, remote assistance or screen mirroring services in a simple virtual desktop app. It is heavy, secure, easy to transport. By providing an environment, the consumer can enter the device from somewhere else using his own program. The key goal is to support remotely customers systems and servers for IT and professional co-ops.
7. GoToMyPC
GoToMyPC is a program from a remote desktop, which enables customers to access systems remotely through a web network. It is excellent and easy to use to create a perfect balance between design and use. You can connect to your device when on the go more easily by reducing your rewards. The durability and the chance are both followed. This has innovative components of research and is then supported by various business organizations.
8. Terminals
Terminals are a superb terminal program that is equipped with various conventions such as HTTP, https, and SSH to access multiple remote PCs. We must first make Terminals an administrator, otherwise, it will fall off. We can create and orchestrate associations in the sidebar. It's highly customisable. This also offers a wide range of network resources.
9. Multidesk
Multidesk is a popular remote desktop application that enables a customer to communicate remotely between two systems and to control each one from afar. Through filtering the IP address you can import the reserved and servers. It follows the main password and starts connecting to the software. The link port can also be modified. It has an advanced remote trading operation.
This is a guide to Remote Desktop Alternatives. Here we discuss the introduction to remote desktop  with top 9 alternatives. You can choose any tool based on your requirement. You may also have a look at the following articles to learn more –