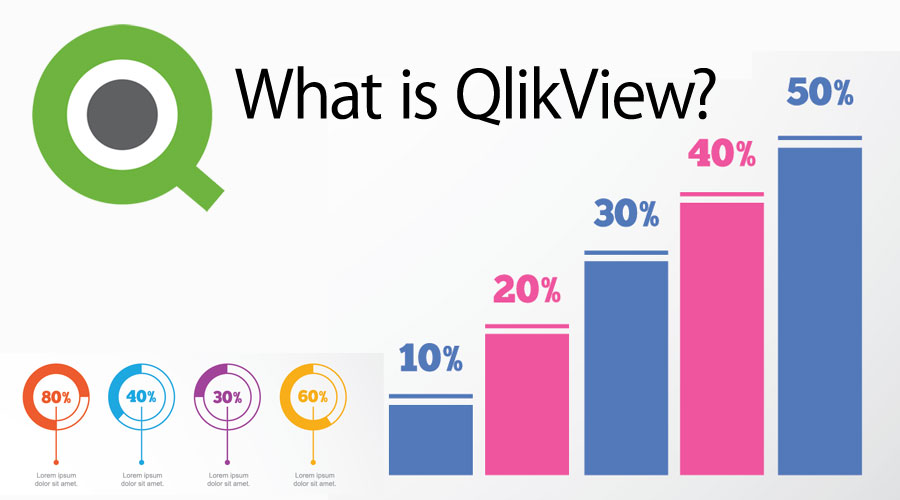 What is QlikView?
QlikView is a Business Discovery platform providing self-service BI to all corporate users. You can analyze your data and use your data findings with QlikView to support decisions. It enables you to ask your own questions and answer them, to follow your own paths to insight and to make decisions together, you and your colleagues. Our patented software engine is the core of QlikView and generates new flying data. It compresses information and stores it in memory, where multiple users can search it immediately.
Understanding QlikView
This never makes any kind of difference between generated tables, whether it is loaded from a file or executing one select statement. The order does not matter in the case of QlikView; in the case of implementing QlikView logic, the order of the fields which are selected by the statement and order of those fields available in the tables in the original database are arbitrary. In this case, making an association is one of the mandatory requirements. So the required fields name is using for identifying and helping for creating an association for implementing business intelligence logic.
How does QlikView make working so easy?
It is very much easy to learn and implement in your system. First of all, downloading the QlikView install property in your system. It will automatically come with one Tutorial folders in your downloaded location. That tutorial will hold some of the PDF of how to set up and executing QlikView easily for the business requirement. Anyone who has a basic knowledge of software can able to start the same; then, if you have basic knowledge on specific business rules writing skill, then they can easily prepare some of the presentable business views in the QlikView tool. But still, for implementing some advanced features, time and experience are very much require.
What can you do with QlikView?
It is one of the popular platforms for business rules development. It provides mainly a self-service BI facility for any kind of business use for any organization. This mainly provides the utility of analyzing some data and can use their data dictionaries for generating some decision-making reports.
Working with QlikView
Some critical utility has been provided below:
Loading huge data.
Helping on load and transferring require data from different data sources.
Load scripts helping to store information of the data and the specific data sources from where those data came from.
And one of the big utility is if the business user wants to use only the QlikView file and willing to analyze on the same for preparing the analytics report, then don't need to open the script file at all. They can directly utilize the same without any changes.
Advantages of QlikView
Some of the key advantages:
It mainly used the in-memory model of storing data.
Able to handle or modify some huge data sets very smoothly and ensuring accuracy.
Strong data filtering module.
The strong searching mechanism on all the data set whether data available directly or indirectly.
Holding one of the faster and powerful visualization capability comparing with any other business discovery platform.
Required skills
Some of the key knowledge may require for understanding it faster:
SQL query knowledge at the basic level requires.
VB script knowledge is sometimes required in the case of advanced automation or macros utility.
Basic data model knowledge will be helpful.
Understanding of huge data type.
Strong business understanding, specifically in the case of writing rules.
Designing specific layouts.
Hard-working and proper practicing will be the key points for any new tool.
Why should we use QlikView?
It mainly utilizes for storing government-related important data and ensuring security. As Tool is really easy to use for any kind of business use for developing their own report immediately, so it always is an enterprise-ready product. It is holding some of the critical governed data and specific rules, so it provides utility for all the other organizations of using those government-specific data and define rules properly at the time of analyzing.
Scope
It is a very powerful BI tool; there have different kinds of opportunities available in the current market. Experience candidate can able to expertise their knowledge specifically in advance levels like VB script or JavaScript or macros kind of thing. Or they can easily plan for specific certification QlikView Developer or Administrative part. Otherwise, any other popular BI tool or data warehousing, or ETL tools will be some great options for them.
Why do we need QlikView?
Some of the key reasons for using it are:
Cost-Effectiveness. If we are going to compare with other available popular business intelligence tool, then it is obviously low cost but provide better visualization than others.
Very much user-friendly. So easy to understand for the business people without any specific technical background.
It does not use any kind of cubes concept. Load all the original tables and data.
Holding data in memory for further use.
Who is the right audience for learning QlikView technologies?
The target audience can be business users and decision-makers of the organization. Some of the technology people also are included for an advanced level of understanding.
How will this technology help you in career growth?
It is always a very popular and powerful BI tool, so experience on it definitely provide candidate in different opportunities for multiple BI intelligence tool. There have some option of taken certification in QlikView for entertaining their career growth anytime. But better to go for learning some of the key related technologies like VB Script or JavaScript kind of thing so that advanced features on this tool can be utilized in a better approach.
Conclusion
It allows different companies on multiple businesses to analyze entire market data for identifying which specific activities will help them for better sales in the current scenario. It can provide those results very faster and proper flexible approach. So that organization sales and marketing people can be targeting their approach of selling more smartly based on the analyzed result.
Recommended Articles
This has been a guide to What is QlikView?. Here we discussed the Working, Scope, Advantages and its Understanding of QlikView. You can also go through our other suggested articles to learn more –