Introduction to Social Media Marketing for Small Businesses
Social media marketing for a small business uses social media platforms to inform customers about the start-up company's products and services. For instance, as of 2022, over 4.59 billion people use social media. It is pertinent for modern marketers to allocate a budget to social media marketing to tap into the enormous potential of social media. Hence, in 2022, over $229.59 billion was spent on global social media marketing advertising. Social Media Marketing helps small businesses increase brand awareness and interact with their customers, partners, and employees. Small business firms use social media platforms such as Twitter, Facebook, YouTube, etc., to generate leads and establish a new customer base.
Key Highlights
Social media marketing helps small business firms introduce their products or services worldwide.
It allows small business firms to improve their brand awareness.
Being active on the right social media platform is necessary to grow a business online.
Social media marketing helps small business firms to interact with their customers.
Importance of Social Media Marketing for Small Business
Brand Awareness: Attractive content on your social media page increases a brand's visibility.
Fair Competition: Social media marketing helps small businesses to promote their brands equal to the larger companies' brands.
Researching Audience: Social media analytics helps find the target audience's interests and needs.
Customer Relationships: Social media allows easy customer interaction and establishes good relationships with them.
Affordability: Social media marketing is vital for small businesses because it allows them to reach a large audience at a low cost.
Social Media Marketing Apps for Small Business
1. Facebook
Facebook allows one to create social media pages, run campaigns, and open e-commerce shops.
Facebook aids in following a customer from the lead to the business stage.
It helps in tracking the targeted audience.
2. Instagram
Instagram is best for small fashion, food, or film businesses.
Since it is a visual platform, it offers an app-shopping experience to users.
3. Twitter
Twitter provides an excellent communication platform where you can interact with your customers.
53% of Twitter users are more likely to be the first to buy a product.
4. TikTok
TikTok is an excellent platform for small businesses because it doesn't require a high budget to post exciting content.
5. Pinterest
Pinterest is one of the most liked visual search engines by people.
Pinterest users use Pinterest to compare and make the best purchase decisions.
6. YouTube
YouTube is the most popular video-sharing social network, receiving nearly 80 billion visits from mobile and desktop devices per month.
Providing links in your YouTube video increases your website traffic.
Setting up Social Media Marketing for Small Business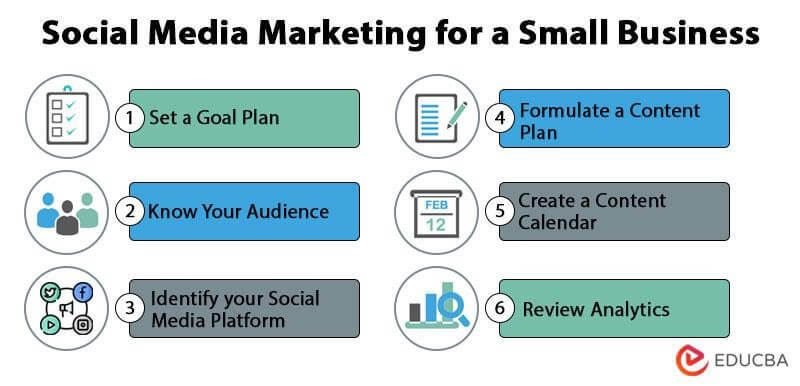 1. Set Goal Plan
Set goals that align with business objectives.
Setting a plan helps to choose the right social media platform and adopt the best strategies for a business.
2. Know Your Audience
You should know who is buying or using your product or service.
Finding the target audience helps determine where a business's audience is and how to find leads.
3. Identify your Social Media Platform
Visual platforms such as Pinterest and Instagram are ideal if a business depends on visuals, such as a restaurant with a good ambiance and colorful food items.
Twitter is the best platform for a designer or writer to find potential clients.
LinkedIn helps B2B concerns generate leads and improve their sales.
Since Facebook is the largest social media platform, creating a social media page and posting content regularly increases your visibility.
4. Formulate Content Plan
Planning content is the utmost priority in managing your social media page.
Decide the frequency of posts, post timings, and content ideas.
The frequency of posting depends on the social media platform. For example, Instagram suggests daily stories to interact with followers.
Study other brands to learn the content expectations.
Check engagement to determine when the targeted audience is the most active.
5. Create Content Calendar
Create a content calendar using social media management tools to track and schedule your content.
It helps avoid delayed posting and last-minute rush.
Scheduling tools like Hootsuite help you to post your content on time.
6. Review Analytics
Using analytics helps measure the performance of content and know customers' requirements.
Try out different social media marketing strategies and formulate the best plan by viewing the customer engagement analytics.
Effective Social Media Marketing for Small Business
Some tips for social media marketing for a small business to grow are listed as follows:
1. Customer Relationships
Communication with the audience helps to know their requirements and needs.
Interacting with them through the comment section makes them loyal to your brand.
It is vital to handle queries, provide solutions and engage with the customer promptly – this improves the customer satisfaction rate and builds a strong relationship with them.
2. Research
There are several ways to increase brand awareness, from hosting giveaways to influencer marketing.
Establishing communication with your industry people helps you to know the current trends in the market.
Experimenting with different strategies and content types clarifies how social media works for a business. You may not know the outcome unless you start something.
Instead of using all social media platforms, focus on a few where the target audience is more active.
Employing social media analytics tools helps track the performance of a campaign and identify the best platform for your business.
3. Search Engine Optimization (SEO)
SEO is vital in increasing your brand's awareness.
Research the right keywords and hashtags using appropriate tools.
Content and keywords should be straightforward so that people easily find the business on the internet.
Final Thoughts
Social media marketing is a godsend for small businesses. Social media has leveled the field where small businesses can compete with large companies. One trending post of a company has the potential to skyrocket. Hence, social media presence has become essential to achieve business goals.
Frequently Asked Questions (FAQs)
Given below are the FAQs mentioned:
Q1. How do I advertise my small business on social media?
Answer: To advertise a small business on social media, identify which platforms host the targeted audience. Then, create a presence for the company on those platforms. Paid advertising options, such as Facebook ads or Instagram-sponsored posts, may reach a larger audience and drive more traffic to your website. It's also essential to monitor and analyze the performance of social media advertising efforts.
Q2. What is the best social media marketing platform for a small business?
Answer: Facebook and Instagram have a large user base and offer advanced targeting options, making it easy to reach your ideal audience. Additionally, they offer a variety of advertising formats, including photo and video ads, which showcase products or services in a visually engaging way. Both platforms also offer a variety of analytics and measurement tools, which track the performance of advertising campaigns and make data-driven decisions about one's marketing strategy.
Q3. How do beginners start social media marketing?
Answer: Beginners can start social media marketing by creating a social media presence on the platforms where their target audience is most active. Then, they should develop a content strategy that aligns with their business goals and consistently post engaging and relevant content. Lastly, they can use analytics to track their progress.
Q4. Which social media is best for selling?
Answer: E-Commerce platforms such as Instagram and Facebook are considered the best social media platforms for selling. They allow businesses to create shoppable posts and offers, making it easy for customers to purchase products directly from the platform. Instagram shopping feature allows businesses to tag products in their posts and stories. Additionally, Instagram has a feature called IGTV, which is an excellent platform for product demonstrations, tutorials, and unboxing videos. At the same time, Facebook has built-in eCommerce features that allow businesses to sell products directly on their Facebook pages.
Recommended Articles
This is an EDUCBA guide to social media marketing for small business. You can refer to EDUCBA's recommended articles on marketing to learn more –