What are Social Media Marketing Services?
Social media marketing is mainly an online method of marketing that uses various social media platforms to market products and services. Social media platforms like Facebook (now Meta), Twitter, LinkedIn, and Pinterest are popular for brand recognition, SEO optimization, and Customer attraction. Thus, these platforms are highly engaging and used in social media marketing services.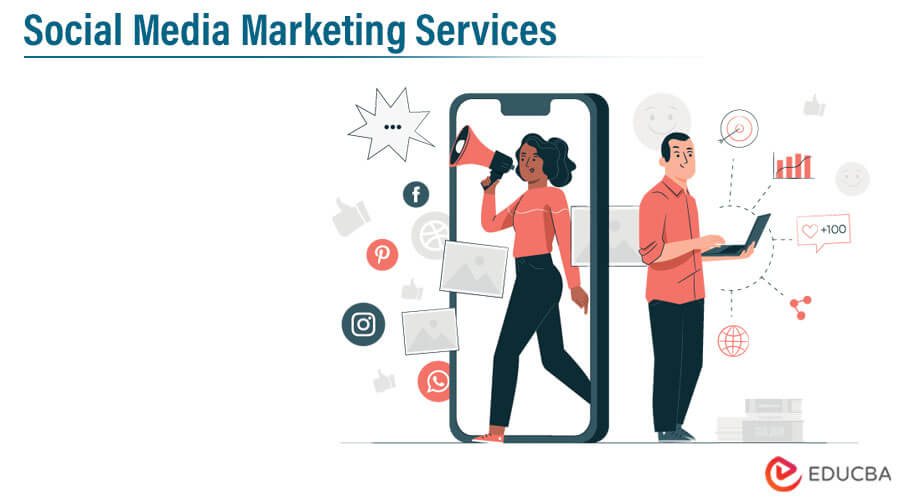 Key Highlights
Social media marketing services are personalized and unique marketing techniques that ensure relevant engagement with users and increase website traffic for businesses or companies.
Social media marketing helps to perform in-depth social media audits, develop brand awareness, craft personalized & optimized content, and develop a marketing person and attract website traffic.
Best Social Media Marketing Services
Some of the best social media marketing services are: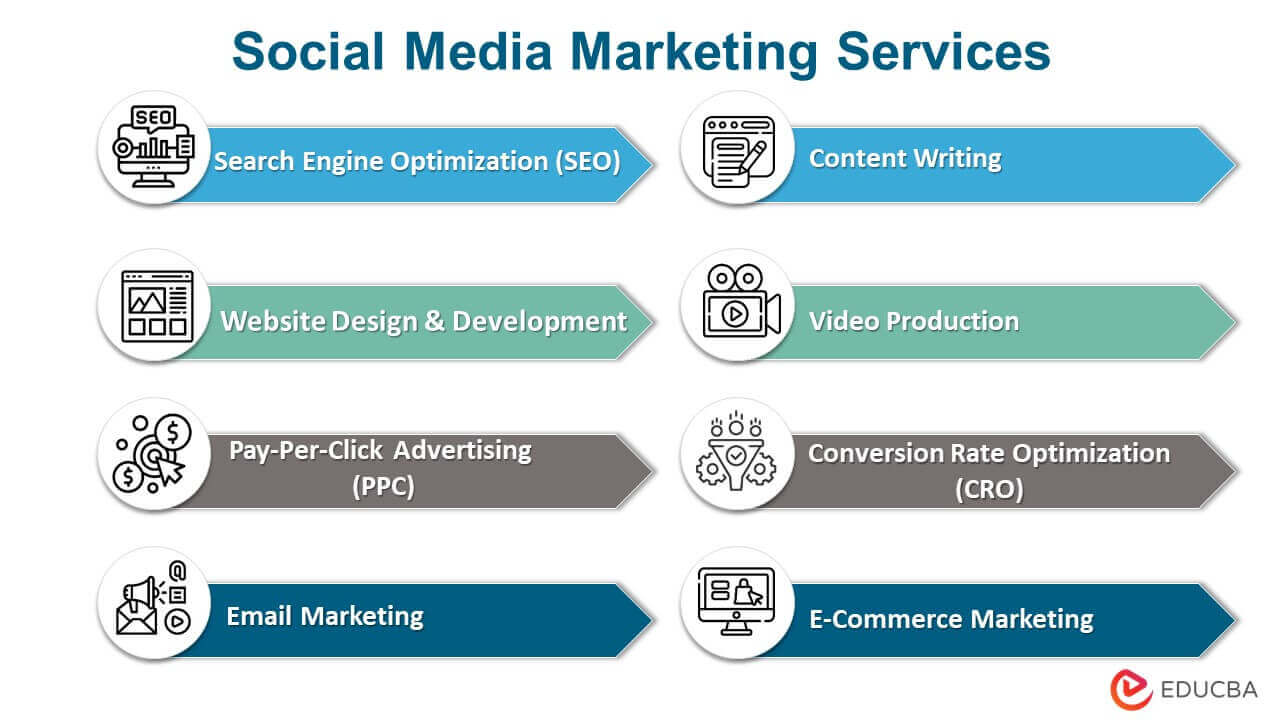 1. Search Engine Optimization (SEO)
SEO is the process that ensures the optimization of content and words to link with the demand and popularity of industry and market trends.
It helps to attract customers and increase the visibility of a service or product with integrated SEO and social media marketing.
Social media marketing experts (SMM) ensure the development of optimized content that address the target users or customers to improve organic website traffic.
You can implement SEO on content in blogs, videos, infographics, and other share-worthy content.
2. Website Design & Development
Website design & development helps to implement consistent page brand and visibility improvement with social media reviews on the website.
You can implement it by developing social proof and a positive impact on behalf of the client's prospect.
Social media marketing experts gather useful business ideas and use listening tools to observe demands in the market.
Thus, it helps to develop and improve brand visibility by embedding social media features and feeds to direct visitors toward action.
3. Pay-Per-Click Advertising (PPC)
Pay-Per-Click advertising is the social media marketing service through which impressions increase with user clicks on a website or social media platform.
PPC is mainly related to the improvement of impressions and engagement of audiences with advertisers or brands.
It is done by identifying the target market and observing high-performing keywords across social media platforms.
4. Email Marketing
Email marketing is a powerful marketing service that builds direct and digital marketing forms to promote a business or product.
Integrating email marketing with social media marketing experts ensures the creation of unimaginable brand recognition and promotion of business.
You can use Email marketing to identify the pain points and engagement rates among existing and new customers for different business firms or organizations.
As per marketing requirements, you can use different types of emails, like promotional, advertising, acquisition, and retention emails.
5. Content Writing
Insightful content is very important for social media marketing. From websites to social media handles, the advertisements or marketing of products or services need crisp content that can attract users.
Thus, content writing is a top-notch priority to convey brand awareness and excel in a community with better quality and audience traffic.
Content writers and copywriters ensure appealing information sharing with customers and target users based on recent trends and brand requirements.
The valuable contents link brands and customers and gradually increases product marketing.
6. Video Production
Users spend more time on online videos instead on long blog posts or media content. Short and snackable videos have gradually become famous for marketing and influencing a wide range of target populations.
82% of global internet traffic is from video streaming. Thus, video marketing is the best way to increase engagement with users or audiences.
SMM efforts and snackable video content containing tutorials, promotions, and even influencers' videos enable better user interaction and connectivity with the brand or website.
7. Conversion Rate Optimization (CRO)
Conversion rate optimization is the systematic testing and optimization of the website contents and features to increase the rate of visitors to the website or social media handles.
CRO is defined based on companies' or websites' long and short-term objectives, sales requirements, social media shares, CTA button clicks, and many more.
The conversion rate metrics include bounce rate, entrance, click-through rates, page visits, ROI, website traffic, lead generated, CPC, exit rate, and page loading time.
Research shows that most businesses are less satisfied with CRO rates. Therefore, through optimized content and marketing, social media marketing strategies to improve the CRO rates on websites and online platforms can help land better CRO metrics and leverage conversion rates.
8. e-Commerce Marketing
Online shopping has become more convenient for customers, and it enables limiting time wastage and waiting in lines to get the products. E-commerce marketing is gradually increasing with the unprecedented growth rate of e-commerce facilities.
In addition, AI (Artificial Intelligence) and Machine Learning are making e-commerce more user-friendly and convenient for customers worldwide.
On the other hand, e-commerce companies are highly dependent on search engines for traffic.
Thus, using a proper e-commerce marketing strategy with social media insights as an advantage can help boost website traffic and customer engagement rates.
Conclusion
The increase in technology and internet usage has led to the popularity of social media platforms. Using social media marketing services to increase website traffic and user engagement rates is becoming a widespread and helpful technique for businesses worldwide. Thus, social media marketing services like PPC. CRO, content writing, email marketing, and many more are enabling specific opportunities for website and social media users to enhance their product or brand awareness. Consideration of modern marketing techniques over traditional marketing methods has needed to be revised. Therefore, social media marketing services have been the apex of marketing techniques businesses use to compete in their industry and market.
FAQs
Given below are the FAQs mentioned:
Q1. What are social media marketing services?
Answer: Social media marketing is a marketing method that uses social media platforms to grow the business by increasing sales and popularity online. Digital marketing and e-marketing are the other terms for social media marketing.
Q2. What are the best practices for social media marketing services?
Answer: Social media marketing will be easier if you follow these simple tips. Every platform follows different strategies, firstly, choose the right platform strategy for your business. Create engaging content, and be consistent with posting the created content. Take feedback from the customers and implement them. It will help you to attract more customers, and they will be loyal.
Q3. Is it too late to start with social media marketing?
Answer: It's never too early to start with something. You can start with social media marketing even if your brand is well-known in the market or a startup. Having the best practices is always beneficial in driving customers.
Recommended Articles
This article is a gist to social media marketing services. To learn more about the topic, you can refer to these recommendations –