What is Social Media Marketing Salary?
Social media marketing salary is competitive in the market, and your payment is according to your skills and role. The approximate salary of an entry-level job is $37K annually. There are so many social media users worldwide businesses in all fields use it as a critical part of their marketing strategy.
It makes social media marketing salaries both very attractive and very competitive. Here is all the information about this job and how much one can make as a social media marketer.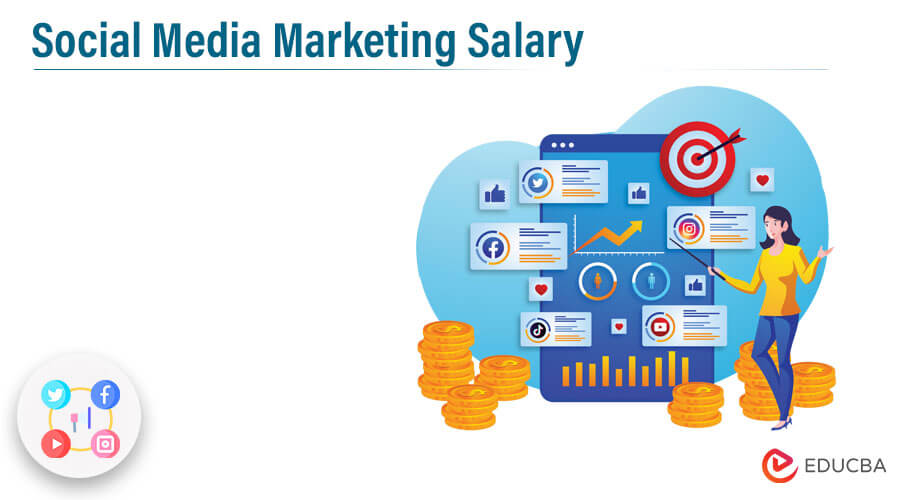 Key Highlights
Increasing brand recognition, website traffic, and fostering relationships with their target demographic are among the benefits that can accrue to any organization that uses social media.
Suppose one wants to command competitive pay in social media marketing. In that case, building a social media strategy is a must. It supports corporate goals and maximizes the impact of social media campaigns.
Marketing via social media should be an integral component of any company's overall strategy. However, if anyone is interested in pursuing a career in social media. In that case, estimating how much money they will make with a specific skill set can be challenging.
Social Media Marketing Manager Salary (USA/UK)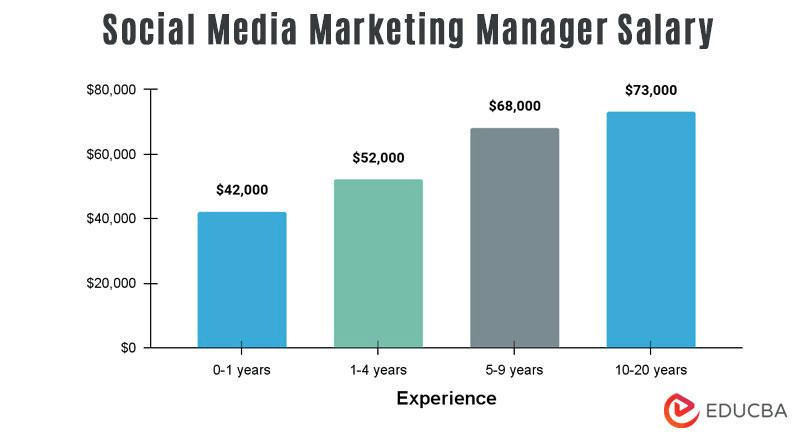 (Source: Payscale)
Because many different professions fall under the umbrella of social media, the wage for social media marketing can vary greatly. These positions include social media manager, director, strategist, community manager or specialist, and brand ambassador.
Salary in the USA for Social Media Marketing
The annual compensation of a senior social media manager in the United States is typically $58,255, although it can go as high as $90,000.
For example, the starting salary for a social media marketing coordinator position is 32,000 dollars.
The salary for a social media director might be far over 100,000 dollars.
Salary in the UK for Social Media Marketing
Depending on the experience, the starting salary as an assistant or junior social media manager is likely between £20,000and £28,000.
The average salary for a social media manager is between £25,000 and £45,000.
With a lot of experience, one can get a salary of between £50,000 and more than £60,000 in jobs like "head of social media."
The Major Players 2022 Salary Survey says that the average freelance rate for a social media manager is between £225 and £325 per day.
It can go up to between £300 and £400 per day for more senior positions like social media strategist or head of social. Rates vary based on your reputation, experience, and where you live.
Salary Based on Various Job Types
The salary will vary by the type of job. For example, work for a small company with only one employee and no other employees. Your social media marketing salary may be lower than someone who works at an established company with several hundred employees. One can also expect to make more money if the company is in a large city rather than a small town.
The location also affects how much money you earn as a social media marketer: The cost of living varies from place to place depending on what products people need or want to buy and how much money they have available for purchasing those products (or not buying them). So there could be significant differences between working in New York City and Los Angeles.
Consider these factors when calculating compensation for each position within an organization's overall budgeting process. If it determines how much each employee should get paid every month based on their responsibilities within said organization's goals/objectives/goals etc.
Job Requirements
Social Media Marketing requires a degree in marketing or another related field.
One must know social media marketing tools. These include Facebook, Twitter, and Instagram (examples).
The person should also be familiar with the advertising industry, including Google Adwords and Facebook Ads.
Experience with social media analytics will help you determine which platforms are adequate for business goals and how much time different users spend on each forum. You can obtain it through Google Analytics or similar software, free from most web hosting companies.
Content management systems (CMS) manage all types of content across multiple websites or blogs. Having experience here would be beneficial but not necessary if this isn't something that interests a person directly related to working within an agency setting.
Roles and Responsibilities
The social media marketing salary and responsibilities will vary based on the social media role.
But one can expect that some of the job duties may be:
Putting the social media strategy into action: Coordinating with stakeholders from all over the company to ensure the social media techniques are practical and help people understand them.
Managing social media campaigns: Day-to-day tasks, such as advocacy, writing, photography, video, editorial, community outreach, promotions, and more.
You will be the company's voice: Social networking sites like Facebook, Twitter, YouTube, Instagram, Pinterest, LinkedIn, and other similar community sites.
How to measure success: Identifying effective benchmarks, analyzing, reviewing, and evaluating campaigns to achieve the best results through social media.
Salaries are Rising to Pre-Pandemic Levels
Many job candidates reduced their compensation expectations at the start of the COVID-19 pandemic in favor of stability during unsettling times. Recent research from Glassdoor indicates that these expectations are once again rising.
From the first quarter of 2021 to the first quarter of 2022, the amount of money job applicants anticipate earning when looking for a new position climbed by 43%. Job seekers today expect to make 34% ($9,253) more than they do now.
There is still more to be done to bridge the gap, considering that the figure was closer to $7,000 before the outbreak. If anything, though, this rapid rise suggests that people in the business and technology sectors may be recovering those losses sooner than anticipated.
Final Thoughts
Regarding social media, specific industries perform better than others. It may be due to changes in content development or audience involvement. While social media marketing may appear straightforward at first glance, it calls for a unique set of specialized abilities to be successful in these positions.
Frequently Asked Questions(FAQs)
Given below are the FAQs mentioned:
Q1. How much do social media marketing professionals earn?
Answer: Social media marketing entry-level jobs typically pay $24,566–$36,625. Social media marketing employment will increase, but most will be entry-level, and competition for management roles will rise. Due to location, industry, education, and experience, social media marketers' annual incomes vary. The highest-paid marketing experts know much about social media programs and technologies because social media is still a new marketing channel.
Q2. What are the top 3 high-paying social media marketing jobs?
Answer: The pay level for different social media marketing jobs varies based on your experience and skills.
Here are some high-paying jobs:
The Vice President of Communications is a company ambassador and a core member of senior management. The main responsibility is to enhance a company's communication strategy, and the pay scale is around $156,013 annually.
The social media director designs the marketing plans to cover the spectrum of both digital and social media. On average, a social media director earns annually of about $81,487.
The public relations(PR) manager is the one who looks after public relations to create an image of a company. The average annual salary offered to a PR manager is $117,206.
Q3. What is the social media manager's salary in different industries?
Answer: Whatever the circumstances, a social media manager's social performance is frequently related to that manager's earning potential. Those who work in technology may anticipate earning an average salary of $76,786. The average wage for those working in manufacturing is $71,841 per year. The average pay for those working in finance is $68 394. The typical annual salary for those working in retail is $68,247.
Recommended Articles
We believe this EDUCBA guide on "social media marketing salary" was needful. For further information on similar topics, EDUCBA recommends these articles –