Updated April 7, 2023
Introduction to Social Media Marketing For Beginners
Social Media Marketing for beginners is to expose their products and services globally, using modern marketing strategies. Social media is an interactive technology for connecting with your friends, family, peers, and even other social members outside your space and time. Some examples of social media platforms are Facebook, Instagram, Snapchat, etc. Among these platforms, Facebook is ranked one in 2022. Social media's purpose is to facilitate excellent communication.
Social media marketing for beginners involves understanding what social media marketing is and where and how it executes itself as one of the most applied digital marketing strategies for most industries today.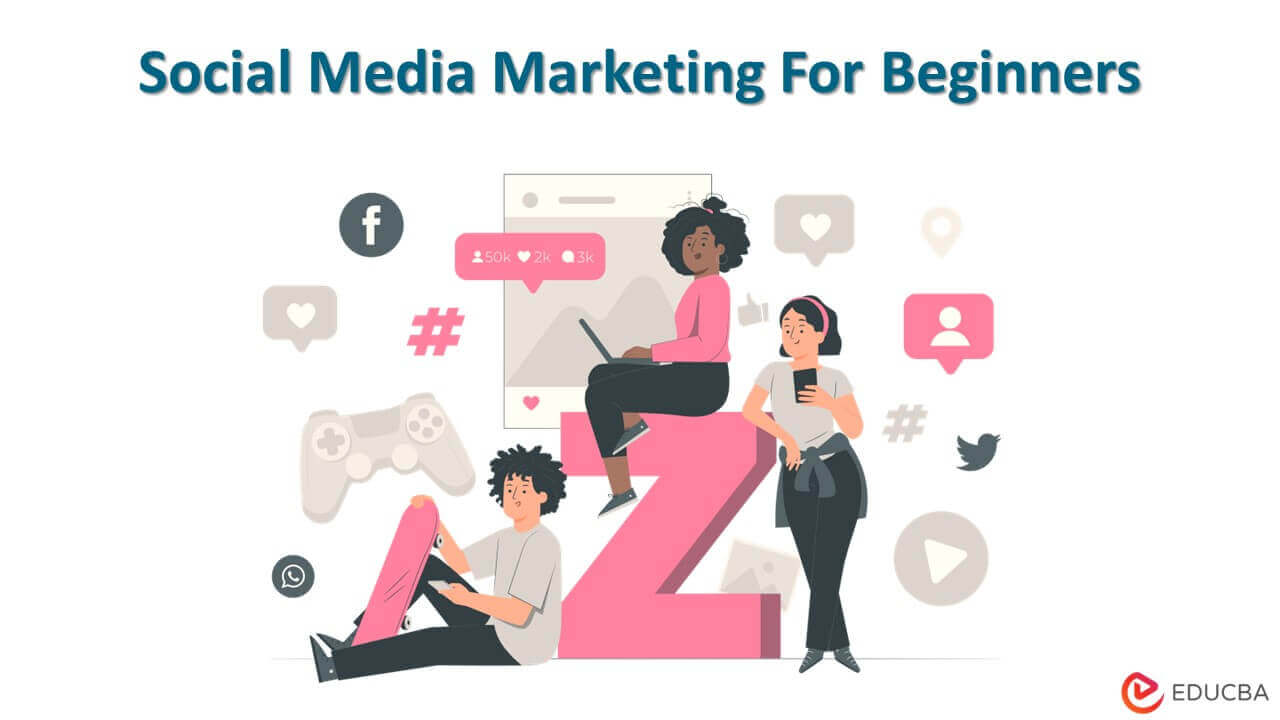 Key Highlights
Social media marketing for beginners is about guiding the newbies of the marketing industry about how one can prosper into a successful marketing campaign by being a social media user.
We all use social media for different purposes, but in realizing how much we use it, an excellent digital marketer uses this to the advantage of the brand he works for. Instagram accounts of famous brands are examples.
Some social media marketing tips for beginners are choosing the right target platform, planning the content for posting, dedicating time to appreciating followers and studying competitors, updating social profiles, getting engagement numbers done through peers, social media buttons on the main website, evaluating of analytics and exploring new content formats.
How does Social Media Marketing help Beginners?
Social media marketing is digitally inducing a social media user to take a specific action. Usually, it's buying a good or service.
As a user who spends hours on Instagram, Facebook, and many other social media platforms to kill time, interact with their friends, and entertain themselves with reels and memes, you encounter various ads regarding various services or products.
These ads are usually catered based on what's on your feed and searches. For example, an account dedicated to following artists or showing your artistic capabilities might receive ads based on the best stationeries or an online coaching service for bettering your craft.
But also, and more evidently, you go through some well-presented social media pages of vast entities in terms of a celebrity or a historic company. Instagram pages of Cristiano Ronaldo, Ferrari, Kendall Jenner, and Nike are examples.
Today, there are billions of users of social media. With a peak figure of every industry expanding its brand through your likes and follows, social media marketing has more benefits than one could imagine.
It's the quickest way to brand awareness.
Top Tips in Social Media Marketing for Beginners
Given below are the top tips in social media marketing for beginners:
1. Proper Planning
The first and most important tip for a budding social media marketer is to know how to plan your content posting on social media based on what your stakeholders want from you.
Many naive marketers post content right away without any purpose. Don't make that mistake, as it does not reach the concerned brand.
While planning content posting on a daily basis can spike your chances of catching up with burnout, creating a social media calendar will help nullify the cons of scheduling your posts.
Social media calendars will clear things such as what kind of posts you want to upload and on what days, at what time those posts will be live on the internet, and much more.
2. Identifying the Target Social Media Platform
At most, you should focus on only two powerful platforms where you will build the brand page and keep it consistently growing. Getting into all the major platforms will divide your attention, again hamper the way to the desired goals and objectives.
A great way of knowing which platform suits the niche of your content most is by studying those who have a successful social media presence in your industry.
For example, to create a page providing business-to-business service, LinkedIn serves as the best platform for professionals to engage and interact.
Recently, food servicing companies like Zomato and Swiggy have found massive success in having their Instagram page due to the successful presence of food bloggers and an enormous following of the audience on food-related posts.
3. Dedicate Time to Followers and Fellow Competitors
Knowing that social media's primary purpose is to facilitate communication, do not stick to just engagement and follow on your page.
Try to organize live events, respond to the comments, catch up with some loyal followers of your page at the DMs, and much more. Spending half an hour interacting with users daily can help grow your brand and give you new content ideas.
Comprehending the trends and strategies your competitors follow and become successful in can help you create the next step for further growth and improvement of your marketing channel.
There's no harm in following the footsteps of those who did it! It benefits your stakeholders and teaches you through other marketers.
4. Constantly Work your Social Media Profile to Perfection
Updating your color schemes, bios, and format according to time and events will help you increase your chances of skyrocketing brand awareness at any time.
However, there are some basic rules to create or update a profile, as follows:
Rule 1: If your brand is personal, you must have the brand's face in the profile picture. In the case of a company, the logo is essential.
Rule 2: Write an eye-catching bio on your profile. Try doing it in distinct tones based on audience relativity from time to time.
Rule 3: Include a link to your main web page from where you can start generating leads.
5. Encourage Engagement From your Proximity
The engagement numbers increase when there is decent engagement in a marketing post within a few moments of posting.
If you are working for a company, getting fellow employees to do the bare minimum of liking, commenting, or sharing posts on social media gradually ups the average post engagement and follower count in the long run.
6. Constantly Evaluate Analytics/KPIs
KPI (Key Performance Indicator) is a standard of measurement for performance, in this case, the version of your social page.
Social media analytics collects, analyzes, and concludes data about the brand's content on social networks.
Metrics like impressions, shares, conversions and much more can be tracked and measured to understand what works and what to drop.
Based on that, you tend to alter your social media marketing strategies. Some well-known social media analytics tools are HubSpot, Sprout Social, Google Analytics, etc.
7. Explore & Experiment with New Forms of Content
To stay relevant for your followers on any social network, you should keep up with the relevant trends and forms of content that change from time to time.
During the pandemic, the rise of YouTube Shorts and Instagram reels inspired by TikTok has exponentially expanded the social media marketing landscape.
The most significant marketing trend today is to wrap up an entire idea of a brand within 15-30 seconds of videos.
However, you must stick with more than one form of content presentation.
Conclusion
Social media marketing is the most trending strategy in an industry that sets trends for other industries. The average salary for a social media marketing manager is over $58,073 annually. Putting your time into studying what grows in a social network and what falls short is not only for your stakeholders but also for your growth on social media. Personally branding oneself has helped many young minds monetize themselves during the pandemic, thus securing a secondary source of income.
FAQs
Given below are the frequently asked questions:
Q1. What is the essential tip in social media marketing for beginners?
Answer: The most important tip for beginners in social media marketing is to plan the posting of content for the desired social media platform.
Q2. Which social media platform has the highest number of users, and social media marketers shouldn't miss that?
Answer: Facebook is the biggest social media platform, with 2.95 billion users, so creating a page is worth giving a shot for any type of branding. Facebook entertains all kinds of content for posting as long as it abides by the guidelines.
Q3. How many times in a day it is optimal to post on social media?
Answer: Once or a maximum of 2 posts a day is more than enough on Facebook, Instagram, and LinkedIn. Platforms like TikTok and Twitter can improve branding. Twitter can be demanding, so sometimes you need to tweet as much as 8-10 times a day. But content creation on Twitter is easy.
Q4. What content can you post on your social media account?
Answer: Here are some more ideas about what form of content you can post to improve brand awareness: Memes with a reference joke about your niche. Meme culture on the internet is the most hilarious and has the highest eye-catching potential. Sometimes, people are more into numbers than anything regarding picking interest. Motivational quote or any related content that generates a subtle Call-To-Action in your favor or otherwise.
Recommended Articles
In this article, Social media marketing for beginners, you learn some basic details and tips to engage your account. To know more tricks and strategies, you can refer to these articles –