Social Media Marketing
The social media marketing examples consider the kinds of campaigns that mainly provide value to their target audience and attract new users. Different types of social media marketing examples show that the use of various techniques in marketing based on the type and size of a business or organization can bring out the best value. It is to bring out creativity and increase visibility to convey brand messages.
There have been various social media marketing campaigns lately. All of them attract the attention of target users and customers. Inspiring advertisements that infuse positivity and values in life and well-being have been the most popular objectives in social media marketing service campaigns. Some valuable social media marketing examples are as follows.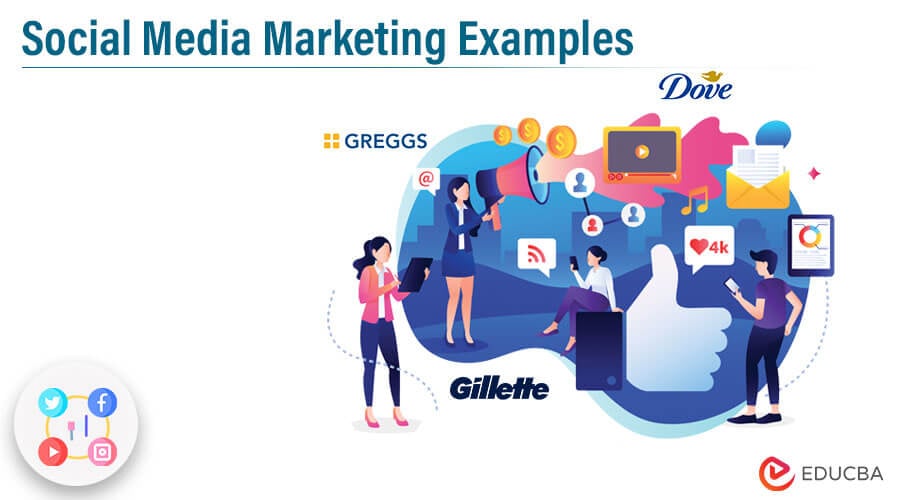 Key Highlights
Social marketing examples mentioned below help you understand how powerful social media platforms are in terms of advertising.
On average, a person spends 147 minutes daily on social media. Hence social media has become a primary channel for advertising. Customers will engage with the brand by posting pictures and hashtags.
Creating smart campaigns to attract more people is more beneficial. These campaigns can include prizes, hashtags, giveaway contests, and engagement with the people.
Being creative is the key to using social media. You can post motivational and engaging content by following the trends.
Types of Social Media Marketing Campaigns
You can promote your brand through social media in various ways; these include:
Hashtag campaigns help you to increase your brand awareness by increasing the company's familiarity in the market.
Social interaction in the form of comments, shares, and likes of your content present on social media comes under the Engagement campaign.
Giveaway or contest campaigns allowed loyal customers to claim their prizes.
UGC marketing campaign is trending; it allows customers to post pictures or videos while using their products.
Best Examples of Social Media Marketing
1. Dove: Campaign #ShowUs
Outline: Identifying beauty that comes in different forms; Dove launched its project #ShowUs social media campaign to reduce the stereotypes of beauty definition. The project collaborated with non-binary women, Getty Images, and Girlgaze photos.
It reached globally with more than 10000 media pieces.
It led the generations to normalize and include diversity in beauty regardless of women's color, appearance, size, and profession.
Why did it work?
The challenge towards stereotypes of beauty definition in women-led the generations to gain confidence and feel worthy of their appearances.
Dove spoke to the audience without differentiation and encouraged every woman to unleash their true potential without focusing on outer beauty or appearances.
2. Gillette: "We Believe: The Best Men Can Be"
Outline: Gillette launched the social media campaign 'We Believe: The Best Men Can Be' in 2019 to showcase different pain points men underwent in their daily lives. The company interpreted manhood modernly by glorifying the fear of emotions, sexual harassment, and bullying that men also suffer.
The campaign shows examples of positive masculinity and taking a stand for others that inspires the #MeToo movement.
The film got more than 30 million views.
In a month, the Gillette hashtag reached over 150 million people.
Instagram posts about the campaign got over 800 likes and 50 comments.
Why did it work?
Men have blame as they do not show their emotions, and sexual harassment and bullying incidents. The campaign showed positive masculinity and life stories of various positive male role models worldwide. It inspired men to change and quit the controversial perspective in society.
However, there were issues with the campaign on social media due to the controversy regarding the short film. The men portrayed differently drew attention and are highly related to many men worldwide.
3. Greggs' #vegansausageroll
Outline: Greggs is a British bakery made vegan sausage rolls with a creative campaign. The ad contained some events that made it special. The retweet of Piers Morgan led the pro-vegan and anti-vegan roll British people to join social media for a debate and made it famous. Greggs' response got more than 9000 responses on Twitter.
Although it was limited to a particular demography, the intentions and ideas of negative influencer comments to market the new product launch are outstanding.
The vegan sausage roll was one of the most popular products in Greggs after the campaign and social media debate.
Greggs's sales increased by 9.6% in the first weeks of the launch.
Why did it work?
The vegan diet has been a hot topic lately, and at that moment, Greggs tried to launch a new eco-friendly and animal-friendly product. The campaign was unsuccessful, but the strategy to get vegan and non-vegan British people involved in the action was successful. Tweets of Pier Morgan on vegan sausage rolls on Twitter act as influencer to draw people's attention and increase their new product awareness. It showed the importance and benefits of being witty in social media marketing.
4. Spotify's #yearwrapped
Outline: In 2019, Spotify launched a campaign where Spotify users can see the critical musical highlights on the website. The webpage customized users' all-time favorite and most listened-to artists, genres, fun data, and song discoveries. After the data analysis, Spotify suggested users share those highlights on social media platforms like Twitter and Instagram and tag favorite artists.
Music and emotions indirectly connect with people. As a result, the look back on the year wrapped with all the moments and music Spotify users listened to celebrate or get supported in different situations held power in the campaign.
The campaign has more than 1.2 million times in posts.
More than 60 million users engage in the story experience.
Almost 3 billion streams were from Wrapped playlists that year.
Why did it work?
The combination of personalized content and FOMO have been the two biggest triggers in the Spotify Campaign. The customized webpage ensured user engagement and a user-friendly experience in Spotify. Besides, it increased the campaign's reach by encouraging users to share their favorite moments and songs with their favorite artists. Again, looking back at the year's idea alleviates people's emotions and watching their taste in songs and artists over time.
5. Airbnb: #GoNear
Outline: Amidst the Coronavirus pandemic, Airbnb lost almost $1 billion due to the cancelation of reservations. However, the brand developed a strong marketing idea for regional travel-related economic growth through the GoNear Campaign. It was to attract and encourage workers to go for excursions and choose work-from-home destinations within 300 miles of their locations.
The brand observed an increase in bookings and growth by 22% in 2020.
It popularized the concept of working from anywhere when employees work from home.
Bookings for domestic travel increased just two weeks after the campaign's introduction.
Why did it work?
The campaign identified the trends that can shape the travel industry in the future and post Covid-19 pandemic. As a result, it promoted regional traveling for a day or two within a few miles of users' locations. It was a huge comeback and refreshing deal for people after the stringent lockdowns and monotonous work-from-home situation.
6. Apple: Shot on iPhone
Outline: This UGC campaign aimed to challenge people's creativity through the competition of images and videos. People were required to share photos and videos filmed with iPhones worldwide and share them on Apple's social media page.
Images and films by users worldwide resulted in the material greatness and credibility of the iPhone camera.
It alleviated the launch and sales of the iPhone 6.
The campaign is always active and has already generated over 20 million Instagram posts.
Why did it work?
Apple aimed to draw users' attention to their new iPhone 6's camera without focusing only on sales. Thus, the focus on their youthful and inventive firm with thrilling experience to motivate people to use the iPhone's camera was great. It led people to join the Apple community and take every pleasure from new product launches and services.
Final Thoughts
These social media marketing examples are some of the best and most popular campaigns among many that show how creative ideas and strategic marketing plans can help achieve goals and objectives in a business. Social marketing service campaigns are with innovations and novel aims. In addition, to sum up the recent campaign examples, it is evident that customized or personalization has been a top-notch quality in social media marketing services.
Frequently Asked Questions(FAQs)
Given below are the FAQs mentioned:
Q1. What are the core pillars of social media marketing?
Answer: Ensure you include these things in your social media marketing to grab customers' attention. Firstly have a strategy for the platform, then choose the right content you should post on your social media. Make a good research plan accordingly and publish the content. Listen to your customers, their likes and dislikes, and their comments on your content, retain the positive things and update the flaws. Have analytical tools to make the required reports that track the visits to the post, responses received, etc.
Q2. Why should you opt for social media marketing?
Answer: You can advertise your brand globally just by sitting at your office or home using social media marketing strategies. All you need is the knowledge of creating attractive content, choosing the right platform, and a few technical tools. Just post the content on any social media platform Instagram, Facebook, Twitter, and many more.
Q3. What are the 3 given examples of social media?
Answer:
Example 1: Netflix: Wanna Talk About it?
After the pandemic, they started a live series on Instagram where the viewers can chat with mental health professionals. Here the individuals can ask their queries and discuss.
Example 2: Zoom: Virtual Background Contest
Zoom has become a standard for video conferencing in 2020. Messy backgrounds bring stress to the people who join instant meetings. Zoom created virtual backgrounds as a unique feature for working from home.
Example 3: Starbucks: What's Your Name?
Starbucks' collaboration with an organization that supports gender diversity, Mermaids, led to a campaign "What's your name?" Here celebration and welcome of the name of every customer took place.
Recommended Articles
This EDUCBA guide on "Social Media Marketing Examples" gave you an idea of how companies created campaigns to improve their brand. You can check these EDUCBA articles for more information. –