Updated April 26, 2023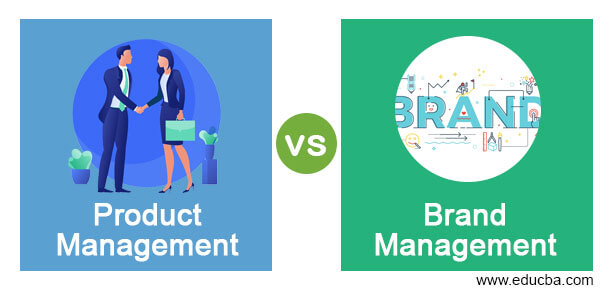 Product Management vs. Brand Management
When a company makes its products and services attached to its audience branding and how the product reaches the customers and generates value for them is product management. Peter Economides espoused deeply on brand management as an idea or concept communicated in the way it creates a certain mindset among the customers. Product management vs. Brand Management is the two parts of the same coin, which function in the same format, but both sides differ.
In short, it forms an impression as per the management's perception. And each point is a way or process to interact with the customer.
These points relate to everything about the company, its activities, and what makes the company or its product different than its counterparts.
According to Peter, "the product is a fundamental touch point in the delivery of perception and the promise set at a business strategy level".
In the product development process, product managers focus on how the product meets the company's positioning and how it delivers the brand.
It ensures that their offer holds the company's value and customers' needs.
Product Management vs. Brand Management Infographics:

Product Management vs. Brand Management Infographics
Here are some points on Product Management vs Brand Management
Behind every successful product is the hand of a product manager, while sustaining the success of a product is the role of a Brand Manager.
The success of any product or service of the company's prolific venture or services lies in the hand of a product manager.
It is this person who is responsible for making the product a success. He conceptualizes the product to suit the right audience and time. He ensures the product has all the features conducive to the target people.
The product manager can understand the customer's needs and develop a clear product definition.
This process comes through a deeper insight into the prevailing conditions and the capability to make the right judgment and choices.
The product manager prepares the strategy and a roadmap to generate value from the product and see how the product's enhancement creates future value.
The product management strategies also help the sales and marketing team make the value of the products and services known to the potential customers and generate the market for the products.
In contrast, a brand manager builds the brand positioning and keeps the brand success sustained for many years. It is about cultivating the consistency of the brand that comes up with efforts to generate the presence felt.
For example, Coca-Cola is the most preferred drink among people worldwide as the company was able to make its presence felt with its quality standard. Still, it is the most cherished drink.
Now Coca-Cola is making its "One Brand" strategy globally for all its drinks entitled "Taste the Feeling" strapline.
It links the brand with the feeling of love, friendship, unity, and brotherhood that comes with Coca-Cola taste, as reported by Thomas Hobbes in Marketing Week.
James Heaton explains, "Getting your brand right internally is actually the key to getting it right out in the world". (Source: Tronvig Group).
This means a brand manager aligns his brand strategy with an organizational goal. He also builds awareness and consensus on the strategy formulated. This ensures what your brand is promising you are delivering.
A strategy is at play in Branding, while Tactics are employed in Product Management (Product Management vs. Brand Management)
We can also say product managing is a marketing involving tactics to lure customers into buying their products or services.
It is pressing the products or services into the market for customers to see, touch, feel and ultimately buy. For instance, the salesman says, "Our product will boost your energy as no other product can do."
Here, marketing tactics emphasize the products, features, specifications, and how the product can be beneficial to the customers.
In product, managing trends are analyzed, and the taste and preferences of the consumers are understood before releasing in the market. While branding encompasses a much bigger picture.
The brand remains stuck in people's minds when all the marketing efforts are over.
Proper strategies help explain to the customers your stand, promises, and personality you are emphasizing.
It is not only limited to your logo, slogan, or color palette that conveys your message, but also it lives in your day-to-day interaction with the market.
The images that you are trying to project
The messages you are delivering through your website, campaigns, and websites
The interactions or relationships you have with your customers
The opinion that the customer has built into your brand.
Branding Makes Loyal Customers, while Product Management generates the prospective market (Product Management vs. Brand Management)
All organizations, whether profit-oriented or non-profitable, sell, but how they sell depends on what they want to achieve their goals and their aspirations.
Product management activities generate the product and service market through research and planning. Also, people would find them near their homes or work areas.
On the other hand, each thought process, action, policy, and marketing campaign can inspire and generate lifelong loyalty or deter the brand's loyalty which could severely impact sales.
Companies should begin with a strong brand positioning or a strategy to stand in the market.
There might be a feeling you do not have a great B2B brand. But placing two companies against each other, the one that reflects something of value would have easy reaching, closing, retaining, and engaging customers.
To generate loyal customers, companies perform more than mere advertising. They attract customers with gifts and incentives and create an environment that makes customers a part of their brand.
Brand loyalty generates trust, loyalty, value, commitment, and repeat purchases. It is generated as your customers know what you offer them regarding services and product satisfaction.
And it is also easy to start a dialogue with the new prospects as they are familiar with your offerings. You also know what quality standards you maintain and whether you build a loyal customer.
Branding is both present and future-oriented, while Product Management keeps the business running (Product Management vs. Brand Management)
While branding and product management are designed to keep present and future goals in mind, the difference lies in how goals are oriented toward getting customers' attraction.
In product management, the goal is to generate business value from the product and to get good returns on their investment.
A product manager frames the goals of the business, for example, whether to enter a new market or not, how to save cost, create the brand and generate revenue.
He describes a product's financial framework and deciphers how a business model should operate.
A financial forecast is useful to examine when a break-even might occur, the right time for the product to launch in the market, the inauguration of service, and how their proposition can become a profitable venture.
The main focus is keeping short goals in mind while generating a sustainable business.
However, we can say branding is more oriented towards an emotional side. A Brand manager touches the emotional chord of the potential customers so that they can immediately feel related to the brand of the product or services they are offering.
Once the customer has an emotionally bonding with the brand, they will sustain forever towards the brand. For instance, if a customer starts buying Tata tea, he would always prefer the same tea, which has a special taste and flavor and is also projected as a household name.
Branding Generates Brand Equity, while Product Management Generates usefulness and value (Product Management vs Brand Management)
If branding did strategically, it generates brand equity. This means the amount of money that customers are paying is because it is your brand.
Besides, brand equity makes a company valuable in the long run. Connecting the brand to the equity and assets changes the marketing function and allows the company to expand beyond strategies.
Brand equity revolves around four main concepts: brand loyalty, brand associations, awareness, and quality, each generating value for a firm in many ways.
Once a brand examines its equity value, a brand equity roadmap can be drafted to manage the value generated from it.
However, we say that brand equity implies emotional connection, but can it still be measured? There are certain attributes that make the brand measured, as suggested by Brad Vanauken:
Unaided awareness
Relevance
Importance of up to 24 brand benefits and values
Delivery against those 24 brand benefits and values
Brand value
Brand accessibility
The brand's emotional connection to its customers (4 different measures of this)
Attitudinal loyalty to the brand (2 different measures)
Brand vitality (2 different measures)
Brand personality
Top-of-mind brand associations
While a product Manager is a product evangelist whose pertinent role lies in championing the product and explaining its vision and benefits through different means, like customer feedback, sales meeting, company newsletter, generating slides, and preparing presentations.
The best product manager ensures that whatever he is projecting is well understood by the people around him and generates usability of the product and services across the masses.
Finally, a product manager can be a brand manager, but a brand manager may or may not be a product manager.
A product manager needs to understand and have a gist of their brand and ensure that all the components they deliver to their customers are per the organizational goals and fulfill what the brand has promised.
It is a duty of a product manager to have their company's brand come to life, and they can then have the capability to understand their brand completely well.
They need to find different ways to connect to the brand to become promoters of the brand. They should also generate the truth of the brand in everything it is about.
However, a brand manager narrates the brand's story as if it is abstract.
Let us take the example of the Nike brand, which claims its "authenticity, athletic performance", which can also be true for Adidas or Puma. But what makes Nike different is it shows itself as a brand DNA, which is its value proposition.
Nike has a deep association with consumers regarding innovative designs, sponsorship of top athletes, and award-winning advertising. It also has innovative product designs, as found by Kevin Lane Keller in his Strategic Brand Management.
We can also say about Coca-Cola, the same kind of drink as Thumbs Up. Still, when it says "Taste The Feeling", it becomes unique to how it is packed, demonstrated, and introduced, showing how it's best and different from other nonalcoholic brands and why people should prefer drinking it.
Many people know Apple's story, one of the greatest stories ever told about a brand.
When Steve Jobs took the reins in 1997, at the launch of the internet, he said, "marketing is about values… and to really define who we are, what we're about and where we fit in the world…(we) needed to (re)define the brand".
And "People with Passion Change the World" became a motto. This was successfully shown in their brand advertising, "Think different". This made Apple make their customers think about making their lives smarter with their smart iPhones and tablets.
It was interesting and strange that the brand came first and the products later. (Source Forbes Magazine)
Brand and Product Management are conducive to each other. Brand positioning is effective when product management is strategically and successfully generated.
Every product is a touch point that communicates, and every brand manager speaks of what the product communicates.
In short, we can also see brand and product management go in conjunction. It should be strategically implemented to make the product and services of the company a success.
Recommended Articles
This has been a guide to the Product Management vs Brand Management comparison. This post is a complete heads-up on Product Management vs Brand Management and how branding differs from product management. Here are some articles that will help you to get more detail, so just go through the link