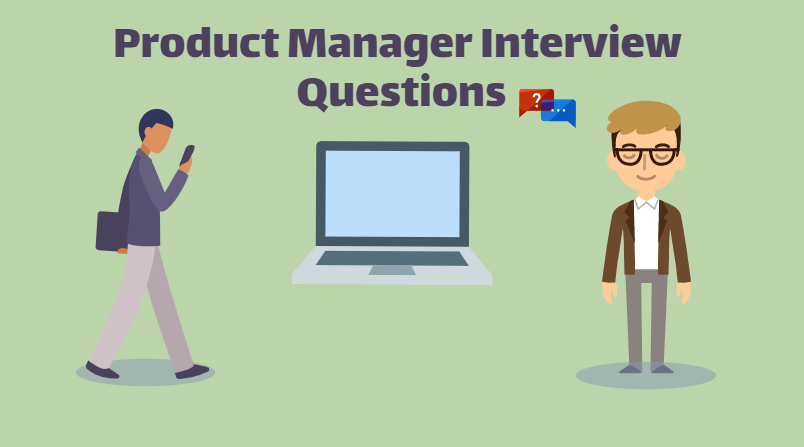 Introduction to Product Manager Interview Questions
If you have applied for the position of product manager, you might be wondering what kind of questions are going to be asked to you. Will you get the traditional questions or some off-the-wall questions, analytical and scenario-based will be the primary concern. Their main aim is to know about you and your thought process, how would you handle a situation, a team at the time of crisis. They want to know your prior working experience and how you have made a difference in your previous organizations. They would also want to analyze if you are the right fit for the position and whether the ideas that you bring to the table are worth consideration and implementation. Apart from your attitude and your mindset, they would also assess the technical knowledge that you have, decision-making abilities, business sense, and analytical skills. To assist you, we have shortlisted a set of questions that might be beneficial for you for the product manager interview.
Now, if you are looking for a job that is related to Product Manager, then you need to prepare for the 2023 Product Manager Interview Questions. It is true that every interview is different as per the different job profiles. Here, we have prepared the important Product Manager Interview Questions and Answers, which will help you get success in your interview.
In this 2023 Product Manager Interview Questions article, we shall present the 10 most important and frequently used Product Manager interview questions. These questions will help students build their concepts around the Product Manager and help them ace the interview.
Part 1 – Product Manager Interview Questions (Basic)
This first part covers basic Product Manager Interview Questions and Answers
Q1. How would you explain our product to someone who is interested in something similar to it, only $10 cheaper?
Answer:
This is one of the best questions to be asked in an interview as this assesses the knowledge the candidate has for the company and their products and is comfortable with them. This also checks the prioritization, communication, structure, thought process skills of the candidate. The answer should contain specific product features, cost-benefit overview, user testimonials, etc. The example supporting this could explain all features and facilities you would get just at the cost of an additional $10.
Q2. What will be your management strategy, tactics, and processes for a new product launch?
Answer:
This is the basic Product Manager Interview Question asked in an interview. The candidate should be a team player, and priorities, goals, and schedules should be well structured in his mind. Do not be the one to reply in generality. The answer should mention timeline, progress tracking, team effort, etc. For example, I have a launch plan which I have developed using the inputs from Devs, QAs, support team, and other stakeholders whose advice is also taken while setting up a schedule for delivery.
Q3. We are launching a new version of the previous product. Where would you keep the legacy product so that the sales are not dropped for it as well?
Answer:
The candidate's soft skills, technical skills, and thought process combined are what is looked for. Your answer should be around an understanding of target customers, practical solutions, knowledge of consumer behavior, etc. For example, I would lower the price of the legacy product so that the budget-centric customers are targeted, and they would still constitute somewhere close to 30% profit.
Q4. What all parameters would you define when a product can be said to have been designed well?
Answer:
This is a relative question. What your company sees as a good design might not be a good one for you. The answer should revolve around your priorities, an Explanation of why logical answer. For example, A well-designed product is simple, elegant, and one which promises what it delivers. Consumers should not stick to the user manual before starting to operate the product.
Let us move to the next Product Manager Interview Questions.
Q5. What improvisations would you bring to our product?
Answer:
One good question which explains the candidate's interest in your company. They are looking for a candidate who has researched well and is able to critically think about it. Your answer should involve, Some negative feedbacks received earlier, the Pros of execution which succeeded, Logical answer. For example, Yes, you did a great job in the creation of this product. I enjoyed the viral video of the product launch. One thing I would change is adding simplicity to this product as until today, only the teens are able to operate it, and I want all age groups to be comfortable with this.
Part 2 – Product Manager Interview Questions (Advanced)
Let us now have a look at the advanced Product Manager Interview Questions.
Q6. Your technical skills, which differentiate you from other product managers?
Answer:
They are looking for your expertise and your self-confidence. An answer should revolve around interactive prototyping, data collection, analytics, coding, or other areas that sound right to you. An answer should revolve around your skillset, benefits, and instances to support. For example, I find myself a good fit for A/B testing and therefore, my knowledge of statistical and analytical significance helped me in launching the most useful product to date as it was created keeping in view customer pain points.
Q7. What would be a typical day in the life of a product manager, what should he skip?
Answer:
This question talks more about the value. An answer should revolve around, Nothing to skip, supporting facts, cultural fit, etc. For example, if your candidate deprioritizes teamwork which is the core essence of your company, then he might not be a good fit.
Let us move to the next Product Manager Interview Questions.
Q8. In case of any big announcement which is lined up and your key players differ, how would you proceed in such a case?
Answer:
The question wants to test whether you are able to access the pros, cons, and customer reaction and how calm are you in bringing things at ease. An answer should be around, respect everyone's ideas, better market fit, plan remeets, Logical answer, etc. For example, I would jot down everyone's opinions and do my own homework based on current market situations and trends. In the next meet, I would ask for business justification of adding or subtracting a feature, just not because it doesn't look good.
Q9. What is your belief in customer engagement?
Answer:
This is the most asked Product Manager Interview Questions in an interview. He wants to see whether you stick to what you say about having customers as your foremost priority. Answers should revolve around, Marketplace, Competitiveness, feedback, and modification, etc. For example, My policies would be customer-centric, and their feedback will be of utmost importance. I cannot let an already satisfied customer choose my competitor, and retaining him with promised services will be on my top list.
Q10. You would not have any direct reports but will be responsible for a product release. What will be your motivation strategy?
Answer:
This question aims to see your clarity on the product management role. Stick around, distinction, straight priorities, discussion with line managers. For example, I would have periodic meets with the respective managers to ensure that the delivery is on board. When we have provided this set of questions, we cannot assure you that these will be your questions to go for in an interview. It is more about the mindset and the preparedness that you have for the role that you are applying for. Be confident, have faith, and stick to our blog for more articles like these.
Recommended Articles
This has been a guide to a list of Product Manager Interview Questions and Answers. Here in this post, we have studied top Product Manager Interview Questions that are often asked in interviews. You may also look at the following articles to learn more –