What is PMP vs Agile Certification
Before you get familiar with the role and responsibilities of a Project Management Professional (PMP) or Agile Project Management, it is necessary to know what actually Project Management means. It can be defined as an activity of formulating a plan and then implementing or executing it to perfect it through controlled strategy and joint coordination of a team. A project is a set of tasks or assignments undertaken to complete within a specified time frame and with a help of a stipulated budget. Projects can be both temporary or permanent involving research and development. Every project is executed with a definite aim. The intent of the project is to achieve the end result successfully. It can be any project such as technical, related to business operations, or educational. There are several approaches concerned with project management. A few important ones include-
Traditional Method
Critical Chain Project Management
Prince2
Process-based Management
Lean project management and
Extreme project management
Difference between PMP Certification vs Agile Certification

Project Management Professional (PMP)
To define Project Management Professional (PMP in simple language, one can say that it is an important designation having an international reputation throughout industries worldwide. The Project Management Institute is the apex body that offers this certification. You can find PMIs in around 204 countries and according to an estimate; about seven hundred million people have already been certified with PMP.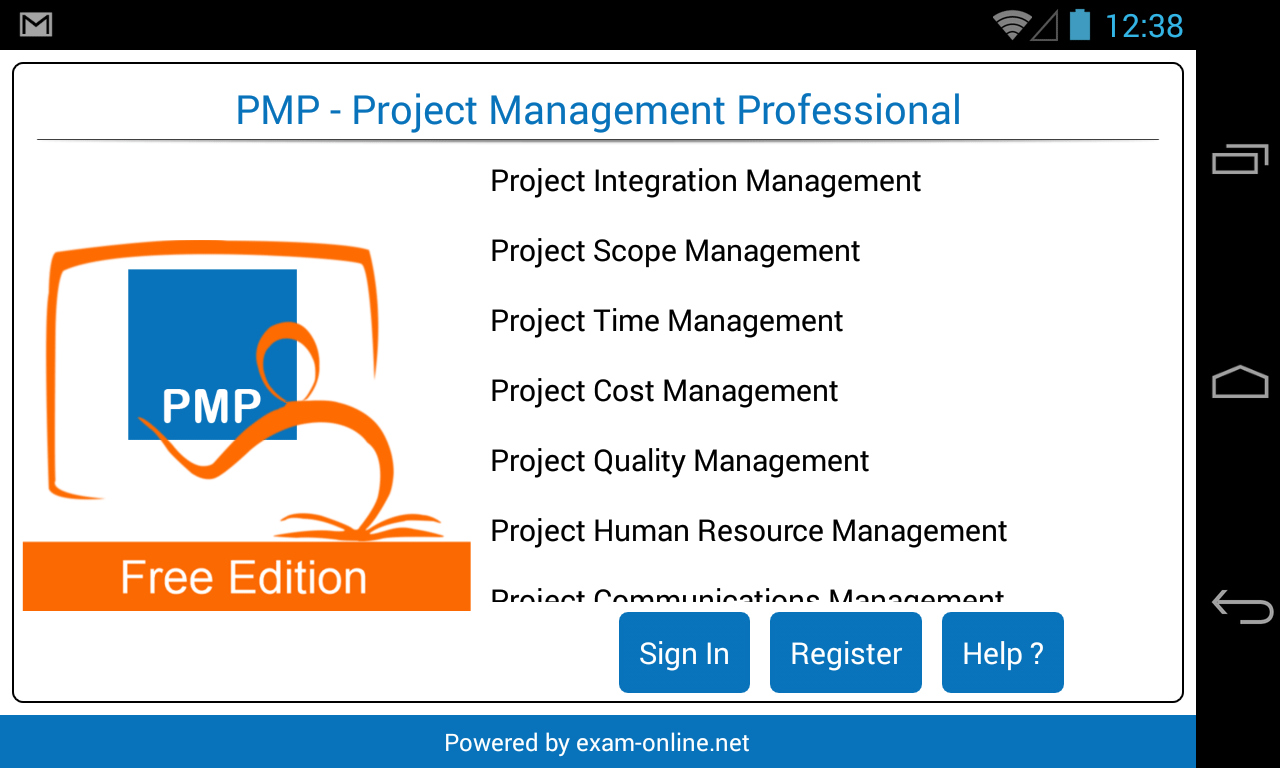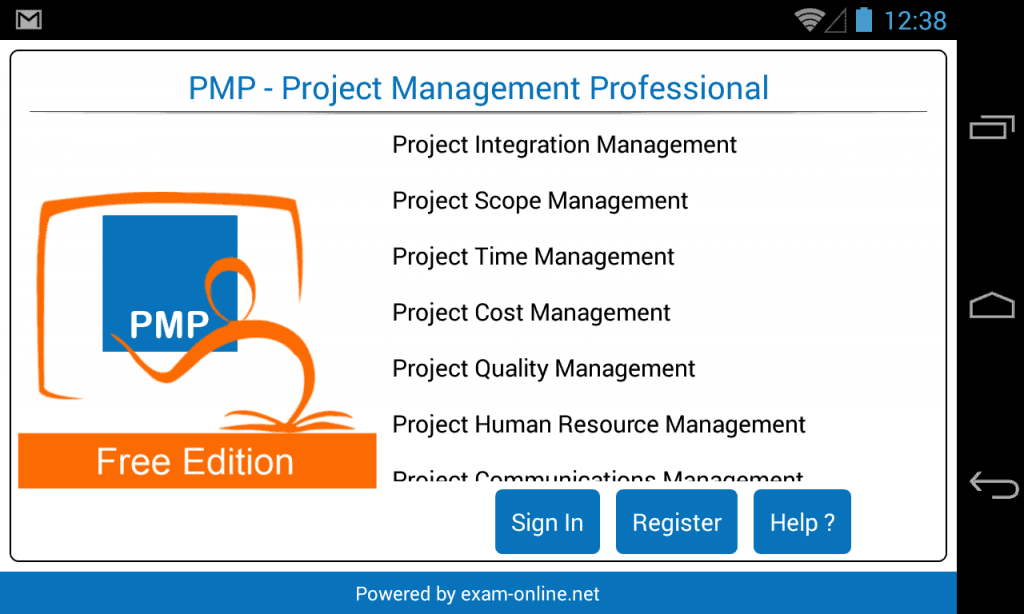 The Required Criteria
Now let us focus our attention on the prerequisites needed to enroll in this certification program. A candidate who is willing to avail of the PMP certification must have-
Passed secondary examination from a recognized High School or should have a diploma equivalent to it.
An experience of 7500 hours in leading and directing projects
35 hours of project management training
However, if you do not fulfill the above following conditions, you may still peruse the PMP certification provided you have-
A four-year degree
An experience of 4500 hours in leading and directing projects
35 hours of project management training
All the formal training and education are provided at Project Management Institute. Candidates who are not able to fulfill the eligibility for PMP can opt for Certified Associate in Project Management (CAPM) at PMI. The verification process is done online.
It must be remembered at this juncture that in order to uphold the PMP certification, the candidate has to get sixty Professional Development Units (PDUs) within the three-year course.   It involves a number of tasks such as to research and writing articles and expressing your thoughts on issues related to project management. All of this is referred to as Continuous Credential Requirements (CCRs). You can also receive PDUs through formal academic courses. Recently, on 1st December 2015, the CCRs have been updated comprising information about employer-identified skills.
The curriculum of the Examination
The pattern of the PMP examination centers around the five most essential elements. They are given different preferences based on percentage. It includes-
Commencing a project (13%)
24% importance is given to planning
The biggest priority is given to implementation, around 31%.
Monitoring is also important so 24% is reserved for it and lastly
7% is given to the conclusion of the project
There will be about 200 Multiple Choice Questions (MCQs) in the exam related to PMP codes and ethics. Therefore, if you want to prepare for the exam, there are reference books available. The most authentic one is 'A Guide to the Project Management Body of Knowledge.' The book contains relevant information on each step of the project management process. As a project manager, it is important to update oneself with these vital aspects of project management including project scope management, project integration management, project cost management, and project quality management, human resource management, risks, communication, procurement, and stakeholder system. After attaining the Project Management Certificate, you can find jobs in various sectors such as Government, IT companies, commercial organizations, etc that employ certified project managers to handle different projects and also complete them successfully. In fact, you will be pleased to know that PMP certification has been ranked as the number one certification program by CIO.
The Procedure for Exam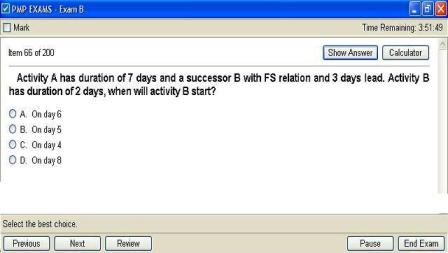 As said earlier, the candidates receive PMP Certification from Project Management Institute after qualifying for the exam. It is a computer-based exam; however, you can also opt for a paper-based test at Prometric test centers. There will be altogether 200 MCQs out of which twenty-five are released beforehand and the marks obtained are calculated on the rest of 175 questions. There are four options and you have to choose one. You can get the test result immediately after completing it. But if you have opted for the paper-based exam, you will have to wait for one month (approx 4 weeks) to know the outcome. The performance of the candidate is marked on three different levels-
Proficient
Moderately Proficient
Below Proficient
According to the candidates undertaking the PMP exam, the most challenging portions are quality management, integration management, and time management.
Item Writing
Item writing can be considered to be a part of the Project Management Professional Certification program.  It is usually a part of the multiple choice questions The purpose of inclusion is to identify contents and references thereby confirming the accuracy. However, those preparing the course and writing books on PMP are exempted from item writing.
Advantages of PMP Certification
After having a thorough discussion on what the PMP certificate is all about it is time to throw some light on its various advantages.  It can be summed below-
Remain Ahead of Competitors with PMP certificate – The PMP certification program has certainly got a standardized value which helps in putting candidates ahead of their competitors when applying for the job.
Skilled Knowledge of Project Management – The PMI offers comprehensive knowledge of various stages of project management right from beginning to end. You can utilize your sound knowledge to boost the profit of your company.
Getting Handsomely Paid – As a project manager, you can be sure of getting a good starting salary right from your first job. Your pay will definitely increase with the amount of experience you gain.
Improving your project performance – Another added benefit of the PMP certificate is that it always helps in improving your performance as a project manager. You can handle more difficult projects.
Offers Better Job Opportunities – You can be sure of one aspect after availing of the PMP certificate which is getting better job offers.
Certified Agile Project Manager
Literary speaking Agile means to be alert and responsive. Therefore, to gain these qualities for a Certified Agile Project Manager, choose the Agile Project Management Program offered by Project Management Association in collaboration with DSDM Consortium.
Agile project management helps to develop solutions more effectively and allows it to change as per the requirement so that the project manager can work both individually and as a team. In fact, DSDM has laid down eight vital factors necessary for the successful completion of any agile project. They are-
Focus on specific business needs
Successful Collaboration
To lay down solid foundation
Effective communication
Follow deadlines very strictly
Uncompromising Quality
Develop Interactively
Show better control
Essential Requirements for Agile Certification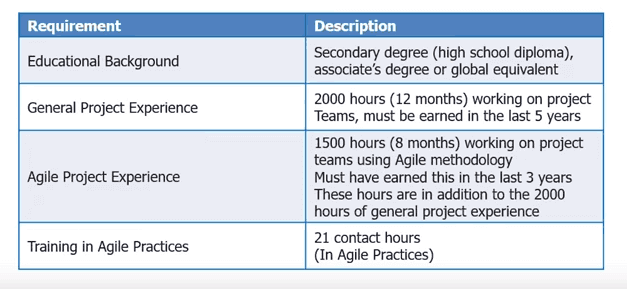 Before you can apply for the Agile Project Management Certification (APM) you need to satisfy a few important conditions including-
An experience of about 2000 hours working on general projects with the team; plus a PMP or PgMP certificate is also needed.
In addition, you also should have a work experience of 1500 hours based on agile project teams or techniques.
You should have practiced agile for at least 21 contact hours.
The Curriculum of the Program
The entire course program of Agile Project Management has been categorized into two categories namely-
Foundation Level
Practitioner Level
Foundation Level
As is evident from the name, the Foundation level of the Agile PM emphasizes the basics or the core elements related to project management. It will teach you the procedure to ease out any given task allowing suppleness. It will not only help the fresher candidates to deal with various projects but even the experienced project managers and show the perception of the project productivity.
Practitioner Leve
The next is the practitioner level. This is a more advanced level wherein you get a deep and sound knowledge of not only the certificate program but also learn the techniques of implementing them successfully while doing a project. It is very important to grasp the methodologies as they will help you on a regular basis.
Certain Conditions have to be fulfilled before you can apply for the practitioner level. These include-
A certification of the Foundation level showing either the 2014 or the 2010 version.
DSDM Atern Foundation Certificate, or
DSDM Advanced Practitioner Certificate
The Examination Pattern of Foundation
There has been a change in the format of the examination at both the foundation as well as practitioner levels. First, let us see the foundation level. The comparison between the 2014 exams aligned to Handbook v2.0 and the 2010 exams aligned to Handbook v1.2 will make things clear.
Both have Multiple Choice Questions
A candidate has to attend 50 questions in the 2014 format while there were 60 questions in the 2010 pattern. However, the pass percentage is the same.
The qualifying marks have also been increased from twenty-five to thirty in the new format.
Another significant difference is that the time allotted for completing the examination has been reduced from one hour to forty minutes.
Both have a Closed book
Exam structure of Practitioner Level
The curriculum of this exam is also based on the 2010 and 2014 versions. Only there has been an alternation in their format. They are-
In the 2010 version, there was a total of 60 questions out of which a candidate was required to get thirty to pass the exam. However, in the 2014 format, the number of questions has been raised to eighty and the candidate needs to get forty to pass the exam.
Like the foundation level, the duration of the exam has been reduced from 150 minutes to 120 minutes.
The number of questions per paper remains the same but the marking of each question has been increased from fifteen to twenty.
Both versions have Opened Book (only for the official manual) and objective testing.

The Pros of Agile Certification
After getting acquainted with the curriculum and the examination format of the agile certification program, you must know the benefits of perusing it. It can be briefly discussed as follows-
Enhance your Knowledge about Project Managers – This unique program has been designed for all project managers including those serving the IT industry. If you have Agile Certification, you can stand apart from the rest of the job seekers and enrich your resume or CV which will create a lot of difference.
Boosts your caliber as a project manager – The Project Management Agile Certification sets up a benchmark that you have the capability and potential to cope with different types of project management as a professional being. It increases your self-confidence and also strengthens the company's trust in you.
Increases chance of promotion and high pay – The Agile Certificate also increases your chance of promotion and also provides a wonderful opportunity to get high salary as an Agile Project Manager. The promotion will depend on your experience and understanding of the methodology.
Which Project Management to Choose: PMP vs Agile Certification
After much discussion on both the project management programs, you must be pondering over the obvious question; the right selection between PMP and Agile.  According to a study, it was found that PMP was at its peak until the year 2008 but has suffered a downfall in recent times. On the other hand, the graph rate of Agile Certification started going upwards in the year 2009. But even then it is suggested that you should opt for the PMP certificate program if you want to become a project manager. It is extremely popular in countries like India.  As for the Agile certification, although it has shown some growth still a lot has to be covered. You have to learn about more techniques when opting for agile specifically in the software development area. Lastly, it can be said that both certifications have various benefits and so you can pursue both as per your will.
Recommended Articles