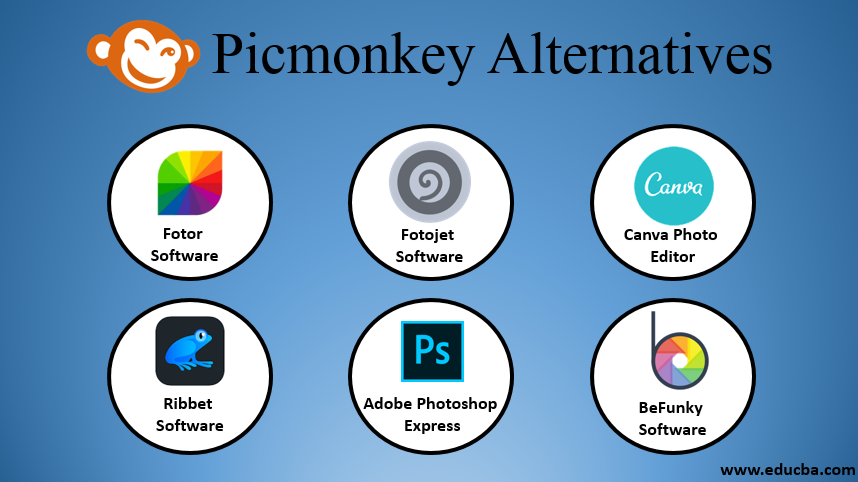 What are PicMonkey Alternatives?
PicMonkey is a software that offers you online editing and designing facility of photos. You can use this software on any internet browser or on its official mobile application that is the PicMonkey mobile app. It was launched in March 2012 for the purpose of increasing the online creative ability of photo editing. We have a number of alternative software of PicMonkey software. This software is Fotor Software, Fotojet Software, BeFunky Software, Canva Photo Editor Software, Ribbet Software, and much other software. In this article, we will see all of this software so that we can analyze them for our understanding of the alternative software of PicMonkey Software.
Since PicMonkey doesn't offer a free version, you can go for alternatives to this software. So let us start our discussion for alternatives of this software in continuation of our articles:
Best Alternatives for PicMonkey
Let's discuss some of the best alternatives for Picmonkey. The first alternative software with that we can replace is Fotor Software:
1. Fotor Software
This software is not personally used for photo editing work. Instead of this, it offers you some tools that help in photo editing work and provides you facilities similar to Picmonkey software. The tools provide by this software are a design tool, collage maker, and photo editor. Photo editor helps you in the editing of photos with many exciting tools and features. The plus point of this software is that it is free for all, and you can have this software for your learning purpose of photo editing work if you are a beginner.
This software was founded in 2012, and you can download it from the official website is www.fotor.com. It was updated from time to time with new features. In 2016 HDR curves adjustment were added to its platform, whereas in 2017, the custom aspect ratio is added in its collage function.
2. Fotojet Software
Fotojet Software is also offering free access to all, but you have to pay for using some advanced features of this software. This is also good for beginners of photo editing works for their learning purpose, and you can have the same features which you have in PicMonkey software for photo editing and designing purposes. This software allows you to edit photos, which you have taken from different types of media such as from Facebook, from your personal computer, and other digital media platforms.
3. BeFunky Software
Same as the above two software, this alternative of PicMoneky software also allows free subscriptions to its user and offers them three main tools such as photo editor, collage maker, and design tools similar to PicMonkey software tools, but during using of this software, you have to deal with some ads. You can take photos for editing purposes from different means,s such as your personal computer, Facebook, Google Drive, and DropBox.
This software was founded in January 2007, and the founders were Tekin Tatar and Ozisikcilar. If you want to download it, then go to this link www.befunky.com.
4. Canva Photo Editor Software
Canva Photo Editor is also one of the best photo editing software in sequences of PicMonkey alternatives and fully free to use. It offers you different menu types that allows you to crop and resize a photo according to your use. This is not very tough software; in fact, it is very easy to use. Just put your image in the editor section of this software and start your editing work with simple tools offered by this software. It also offers easy handling Filter and adjustment for making our work easy in this software.
5. Ribbet Software
Ribbet also has a similar user interface as PicMonkey, and you can use it for the different types of photo editing work with its some creative tools and features. As it is also free software, you can enjoy it for your learning work and get expertise in photo editing and designing work without any expenses. This software takes a number of editing tools on your fingertips so that editing of photos becomes a play for you, and you can get the best output from your work.
6. Adobe Photoshop Express
This is also free editing mobile software and developed by the adobe systems as image editing software. You can install it on different operating systems such as Android, iOS, Windows, and Cross-platform. You can have this software by downloading it from the Adobe Photoshop Express website. It was launched in 2016 and allows you to edit your images on smartphones or tablets also. With this software, you can explore your ideas for creating a different type of natural editing works.
7. Pixlr Express Software
This software replaces PicMonkey software because it also offers the same features as PicMonkeyhhas This software is available in two versions, such as Regular and Express version. Express version is the best replacement for PicMonkey software. You can have both free and premium facilities in this software and enjoy the exciting features of this software. Once you start working with this software, you will find the Express version of this software is better than the regular version of this software. This software also offers the Crop tool, Resize tool, and many other important editing tools, which are most similar to PicMonkey software's tools.
All of the above software is the important and main alternative of PicMonkey software, which allows you to use the similar features of photo editing as PicMonkey software offers you.
Conclusion
After this article, choosing one of the best alternatives of PicMonkey software for your photo editing and designing purpose becomes an easy task for you. Once you choose the best one of them, you can become an expert in handling tools associated with editing work of photos.
Recommended Articles
This is a guide to Picmonkey Alternative. Here we discuss the basic concept with the top 7 alternatives to Picmonkey for photo editing and designing. You can also go through our other related articles to learn more –