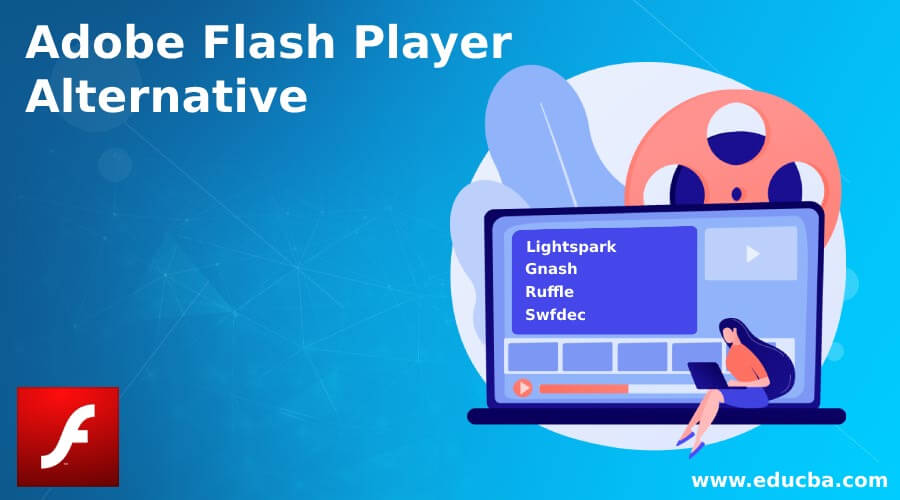 Introduction to Adobe Flash Player Alternative
The following article provides an outline for Adobe Flash Player Alternative. Adobe flash player alternatives are that software that can be used to have the same type of work by using their compatible features. There are a number of alternatives of flash player which can be used for viewing, displaying different type of multimedia files, a document which is created on same adobe flash platform.
Here we will see about some the best alternative of adobe flash player so that you can go with them for doing your work and some of these are Lightspark, Ruffle, Swfdec, (these are also free and open sources software that mean you can use them without paying anything) and some other. We will see about those alternatives that can give you effective result in task related to their field. So let us see the features, requirement and capacity of them one by one for having more knowledge about these alternatives of adobe flash player.
List of Adobe Flash Player Alternative
Given below is the list of Adobe Flash Player Alternative:
1. Lightspark
It is an LGPLv3 (Lesser General Public License) licensed Flash Player which focused on providing supports to all formats of adobe flash and gives a smooth working flow in different related tasks.
Alessandro Pignotti was its developer who develops it to deal with different adobe flash formats, and it is a type of Multimedia software that means deals with multimedia files.
It is written in C++ language and has lots of good features.
You can also use it as a browser plugin, and it is open-source and free software. So you can use it for free.
It can run on different operating systems such as Linux and Microsoft Windows.
Its latest version is 0.8.4.1, which you can download from its official website is www.lightspark.github.io/
It supports a number of flash applications such as Bejeweled Twist, Bloons Tower Defense 4, Bloons TD5, Bowman 2 Doom 1 (all these work partially), Epic Battle Fantasy, Idiot game (fully working) and so on.
2. Gnash
It is a GNU Flash movie player that can work alone on a desktop or any other embedded device and provides good supports to Adobe flash file formats.
Its developers were Rob Savoye, Sandro Santilli, Bastiaan Jacques, Benjamin Wolsey, Zou Lunkai, Tomas Groth, Udo Giacomozzi, Hannes Mayr, John Gilmore, Markus Gothe who added numbers of good features with it which make it able to work for the different file of media player.
It can also use as plugin software for several browsers, and its last release was 0.8.10 that was launched on February 15, 2019.
It is written in C++, GTK+/Qt language, and it is a type of Media player support software. It licensed under GNU General Public License.
You can visit on www.gnu.org/software/gnash for having more detail about this software or for downloading it.
It is GameSWF based software and supports all most every feature of SWF v7 and some of SWF v8 and v9 as well, but SWF v10 is not supported by it.
It was developed by Gabriele Giacone for making its best media player file format support and is a free as well as open-source program. Macromedia initially supported and continued by their successor company that makes improvement in its features from time to time.
Its file has been extended to that capacity, including audio and video content, ActionScript written programs, and ECMAScript compatible language. This is the plus point of this software and makes it more effective.
3. Ruffle
It is written in rust and is an emulator of a flash player, making it compatible with different devices and providing smooth support to media file formats.
Its developers were Mike Welsh, Kmeisthax, Nathan 'Dinnerbone' Adams and Callum Thomson.
It has its standalone capacity to work with all modern operating systems to make it more accessible, and by WebAssembly, it can also run on all modern browsers.
You can visit on www.ruffle.rs for having more information about it or for downloading it.
It has an MIT license and Apache License 2.0. You can categorise it as a type of Multimedia file support software.
Its latest version was released on March 22, 2021, with a number of improved features than the previous one, and it can run on Microsoft Windows, Mac OS and Linux as well.
This flash uses ActionScript as its language and divided into two groups such as AVM1 (stands for ActionScript 1 & 2) and AVM2 (stands for ActionScript 3).
Its developer used two main codebases in it: Rust for the actual player and JavaScript for interface & browser UI.
4. Swfdec
It works as a decoder or renderer for a number of Macromedia flash animations (It pronounced as swiff deck).
It is outdated open-source and free software that you can use in place of adobe flash player.
You can run it on Linux and FreeBSD platforms, and under GNU Lesser General Public License, it is distributed.
0.8.4 is its last version of it which was released on December 21, 2008, 12 years ago, and the latest stable version, 0.9.2, was released on November 11, 2008.
Its development has been stopped in March 2016, which is why you can say it is outdated.
It is a type of library that can be used for playing Flash files and supports Flash through version 4 and most of the features of Flash through version 9.
It is a standalone player, and the Mozilla plugin uses the library of it.
These are some of the important alternatives of Adobe Flash player that you can use to have some type of result as we get from Adobe Flash player. Almost all the above alternative are free and open source.
Conclusion
Now you have enough information about the alternative of adobe flash player, and you can go with anyone of the above-discussed alternative and use that for the same type of work. You can enjoy these alternatives software because you need not to pay any amount for having their subscription. Just use them so that you can understand their working in a better way on the basis of your own point of view.
Recommended Articles
This is a guide to Adobe Flash Player Alternative. Here we discuss the introduction and list of adobe flash player alternative, respectively. You may also have a look at the following articles to learn more –