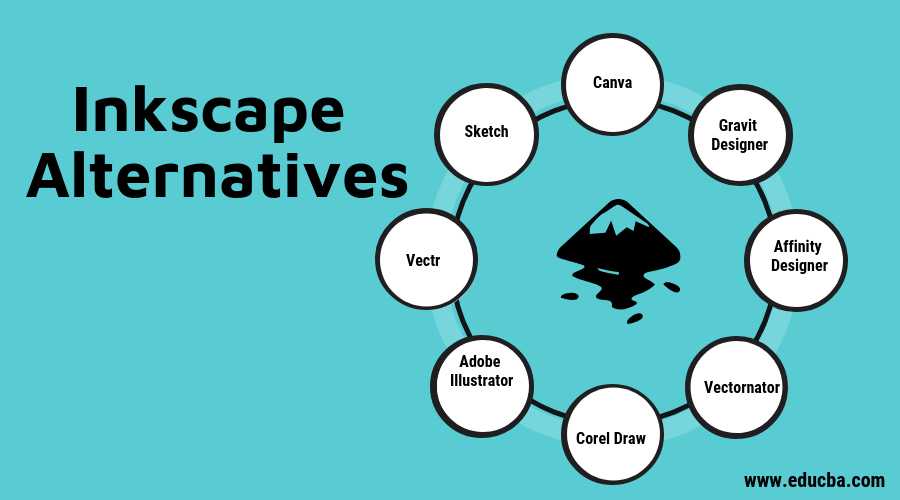 Introduction to Inkscape Alternatives
In the world of graphic design, designers are actually spoilt for choice, for there are so many smart and equally competing software and tools for each feature that it's the designers' decision as to which software is to be used when. Inkscape is vector-based graphic design software. Although it has easy UI and tools are simple to understand, not many amateur or professionals consider that as their main focal point for designing. A lot of complex designing, sketching, and structuring requires many other complex tools; hence, the use of alternative software to Inkscape comes into the light.
Popular Inkscape Alternatives
Let's look are some popular alternative software options and understand their importance.
 1. Adobe Illustrator
It offers an amazing set of tools and vector graphic presets and a really cool UI where almost all the vector graphics can be performed seamlessly with a defined workflow. In other words, this software makes vector designing and sketching fun. If we leave the price aside, this is a really nice alternative for Inkscape; it supports all file formats. It helps convert into raster graphics. It is compatible with many OS platforms, plus there are tons of tutorials available online to learn this software easily.
2. Corel Draw
One of the most popular vector graphics-based software Corel Draw by Coral Corporation, bags the title of a near to ideal alternative for Inkscape. With a bundle of tools for drawing, making ad prints, architectural layouts, it is quick and easy to learn and runs on all OS platforms too. It is pricy, I agree, but Inkscape works more on a low level with limited tools itself being a free open source itself, whereas Corel Draw works more on a designer's level. It provides live help, continuously updates itself depending on the market trend, and streamlines design work too.
3. Vectornator
With effects like real-time sharing, Boolean operations, blending modes effect even for the phone app, and methods like Autotrace, masking, etc., Vectornator actually has more features than Inkscape and is probably more user-friendly too. Their tag line on their website shares the line "For all things Design", which in fact is true. Recently they have also a new update to work on Mac Catalina. The drawing tools and file format sharing is similar to Corel Draw in many aspects. But again, as I said, designers are spoilt for choice.
4. Affinity Designer
Affinity Designer is a design professional's favorite pet. With groundbreaking performance through continuous updating over the years and a fast responding UI, this designing software comes with many highlights and effects that Adobe Photoshop and Corel Draw combined. This gives a designer a singular platform to perform graphic design. Also, file sharing and conversion can be made possible easily. Inkscape will first focus on the drawing and sketching part with tools given primarily for that. But this software will provide editing and features that make a design look 100 percent professional.
5. Gravit Designer
This is an amazing alternative to Inkscape. It is a desktop-based as well as browser-based application software. It is rich in features and covers all the tools, presets, color schemes that Inkscape provides. It is ads-free, which is very refreshing, especially because it is free. These are the following notable features that make probably better than Inkscape. It supports Website Wireframing, Raster graphics editing too. SVG file editing is light in weight in terms of software size. It has a global color palette and color picker. The canvas size is enormous and unlimited.
6. Canva
Canva is ready to use an application major focusing on everyone on this planet as their target audience. It's the layman's software. It's easy to learn, and almost anyone can design it. It's very light, majorly used as a phone application. Hence it has limited features but enough features that people will enjoy using it, and it has a great source of real-time sharing. Many amateur photographers use it to perform tracing and editing. So all those instant Facebook and Instagram flyers can be easily made and exported successfully.
7. Sketch
This alternative is for MAC users. It is not free. Its main target audience is the screen designers who design websites, logos, etc. They can design using a live preview too. This software is also amazing for those companies or a group of designers who share their workspaces for designing multiple prototypes for a collaborative product. The user interface is easy to understand, and the tools are simple and direct. It also comes with various toolkits and fellow software plugins that will eventually enable to even create effortless animation inside Sketch.
8. Vectr
Like Gravit Designer, this software also fancies being a cross-platform software, meaning it can be used online or it can be downloaded as a desktop application. Its most fun feature is the real-time preview and sharing. One can design online, and if another team has collaborated, others can actually witness the designing and share it immediately amongst one another. It again covers all the important and basic features of vector graphics. It is free software. It's also portable, meaning it is it does not clog the computer space. All the work is saved in real-time and synced into a private cloud account which is again a free space to use. For the designers who travel all the time, this is a savior. Although it also means that an internet connection is vital all the time.
9. Clip Studio Paint
Has anyone ever heard of Manga Artists? This is a powerful sketching software dedicated to Comic book designers of Manga Comics. Made in Japan, it is so famous they have made Manga global and famous. Comic sketching has never been fun before.
Conclusion
Inkscape is a great vector design software, and for beginners, it's a really easy path to learn and design. But more designers worldwide are becoming what I would call "Feature Hungry". Hence the knowing alternatives is a must.
Recommended Articles
This is a guide to Inkscape Alternatives. Here we discuss the Introduction and some popular alternative software for amazing layouts and illustrations. You can also go through our other related articles to learn more –