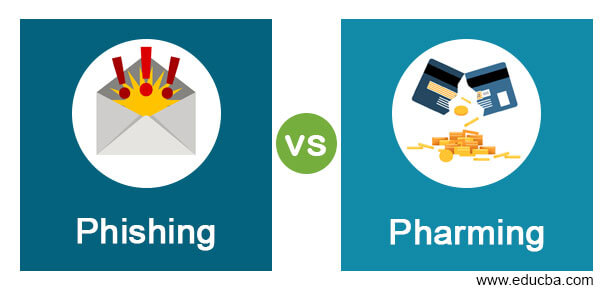 Difference Between Phishing vs Pharming
The following article provides an outline for Phishing vs Pharming. The method of social engineering where hackers send emails and messages to people in the form of mails from reputed companies to make them believe and share personal information is called Phishing. This also makes the hacker deploy harmful malware or virus into the system, which makes the victim's system useless. The practice of making internet users redirect another website that looks like a valid website and makes the users share sensitive information is called Pharming. This can be done by changing the host's file or by checking the weakness of the DNS system of the host system.
Head to Head Comparison Between Phishing vs Pharming (Infographics)
Below are the top 6 differences between Phishing vs Pharming:

Key Difference Between Phishing vs Pharming
Let us discuss some of the major key differences between Phishing vs Pharming:
Other techniques of Phishing other than sending mails include SMishing, where users receive fraudulent text messages, Vishing, where users get fake voice messages or Phaxing, where users receive faxes to send personal information. All these techniques are dangerous, and users can turn into victims of online attacks. Techniques of Pharming are Pharming malware and DNS poisoning. DNS poisoning is the method where the DNS server redirects the users to use different websites. Pharming malware is the practice where the host file itself is changed in the system so that all the activities of the user are monitored by hackers, which helps them to get any information they needed.
Companies never ask users to share account details via email or send money to them so that they can give you a job offer. The best way to prevent Phishing is by educating oneself about suspicious attacks and staying away from them. Regarding Pharming, always change the password of the wi-fi router from default. Hackers can easily get the default password and get into the DNS server. If the mails are not from a trustable source, do not download the attachments and make your system vulnerable.
Phishing depends on human factors such as evoking sympathy or kindness. It can also be in the form of emails from celebrities asking for charity or can be time-bound. If the user does not act immediately, the account might close, or the user will lose the opportunity. Pharming does not depend on human emotions. It poisons the DNS server and sits silently without making any attempts of visible malware attacks. Which is more dangerous? Both are dangerous, but one must be extra cautious about Pharming.
Social engineering method to get the personal information of users or make them download any ransomware into the system is called Phishing. This is done with the user's consent, as users may not be aware that it is a phishing link and will share the information. Users can be saved from this with the awareness of not clicking any malicious links. Pharming, on the other hand, is done without users being directly in the part of the process where users are made to believe that it is a legitimate website and it is safe to share information. Users must protect the system with antivirus and should change the passwords very often.
Phishing vs Pharming Comparison Table
Let's discuss the top comparison between Phishing vs Pharming:
| | |
| --- | --- |
| Phishing | Pharming |
| Phishing is done by manipulating the legitimate websites of reputed companies or sectors, making users believe it to be legitimate. This makes the hackers give bait like an unused link to the users, and victims are spoofed to use the same. | Pharming is done by manipulating the DNS server address so that victims will not understand it directly by looking to the website address. DNS server redirects users to unauthorized websites where they will share sensitive information. |
| Phishing is easy to identify than pharming if users double-check the illegitimate website in Google or check the sender's mail address on any social website. The mails will be mostly to send money to a particular id and hence it is easy to track the same. | As hackers manipulate the DNS servers and redirect to another website that looks like the same authorized website, it is difficult to track whether the user is cyber-attacked or not. Comparatively, pharming is more dangerous than phishing. |
| When there are spelling mistakes or grammatical errors from a reputed company or if they are asking money to get you into a job, make sure that it is phishing and delete the mail right away. | It is best to have an antivirus installed and updated so that DNS attacks can be prevented. Also, it is good to check whether the site is authenticated by Internet Trust Organization. |
| Phishing happens once in a while when the user receives a mail or message where they are asked to share information or give bank details. Also, the mail might ask to send money to a particular bank account. | Here, since the mail address is redirected by the DNS server, this can happen any number of times, and if the user is not careful to notice the same, they will lose all information and money as well. |
| Here emails are used to lure users into sharing personal information, and it can also be text messages and voice messages. This method is relatively simple for hackers to get the work done. | Users are tricked through websites that look like legitimate websites. Users can be easily tricked to share information where hackers need to create websites that looks similar to legitimate ones and also need to hack the DNS servers. But this cannot be found easily. |
| Phishing works on a small sector of people, and hence the danger happens on a small scale. Users receive emails in their mailboxes and open them at their own risk. This may not be a risk to the entire organization and will not affect the entire enterprise as a whole. | Pharming reaches more people as it involves DNS poisoning. Hence, users using the same DNS server will check into the hacker's website who eventually will put the entire organization at risk if they are using company-provided laptops. |
Conclusion
It is very important to be safe from any malicious attacks to protect one's information and to prevent loss of money. Users should check for URL addresses if they receive any mails and make sure that it must start with HTTPS. Anti-phishing and fraud monitoring tools are available, which users can make use of to be secure from online attacks.
Recommended Articles
This is a guide to Phishing vs Pharming. Here we discuss Phishing vs Pharming key differences with infographics and comparison table, respectively. You may also have a look at the following articles to learn more –