Updated June 9, 2023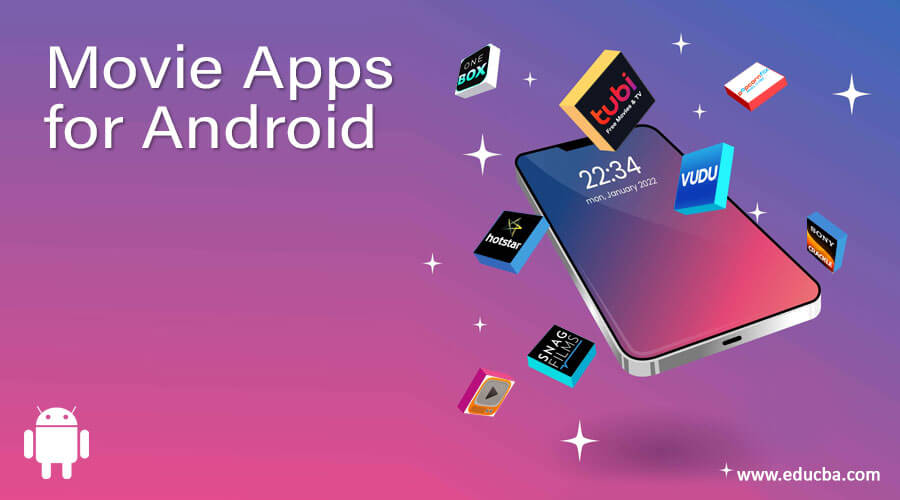 Introduction to Movie Apps for Android
Are you interested in streaming movies online? If so, you can do it with your mobile and internet access. There are thousands of movies and TV programs on the Internet, but most have false commercials, fake connections, and even paying subscriptions. Free films on your mobile are the perfect way to stream movies. You can find your favorite movies anytime in these video applications. Various free movie applications are available on the market, enabling us to view and watch videos. Everyone is free and legal. The following are the few best and most free Android film applications.
Top Android Movie Apps
Let's have a look at the top Android Movie Apps:
1. Sony Crackle
In the film industry, Sony Picture is a famous term. Sony's Sony Crackle app is normal when we talk of streaming free movies online in the app. This app features valuable free film selections combined with old and newest hit films. This software categorizes movies and TV shows based on various genres and makes browsing easy for the stuff you want. It's quick to use Sony Crackle software, and it works great. You can watch movies with or without subtitles and switch from English to Spanish, the audio environment. The software includes an ad you can see through your use. It provides free streaming television shows and series. Google Chromecast is also supported in this framework for improved Smart TV.
2. Yidio
Yidio is not a true video streaming app. It varies slightly from other films. Yidio allows you to browse different programs, like Amazon Prime, Hulu, Showtime, and Netflix. The software offers video material from numerous free film applications. The downside is that mostly paying films and subscription film applications are included. We will enjoy thousands of free films with this submission.
3. SnagFilms
SnagFilms is an outstanding video app that features animations and short films. Users can find films of numerous kinds, including the alien and refugee, environmental and climate change, veterans, and the military. SnagFilms has a simple user interface, and most movies are of high quality available. There are also award-winning films. The app has African, Latino, and LGBT elements. But the app includes advertisements, but the ads are not regularly displayed. Most classics and independent films can be found on it.
4. Hotstar
Hotstar is one of the most popular Free Film and TV show apps for live sports and television. However, without a subscription account, you can't do anything. The app provides unrestricted access in India and around the world to TV shows and films. The software company has dubbed these stories into Indian languages such as Hindi, Telugu, and Tamil, and users can find the best Star Wars stories from Disney, Pixar, and Marvel Studios, too. Hotstar also broadcasts big sporting competitions such as the T20 World Cup and the IPL
5. OneBox HD
Your families and children can watch free videos and TV shows in the OneBox HD app. It gives all the numerous items to appreciate. Selecting from various films, including comedy, documentary, action, horror, families, and adventure, is possible. We'll never be lonely when we update and use this software on our Android smartphones. We can also scan and borrow films and watch them online without an abonnement, wherever we want. You should download the APK from oneboxhd.hd if you want to have this software on your smartphone. Google Chromecast also supports OneBox HD, which helps you to stream videos on your smart TV.
6. Tubi TV
Tubi TV is a free movie app that helps you to stream movies on your mobile online. They listed various film categories, such as romanticism, comedy, and horror. Based on its attribute and success, we will scan for films. The Google Play Store and Apple Store Tubi TV video app can be downloaded, and films of high quality are easy to see. The app includes horror, adventure, comedy, documentaries, families, dramas, children's films, etc. For free and without registering.
7. Vudu
Vudu is one of the best free film software with various publicity-supported videos. Free movies and TV shows can be watched free of charge in this portal. The software also adds new release films daily. This app also allows users to import the films they have downloaded for later screening anytime they choose. To watch movies, we can choose different quality. Before we watch movies online, we must sign up for the app. In 4 K HD, you can enjoy the app's films.
8. Popcornflix
Popconflix is a free film software featuring various films and web series. When released, the program also adds new movies. The films, like foreign films and newcomers, are seen at the top right according to short categories. The software has a convenient and well-functional user interface. The software features high-quality films and smooth downloading.
Conclusion
In this article, we have seen various movie apps for Android. You can choose any of them based on your requirements and ease of use. I hope you will find this article helpful.
This is a guide to Movie Apps for Android. Here we discuss the introduction and list of Movie Apps for Android, respectively. You may also have a look at the following articles to learn more –