Updated May 22, 2023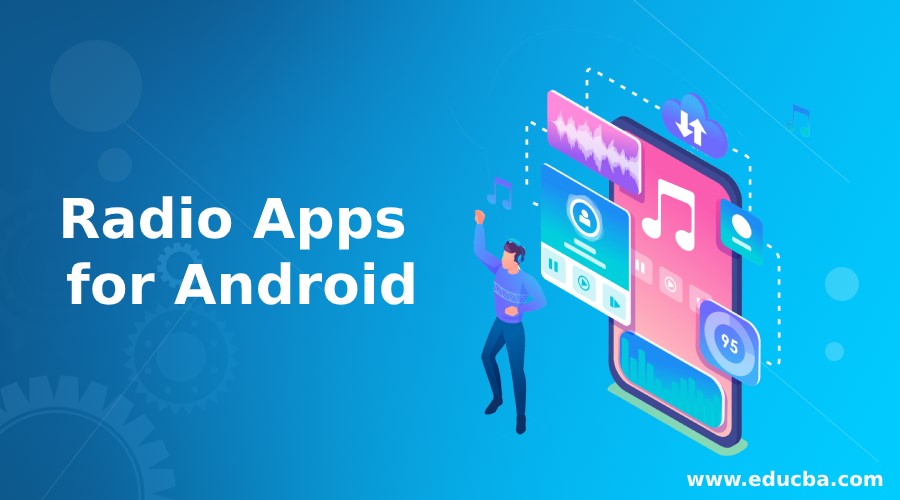 Introduction to Radio Apps for Android
The following article provides an outline for Radio Apps for Android. Users can use radio applications on Android phones either through built-in applications or by downloading software. There are online and offline radios which does not require much setup and installation in the phone. Users can select the appropriate applications for their phone from the Play Store and use them to access the desired radio stations. Most mobile phones will have built-in FM receivers, and the user should know the right application to be configured with the phone. There are many applications available.
Different Types of Radio Apps for Android
Given below are the different types:
1. Pandora
This was launched in 2000 with the sole idea of connecting people with music that they are already using or are familiar with. Pandora still rules the streaming world where users can create their own playlists with their favorite music. Similar music is offered to the users, and if they like it, they can continue hearing them or can ignore them. The user interface is clear and neat, helping the users to navigate easily. The application is offered for free and advertisements will be played in between that has to be borne by the users. Users can create their own stations in this application. A premium subscription helps to play on-demand songs needed by the users.
2. SiriusXM
This is a radio company that offers the application in both cars and mobiles. This is a satellite radio that is different from AM and FM types. It has different subscription plans, and users can select the required plans. The user interface is good, with different features offered in the application. Music, news, and talk shows are offered in this channel, and it has a variety of over 200 channels in the application. The subscription depends on the content the users prefer to listen to. Extra connectivity, such as Bluetooth, is not needed while using this application in cars.
3. TuneIn
This application attracts customers by offering various types of programs such as podcasts, music, radio shows, sports stations, and many more. Other than the user interface, the sound quality is good. It may take some time to buffer the program and play ads in between. This is the major disadvantage of the application. Otherwise, we could say the application is good.
4. iHeartRadio
This application streams live radio, offering programs of various types from different countries. The user interface displays information about the song, allowing the user to either approve or disapprove of it. Subscriptions are available with added features of saving the songs though free subscription provides almost all the features to the users. FM stations and applications own stations are present to entertain the users.
5. NPR One
Rather than providing favorite songs, this application focuses on news programs and podcasts that make users love this application. News is made available anytime and anywhere. Local radio stations or public channels can be selected by the users. Podcasts from different companies are also broadcasted on NPR.
6. AccuRadio
It offers over 1000 channels for free, albeit with advertisements. Users can customize the channels and select their favorite songs by skipping songs and avoiding specific artists. Though servers have occasional issues, the application works well in other cases.
7. myTuner Radio
This application supports traditional channels and is more like a traditional radio station. 50,000 radio stations are available in the application, and this is working in more than 200 countries. Podcasts and different shows are available, along with timer and alarm functions. Some other applications are also supported in this radio application, and it is available for free for google play pass users.
8. Radio Online
This is another traditional radio application with a number of radio stations and different types of content in the application. It works with the support of the internet as well as offline. Live radio recordings, along with timer and alarm functions, are available in the application. The application does not provide podcasts or any other live shows. However, those who prefer traditional music can download and enjoy this application. It is available for free and also with a subscription.
9. Spotify
With the free and paid version of the application, it streams any genre or topic with new music. This is basically a music streaming app that has been following radio-style streaming for some years now. The free version has ads like other radio applications. This app can be considered one of the best due to the various selection of music. Also, the application selects the top 50 songs worldwide so that users can listen to the songs that they haven't come across through any other applications.
10. XiiaLive Internet Radio
50,000 live radio stations are available in the application to entertain users. The app doesn't enjoy as much popularity as other applications, but it offers many features that allow users to save the radio station directly to their device. In addition, the application provides themes that allow users to customize the user interface according to their preferences. Also, the user can add his own URL link to access the radio stations. An equalizer is also available in the radio application.
11. Local Radio Apps
Many channels have applications working within them so that they promote podcasts, live shows, music, and social media applications through the channel. The individual stations are improving over the years and are performing well now. Streaming happens throughout the day, and the application entertains people the most.
Conclusion
Technology has improved a lot to make users listen to the radio stations through the internet connection. This makes the users to be happy and entertained with any of the stations they prefer in any part of the world. Radio cannot be considered too traditional nowadays.
Recommended Articles
We hope that this EDUCBA information on "Radio Apps for Android" was beneficial to you. You can view EDUCBA's recommended articles for more information.