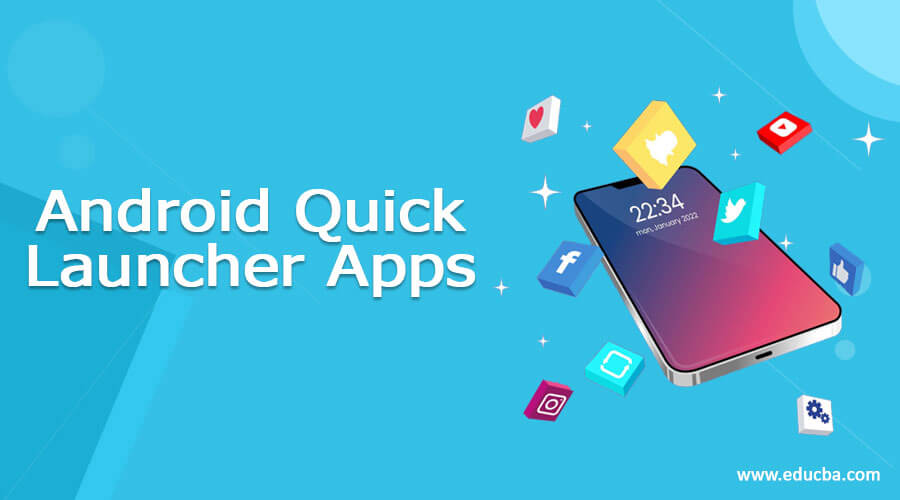 Everything you need to know about Android quick launchers
Android quick Launcher Apps – Android quick launcher is a part of the Android user interface which allows you to customize the home screen as well as the menu pattern of your phone. In short, it allows you to modify the face of your phone. Smart, attractive and designer, isn't this the way you want your phone's display. You can certainly do this if you are an android user. I must say this is the biggest disadvantage for iOS users. Apple controls every pattern of their phone and does not allow you to customize it but android operating system users are the masters of their phone.
What is an Android quick Launcher?
After reading the previous paragraph you must be thinking, what is an Android quick Launcher? Well, Android quick launcher is one of the most powerful features of Android because it gives authorization to its user to customize the look and other most commonly used features of their phone such as dialer, messenger, menu, home screen etc. It comes with all possible designs and themes. It adds animations to the home screens, provides short-cuts, sorts out the most used application, manages app drawers, provides multiple security options to secure your communications such as emails, Whatsapp, and facebook messages etc. In short, it gives you leverage to kick all uninteresting stuff and look out from your phone and re-design it and create your perfect set up even when you are not technically trained for it.
Type of Android quick launchers: According to their work android quick launchers can be segregated in two categories; 'Design' and 'Adaptive'.
What are Design launchers?
Design launchers, as the name suggests, are focused on design. What do they do? They allow users to change the complete layout of their home screen. Users can customize their home screens in the more artistic way like they can make their home screen to look alike a collage of photos or make it a 3D and interactive screen etc. Let me say, I was also a user of this kind of launchers and it is quite impressive. These launchers act like a decorator. You can build new icons, play with your widgets and wallpapers, remove or increase the screen scrolls and go solo with your most used apps, play with icon packs and give an icon to every application of your phone, no matter how many applications you want on your home screen, you got it. Theme launchers are also a part of this or one can also find a completely new theme launcher from the third party. Here you find multiple themes designed and built by the Android enthusiasts, no matter what kind of theme you want, you can never get disappointed by Theme launcher.
What are Adaptive launchers?
On the other hand, Adaptive Android phone Launcher apps are less artistic but useful. I would call these types of launchers smart because what they do is really impressive. It seeks to put the most used information, like missed calls, messages, notifications, meeting notifications and whatever you can think of as important, on your home screen. They set up a 'To Do list' on your normal home screen. And as your To Do list changes your home screen will also be changed and will give you the new experience infrequent hours.
These launchers are self-guided and learn from every move made on the phone, based on that it creates tools for users. One of the best qualities of these launchers is, it is always updated about the location and provides you the information based on that like a personal secretary, well not as good as a human but most of the time it helps. For example, when you wake up in the morning, working in your office, out on a vacation, it learns your location and shows you the right app on time. However, you cannot modify the theme, except color (you can change the impression like from dark to light and vice-versa).
Although there are plenty of the third party as well as Google Android quick Launchers available in the market. You have learned their performance and now you can choose some from the list. Here is a list of few top performers from android quick launchers club. Have a look at some of the best android quick launchers and select yours-
Solo Launcher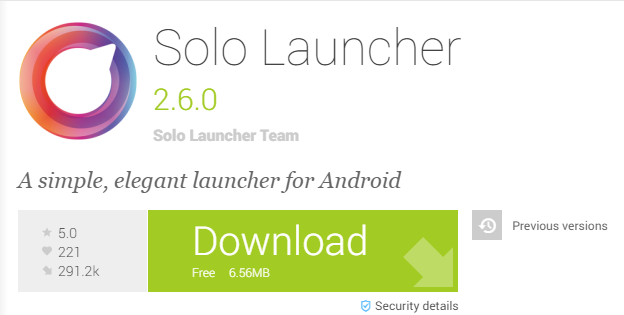 The solo launcher is like 'Do it yourself' launcher. It is clean, fast and smooth launcher and runs in your android phone smoothly. It doesn't really change the complete outlook of your phone but there are hundreds of customization options which help you to have more control over its design. Clean and elegant themes, simple upwards and downwards swipe on the home screen are some neat gestures of the launcher. Since it doesn't change much in your phone, therefore, you can use all the features of the launcher even without noticing many changes. Solo Launcher is available to download at no cost. The fast and smooth user interface, nice collection of themes, icon packages, cool animation effects while swapping are some of the best features of Solo Launcher.
Action Launcher 3
Are you in love with how windows phone looks like? Action Launcher 3 is one of the best android phone launchers, and my favorite as well. It gives you this opportunity to convert your Android phone menu appearance into Windows. This launcher enables a bar, similar to Windows Start Menu, that pops up at the top left of the screen which consists all favorite apps of yours without having them cluttering them at home screen. Apart from this Action Launcher 3 comes with many unique features such as Quick page like a hidden home screen, the Quick theme which determines themes and pages, Covers, a unique take on folders etc.
C Launcher
C Launcher is one of the elegant launchers that will let you reach to almost every distant corner of your phone in a few steps. One of the best features of C Launcher is the inbuilt system cleaner. You are having the slow phone, fewer data of RAM, slow CPU or even if your phone is getting hot. It notifies you instantly with the solution. While giving the option to hibernate the apps which are restarting on their own frequently, it saves lots of battery of your phone. Other features like pre-set for everyday uses, such as checking the weather, traffic update and daily news, keep this launcher in the list of top 10 best android launchers.
Dodol Launcher
Dodol Launcher is one of the best launchers for beginners. It keeps your phone neat and simple. Since it doesn't fill up your phone with crazy animations and extra effects, therefore it's less in space consumption of phone. It is comparatively faster and consumes less battery. Having an effective way of customizing one's phone, it is the light, simple yet powerful launcher.
Smart Launcher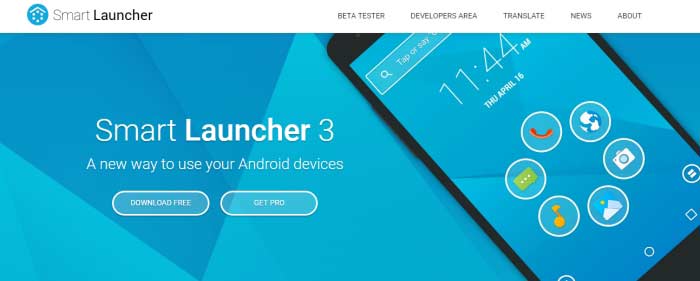 Smart Launcher or Smart Launcher 3 is not a follower of the trend. It can really turn things inside out. The very unique and best feature of this launcher is home screen appearance. Smart Launcher creates a ring of most common and frequently used applications and makes vertical cascades of categorized apps. It's a uniquely unusual yet simple style helps it stand out from the crowd. It linked itself with app manager of your phone, so when you delete an icon, the app is deleted automatically from the phone. Apart from the flower-style pattern, the launcher has many other powerful features, such as security features like password protected apps, hundreds of theme and plugins that make Smart Launcher one of the best android quick launchers.
Next Launcher
Next Launcher is one of the best 3D android quick launchers and not available to download for free. Its unique 3D features, awesome appearance, and performance keep it in the list of top android quick launchers. It has interactive 3D graphics and transitions. Whenever you want a hi-tech and attention-grabbing launcher for your phone, try using its free version, I am sure wow-factor of the premium version is definitely worth the cost.
Apex Launcher
Apex Launcher is one of the most popular android quick launchers, with over million downloads. The launcher offers endless options to customize the phone, complete control over home screening and app drawer, gesture settings, animations, themes, wallpapers, transition effects and so on. Apex Launcher also supports icon packs. Consider this a personal recommendation but out of all mind-blowing features, I like its backup or restore the launcher setting a lot. Whenever you are over with your last settings just go reset in just one click. Apart from that, the launcher also has 'Easy to hide apps' setting within a drawer which is proved useful to users. It also has a paid version, like other launchers, which unlocks dozens of awesome features.
Google now Launcher
Google Now Launcher is developed by the tech giant Google.inc. Since Android is also a Google product, most of the times the launcher is already installed in android phones. Google now is based on the Android user interface so you get easy access to Google Now, transparent windows and bars which gives feelings of using Windows Vista. Since Android and Google now both are from the same origin, you don't need to tolerate any ads or 3rd party bloatware. It is one of the good launchers no doubt. All the Nexus users enjoy having this launcher from the very first day.
Nova Launcher
Nova Launcher is one of the easiest launchers according to android quick launcher users. Eight out of 10 android quick launcher users have used this launcher at least once. The undisputed ruler in android quick launchers, Nova launcher offers an accessible, functional and very easy to operate at an entry point. It has all the features that a typical android quick launcher may have. One of the best features of this launcher, 'icon normalization', is a fan-favorite feature. It customizes all icons in a surprising way, as irrespective of the icon shape, all are scaled to cover the same area. Having the awesome feature in a free version, the launcher is on a pretty crazy sale on Google play store. Nova launcher is available in economical price as compared to other launchers and holds a spot on many users' android phone.
EverythingMe Launcher
EverythingMe is one of the best android launcher applications. This launcher organizes and sorts applications in folders according to their nature, such as social or productivity apps. It also recommends other useful apps to you based on these folders. When you install and run this launcher it installs a widget which changes your home screen throughout the day and highlights the most useful apps. Even if you don't want to go into the menu, EverythingMe launcher saves you from the struggle to find out an app in your phone. It provides a search bar right on your home screen and you can search whatever you want. Be it a web result, apps, setting, contacts, image or whatever, you search for it and you get it right away.
Is it safe to use an android quick launcher?
We are talking a lot about how android launcher applications monitor your uses, habits, nature of your activities on android phone etc, you must be thinking whether is it safe to let all these things to an Android developer? Whenever you install an android launcher application, it asks for permission, you need to be attentive before giving these permissions whether the app legitimately needs those permissions or not. If you have already installed the launcher, you can go to the settings, find the app-scroll down to the page and check all the access you have given to the launcher. You must note that a launcher application will know about other apps you launch with it that is certainly not a problem. A very important thing to notice is that a custom android launcher application never overrides the Operating system you have in your phone.
Related Articles
This has been a guide to the Android quick launcher is a part of Android user interface which allows you to customize the home screen as well as menu pattern of your phone. These are the following external link related to the Android quick launcher.