Learn from Home Offer TAKE THIS BUNDLE
DirectX Course Bundle - 3 Courses in 1
This Microsoft DirectX Training includes 3 Courses with17+ hours of video tutorials and Lifetime access. You get to learn 3D computer game programming and development from scratch.
TAKE THIS BUNDLE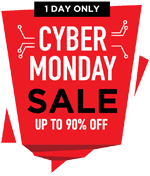 * One Time Payment & Get Lifetime Access
What you get in this DirectX Course Bundle - 3 Courses in 1?
17+ Hours
3 Courses
Course Completion Certificates
Lifetime Access
Self-paced Courses
Technical Support
Mobile App Access
Case Studies
About DirectX Course Bundle
---
| | |
| --- | --- |
| | |
| Courses | You get access to all 3 courses, Projects bundle. You do not need to purchase each course separately. |
| Hours | 17+ Video Hours |
| Core Coverage | Learn 3D computer game programming and development from scratch |
| Course Validity | Lifetime Access |
| Eligibility | Anyone who is serious about learning game development and wants to make a career in this Field |
| Pre-Requisites | Basic knowledge about game development would be preferable |
| What do you get? | Certificate of Completion for each of the 3 courses, Projects |
| Certification Type | Course Completion Certificates |
| Verifiable Certificates? | Yes, you get verifiable certificates for each course with a unique link. These link can be included in your resume/Linkedin profile to showcase your enhanced skills |
| Type of Training | Video Course – Self Paced Learning |
DirectX Course Bundle Curriculum
In this section, each module of the Microsoft DirectX Certification Course is explained.
The course is very well framed with all the attribution and usages of the learning DirectX there are multiple versions of it based on year of release and version features went on updating as per demands in need of users for multiple functions like system performance improvement, Hardware effective usage, Game Development, Gaming experience, VFX performance, and making and many more will be explained in the DirectX certification course. The complete evolution and usage of DirectX will be explained along with all the career growth aspects from course first day till the top professional companies who use DirectX regularly in this DirectX Training Certification.
Serial No.
Course Name
Course Description
1
Microsoft DirectX –

Beginners

DirectX is the Microsoft collection of APIs that are designed to give developers a low-level interface to the PC hardware that is running Windows. DirectX API component provides access to different aspects of the hardware, including graphics, sound, and networking, all through a standard interface. This interface allows different developers to write codes for games, software, and many more without limits and we can start running it. Direct3D is one of the applications from the list of DirectX, DirectX is a group of APIs is used for managing tasks related to many system programs such as multimedia, game programming, video and many more on Microsoft platforms. This DirectX Training Certification course is for Anyone we learn DirectX (interested in Managing System performance).
2
Microsoft DirectX – Intermediate
This DirectX Training is for Students, Graphic artists, and Professionals in the Multimedia and Design domain. The DirectX API is separated into multiple components each, of which are responsible and represent a different aspect of the system. All of the API can be used independently, thereby adding only the functionality for our game requires. The Names of APIs start with "Direct" for identity such as Direct3D, DirectMusic, DirectSound, DirectPlay, DirectDraw, and so on. The shorter form of these APIs is DirectX so it's the name of the collection. We will work on DirectX using multiple languages to make the application better; we will understand the codes existing used which help in identifying the drawback and place of improvements. Complete learning and handling these tasks will be learned.
3
Microsoft DirectX – Advance
In this DirectX Training session will start with an overview of DirectX and then will be discoursing with each application specifics one after the other here are the components of DirectX:

 DirectX Graphics: This is the application handling 2D and 3D Images, videos, and games along with graphics drawing and their respective settings to maintain standards.
 DirectInput: We will be trained on handling all the application inputs through API controls and maintain input hardware connectivity with the device for quick responses from mouse, keyboard, gamepad, joystick, etc.
DirectPlay: We will be trained in handling network connections and add-ons for projects. we can play using DirectPlay which gives us a top-quality interface for networking, keeps us into an aspect of improving the network communication.
 DirectSound: When you add sound effects or background music, the API is which makes us understand different sound functioning by loading and testing multiple audio file formats in different wavelengths with complete control to play.
DirectMusic: This component allows us to create dynamic soundtracks, along with handling sound properties such as Pitch, tempo volume, etc which will be further plugged to games, VFX, etc.
Direct Show: We get access cut frames from scenes and streaming audio through this option, multiple video file formats such as AVI, MP3, MPEG, etc can be imported and carried to work on we can access videos from Hard disks or CD-ROM.
  Direct Setup:  After your game is complete, you'll want to show it to others. Direct Setup gives you the functionality to visit the official website Microsoft DirectX to install our computing.
---
DirectX Course – Certificate of Completion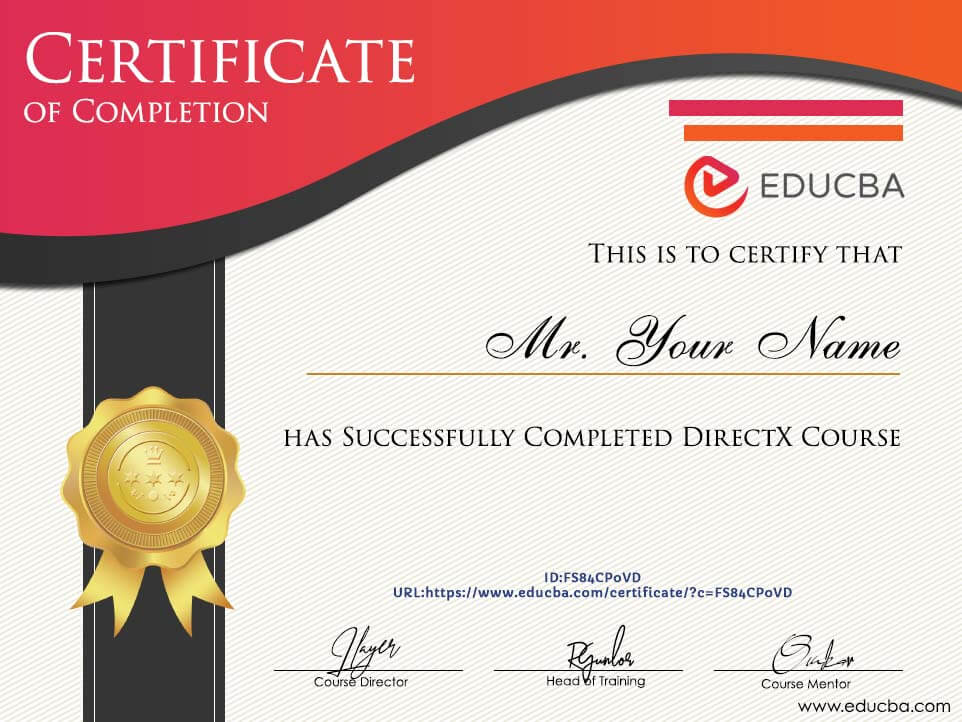 ---
What is Microsoft DirectX?
DirectX is a Microsoft developed the application to maintain and improve the system efficiency performance of PC for windows. We can write and test their games using one of the functions, a difference of the hardware components they will run on. This is encouraged by many professional MNCs for the phase of developing the visual, user experience, and User interface improvement for the end products.
DirectX is a group of application Interfaces (APIs) developed by Microsoft. The various applications of the DirectX API provide low-level access to the hardware to run on Windows-based operating systems. Work close with hardware partners, game developers, and best application service and developers of top game engines, game creators, adopting the latest graphics rendering techniques with top performance experts in the industry. DirectX was not the first version of application Microsoft understood the need of users and developed individual applications later collaborated and made it a suite to improve the performance of the system as well as to have the best user experience at the end or while creating data.

Industry Growth Trend
The global visualization and 3D rendering software market size is expected to grow from USD 1.06 billion in 2017 to USD 2.92 billion by 2022, at a Compound Annual Growth Rate (CAGR) of 22.40% during the forecast period.
[Source - MarketsandMarkets]
Which tangible skills you will learn in the course?
We will be getting started to end knowledge of handling and improving multiple programs in the application DirectX. Knowing C++ similar other programming languages which as use full to Develop or improve apps in DirectX or any other windows apps. This also includes handling of memory, resource management, interface-related issue solving, graphics device-related changes as per projects requirements which are a part of handing both operation phase and also the development phase of the projects which helps to excel our skills and communication based on facing multiple technical arrangement sand issues as developer and apps designer with respective responsibilities.
DirectX has can also be learned by Engineers who have are willing to work on Computer-Aided Designing / Computer-Aided Manufacturing (CAD/CAM) for engineers to have technical experience of working on visualizations of designs this application is called as Direct3D which help in experiencing the engineering design and manufacturing graphical with best visual aspects to crack projects of manufacturing components. Microsoft is closely worked and improved the application for the real engineering needs for professional standards. With the KIT for handling and coordinating the application updates automatically if the designing devices are connected to the internet at the work location.
Xbox also performance on DirectX based games which provides the best user experience while using. There flexible to use on Systems, Laptops, Mobiles, and other devices so the scope of learning is high and demanding in the market. Handling codes and documents can be done and are easy to access to figure out the problems while working.
Pre-requisites
Professionals, Degree Students, Graduates, and similar can appear for the course the requirements for this DirectX Training Certification are we should have basic knowledge on OS, Hardware components of the system, Programs management. Must know at least 1 programming language or application developing and bug fixing experience is an additional advantage to understand the performance difference tracking.
Basic idea about application suites and handling multiple file-formats of the image, video, gif, and similar file which deals with gaming, visual effects, music, 3D animation, movie, 2D, and 3D graphics and more. This DirectX Certification course helps artists and animators to explore their work by conducting multiple test cases and visual standards of work.
Individual must have an interest in tracking system performance and taking track reports after installing DirectX. Report studying, tracking, and communicating between operation teams, developing teams, case study, and more. The performance's to have roles and responsibilities of such are challenging and good for further career growth.
Knowledge of gaming making, gaming developing, gaming bug fixing, gaming coding, VFX for movies, and games can learn this DirectX Training Certification to have best configure system configuration to use resources effectively with 100% efficiency in multiple stages of the project. Managing the requests based on the system configuration can be set by handling multiple DirectX applications.
Target Audience
Gamers, VFX artists can have greater configured systems and know-how exactly the system resource is managed to get better performance in creating, play games with high-end user experience enhancements freelancing can be done for such projects and also professional can compare their experience with DirectX and without DirectX which make them identify many technical observations to improve project scope with time and quality aspects.
Photographers, Moviemakers, and people deal with clear 4K and upcoming video technologies can be performed easily without any stress we can use DirectX to get updated with technical aspects in the field to improve the quality and effects of the image or videos captured which make customers feel impressed. Managing background audio and study on music becomes a habit to set as per professional standard best practice.
Software engineer to learn the difference between regular development processes and the DirectX development process. Understand and study on system configuration and resource management 100% effectiveness the project developments and operation for gaming, VFX, software developing companies is huge which technical need all the operations system and developing systems to work 100% effectively here where DirectX comes and solves the troubles developers can monitor and observe the technical system performance differences to enhance the developments if needed.
Microsoft DirectX Course  – FAQ's
---
Is Microsoft DirectX free?
Yes, Direct3D (the 3D graphics handling API integrated with DirectX) which is widely used in the development of video games for Microsoft Windows and gaming stations for their consoles. Few old OS such as Windows 98 and Windows NT 4.0 both have their DirectX; similarly, every version of Windows released contained DirectX since then. For mobiles and a few other devices, SDK is available as a free download. More detailed tricks and tips will be discussed in the course.
What kind of project-related experience will be suitable for this DirectX Training Course?
Gamers, Developers, Photographers, VFX artists, Software engineers, Moviemakers, music composers, and many more to experience and make effective and bet quality outputs with DirectX collaboration of applications by reducing operation time and performing tasks easily by meeting the globally advanced updates to enrich our work. Many professionals are using in their real-time projects for high resource and time efficiency.
Is a good scope of work and packages?
There is a good scope of work as DirectX includes multiple applications to handle future automation tasks for VFX, gaming and system management, there are many, However, the two which are highly recommended along the DirectX Certification course for continues knowledge understandings:
Programming Windows by Charles Petzold (Microsoft Press)
Sample Preview
---
Career Benefits
DirectX training course helps us to understand the system performance and resource handling effectively and bridging communication effectively between all hardware components of computing in operation and for develops to create the best user experience and visual interface applications, graphics, games, VFX and many more depends on the projects respectively. IT Graduate, Gamers, Artists, and more can undergo the DirectX Training Certification for a job in MNC projects.
Reviews
---
Amazing
I do not speak much English but with the tranquillity that went, it made me very pleasant to follow the course. In comparison to other courses, this one has a good image of video and sound. the instructor transmits peace of mind by guiding safely and patiently. it's not my first time studying unity but if the most pleasant.
Juan Gracious
Great Work!
This is a very well rounded introduction course to Unity development, including detailed explanations for 2D and 3D programs. The instructions of the videos are extremely clear and detailed, leading to an enhanced comprehension of the subject matter, despite the accent of the speaker in two videos being hard to understand.
Paschalis Videos
Directx Course
I had a great learning experience with EDUCBA. All the videos, the study material everything provided was so in detail and everything has been explained very elaborately. The experience I had here has helped in bringing out the best in me and I will recommend EDUCBA to anyone who wants to learn new things in an easy and well explanatory way. The lecture is divided into various lessons is a great way that helps in enhancing lesson through a step by step guide and concise explanation given in the video. All in all, it was a great experience
Rohan Thomas