Updated June 9, 2023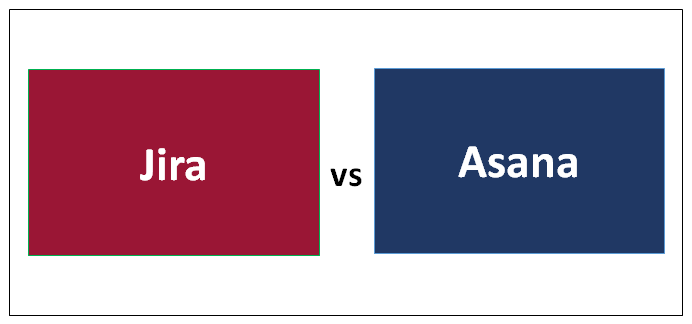 Difference Between Jira and Asana
Jira is an issue tracking product and proprietary software product that Atlassian Corporation Plc developed. It was completely written in Java Programming Language. It supports the cross-platform operating system. It was licensed under a proprietary license. There are different packages under Jira, such as Jira core, a generic package, Jira software that contains agile project management features and Jira Service desk, which runs IT service or business service desks. Asana is a mobile and web application developed by the Asana commercial organization, which we used to manage and organize the software projects and track the workflows of the tasks assigned to each member of the team.  It is provided as Software as a Service. It helps in organizing, managing and tracking teamwork. It has different administrative features, team management, and a few other security features to effectively and efficiently manage the teams.
Head to Head Comparison Between Jira and Asana (Infographics)
Below is the top 9 difference between Jira vs Asana :

Key Differences Between Jira and Asana
Both are popular choices in the market; let us discuss some of the major differences:
Jira has more customer experience index and one-time payment subscription or annual or monthly subscription, whereas Asana has less customer experience index or rating compared to Jira and has free or monthly or annual subscription-based payments.
Jira has popular customer users such as Cisco, eBay, Adobe, NASA, LinkedIn, and Salesforce, whereas Asana has popular users such as CBS Interactive, Synthetic Genomics, Airbnb, and Pinterest.
Jira has different features such as customizable workflows, defect and bugs management, issues and source integration, customized dashboards, security and administration features, integration with REST APIs, whereas Asana has different features such as Activity feed, file attachments, and Automatic updates, custom calendars and meeting invites, Focus Mode and different tasks with workflows.
Jira is available on devices such as Windows, Linux, Mac OS, Android, web-based, iPhone or iPad, whereas Asana supports different devices such as Linux, Mac OS, Android, web-based, iPhone or iPad and Windows.
Jira supports integration with different APIs or platforms such as-as Sales cloud, EasyBI, Zendesk, Tempo, Atlassian, Balsamiq, Service Desk, Confluence, nFeed, Gantt-Chart for Jira, whereas Asana supports different tools such as Google Drive, Dropbox, InstaGantt, Jotana, Zapier, Github, Sprintboards, Cloud work, Phabricator, Alfred, FlowBS, and Usersnap.
Jira supports English as well as different international languages, whereas Asana supports only English with its products.
Jira has Small businesses, Medium Businesses, and Large Enterprises, whereas Asana has different types of customers such as Small businesses, Medium Businesses, Large Enterprises, and Freelancers.
Jira has ticket, phone and training support features, whereas Asana has ticket and training support features.
Jira has different features of the Scrum board facility and several reporting tools such as sprint reports, velocity charts and burns down charts, whereas Asana has different features recurring tables with uploading features and with a visual board similar to that of dashboard features.
Jira has a feature of integration with cloud services, whereas Asana has quicker on-premise deployments, which are the cloud-based solution.
Jira vs Asana Comparison Table
Below is the top Comparison between Jira vs Asana –
| | | |
| --- | --- | --- |
| The basis of Comparison  | Jira | Asana |
| Definition | It is the top project management software in the industry that allows managing large teams in the organization. | It is Project management software for organizing and managing teams and different workflows. |
| Usage | It is used to create quality products in an efficient manner. | It is simple and easy to use, which provides simplified UI along with mobile and web applications with an android app in the play store. |
| Price | It is priced based on the number of users in the company. | It has two plans, i.e. one is free, and the other is a limited amount per person per month. |
| Platform | It supports any kind of product or software application development. | It supports any type of project, mostly small and medium-sized. |
| Project Size | It suits for larger teams and large sizes of projects. | It suits for medium-sized projects especially. |
| Changes | It allows updating and doing changes about all the stages of the project. | It allows rapid changes for the tasks and workflows but is not suitable for more smaller projects, which affects the dashboard. |
| Popularity | It is more popular and is being used by most of the organizations in the industry. | It is not more popular but being used by a few smaller and medium-sized companies. |
| Managing | It depends on the project and configuring the product. | It is easier to manage and contains a dashboard to easily track. |
| Flexibility | It depends on the methodology used in the project. | It is flexible to be integrated with third-party tools. |
Conclusion
Jira is a tracking and project management product that is being used by many companies and is good for large projects, whereas Asana is suitable for smaller projects. The choice of selecting the product depends on the project's requirement and size, and the same approach can be extended to the project or product being selected before starting a project.
Jira's name is derived from Gojira, which is called Godzilla in the Japanese language. It had been launched as a competitor to Bugzilla. It is used in agile methodology for project management. It was initially released in the year 2002. It was licensed under the commercial software license. It supports different languages, such as English, Japanese, German, French, and Spanish. Whereas Asana was launched in the year 2012 commercially. It was founded in the year 2008. It provides different third party tools and API integrations with its software package.
The advantages of using Jira are more compared to Asana as it has advanced features in terms of writing story points in terms of agile project methodologies and tracking processes in terms of bugs or issues tracking and customization features in configuring the multiple tasks or workflows within the scrum or kanban board. Jira is more preferable in terms of customizing and more features in the case of larger projects. Asana has fewer customization options and easier to use dashboard, which is suitable for smaller or medium-sized projects.
Recommended Articles
This has been a guide to the top difference between Jira vs Asana. Here we also discuss the key differences with infographics and comparison tables. You may also have a look at the following articles to learn more.