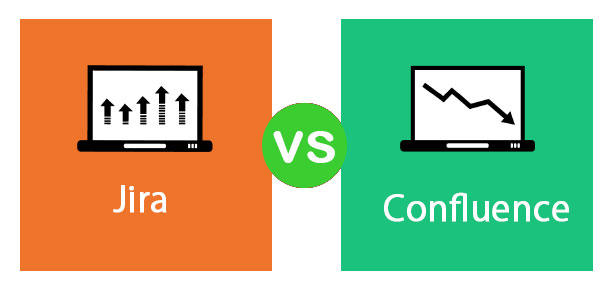 Differences Between Jira and Confluence
In this discussion, we will cover Jira vs Confluence. Thus, before going into the difference between both, let us learn some basics about both Jira and Confluence.
What is JIRA?
JIRA is a tool developed by Atlassian, which is an Australian Company. The main purpose of Jira is to track bug track related issues, and it is used for project management.
Jira is designed for project management in an agile way, and that is the reason for which most of the official documentation is written with this. But in a practical scenario, people use Jira even in a variety of non-agile projects, which describes its importance and versatility.
It provides a nice dashboard to look at the issues which were assigned to someone and need to be resolved. This tool's main use is to track issues and bugs related to your software and phone apps. It is also used for project management. The JIRA provides a compact dashboard looks that consist of many useful features and functions which make handling of issues very easy.
Now we can have a look at the JIRA workflow, which has the following stages when an issue is created:
Open Issue– Once the issue is created, the same is an open stage and can be assigned to a person (assignee) to be worked upon.
In Progress Issue– After the issue is opened and assigned to an assignee, the assignee can mark it as "in progress", which shows that the assignee has taken the issue and has actively started to work on the same.
Resolved Issue– After the issue is successfully resolved from the assignee's end, it can be marked as Resolved and can be assigned to the same person who created the issue or to some other concerned person. After verifying the resolved issue, if it is successful, it can be closed; otherwise, it is re-opened if any further changes are required.
Reopened Issue– An issue can be reopened, which was created and resolved earlier, but if it requires some more changes or the resolution was not correct or some more bugs are found. The same issue can be assigned to the same assignee to whom it was assigned earlier or to someone else.
Close Issue– After successful verification of the resolution, the issue can be closed. Generally, it is done by the same person who has reported the issue.
JIRA Workflow
Below is the JIRA workflow: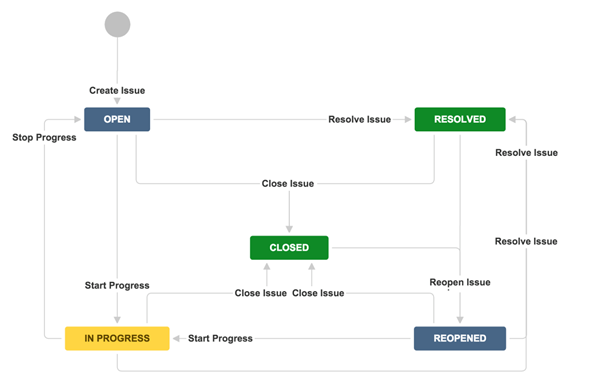 Image is taken from JIRA official documentation.
What is Confluence?
A confluence is a collaboration tool. It is used to help teams to collaborate and share knowledge efficiently. Using Confluence, users can create blogs and pages that can be commented on and edited by all team members.
For example, we will be able to create a roadmap easily. We can also create notes containing a checklist, create a knowledge base and manage everything centrally. We can also attach files, like our excel planning, and display them on a page for our convenience.
Confluence is also designed to integrate with Jira, and they have many integration points, giving Confluence users the ability to view, interact with, and reference Jira issues from a wiki page.
Head to Head Comparisons Between Jira and Confluence (Infographics)
Below is the top 20 difference between Jira vs Confluence:

Key Differences Between Axure and sketch
The two separate products from the same company – Atlassian. let us discuss some of the major differences:
JIRA is a fully customizable platform for organizing teams around tasks, projects, and initiatives. Dependencies of the task, accessing resources, permissions, hierarchy, etc., can all be set up. Project managers and Agile leaders can then watch software statuses like backlog planning, release planning, and overall progress. The JIRA framework can also be used for business groups and isn't confined to just software development.
Confluence is a knowledge base, or wiki, that organizes and stores all of your information assets around the projects we are doing in JIRA (like product requirements), or general things like meeting minutes, marketing assets, design documents, etc. Confluence has easy integration with JIRA, so these assets become an integrated piece. Hence, teams can create, collaborate and update on these assets effortlessly in a robust manner.
Jira vs Confluence Comparison Table
Here are some of the Comparison between Jira vs Confluence
Basis of Comparison 
Confluence
JIRA
Description
A Confluence is a collaboration tool that stores and organizes all of your information assets around the projects you're doing in JIRA.
JIRA is an issue management platform that allows teams to manage their issues throughout their entire lifecycle easily. It is highly customizable and can fit in any workflow we need. It is basically used in software development as a way to manage and track development efforts.
PLATFORMS SUPPORTED
Web, iPhone, Android
Web, iPhone, Android
Typical Customers

 

Small, Midsize, and Enterprise customers
Small, Midsize, and Enterprise customers
Pricing
Starting from $10 / month
Starting from $10 / month
Access control
Supported
Not Supported
action management
Not Supported
Supported
active directory integration
Integration not available
Integration available
activity dashboard and tracking
Available
Available
Application integration
Not Supported
Supported
assignment management
Not Supported
Supported
calendar management
Supported
Not Supported
content management
Supported
Not Supported
DOCUMENT MANAGEMENT
Supported
Not Supported
DYNAMIC WORKFLOW
Not Supported
Supported
Project planning
Supported
Not supported
project management
Supported
Not supported
project time tracking
Not supported
Supported
third-party integration
Supported
Supported
reporting and statistics
Not supported
Supported
project workflow
Not available
Available
Conclusion
Both differ entirely. So understanding this difference, we can make use of both by combining them. Here are some of the reasons why we should integrate confluence in Jira:
We will have all your project documentation in a central location, eliminating the need for our team members to search across their email, computer folders, or Google drive to find what they need. We can also keep and organize release notes, requirement specifications, and code reviews directly in Confluence.
By combining both Jira vs Confluence, we can enable cross-team communication. Hence, breaking the barrier between the engineering department and the rest of our business teams. Business stakeholders will have the ability to see the status of releases and get complete visibility of team progress.
We can deliver faster by reducing wasted time and switching between contexts when our team transitions between Jira software and other resources. Also, team members who are performing software development will have access to the correct documentation within Jira. We can bring Confluence pages to Jira by adding gadgets and allowing developers to easily view documentation relevant to tasks they are currently working on. We can even establish trusted connections and access user restricted Confluence and Jira pages.
It can also help business teams benefit from the reporting. Jira keeps on generating data about projects and issues, but business teams might not have the time or skills to check into these reports in detail. Thus, by linking Jira information to Confluence reports, we can present the status report in understandable charts on a simple user interface for your business team to benefit from the wealth of data available in Jira.
Recommended Articles
This is a guide to the top difference between Jira vs Confluence. Here we also discuss the Jira vs Confluence key differences with infographics and comparison table. You may also have a look at the following articles to learn more –