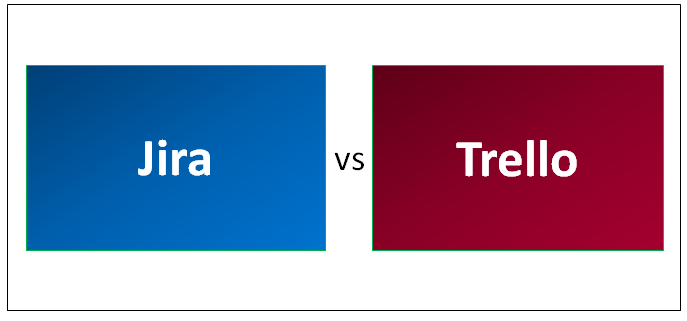 Difference between Jira vs Trello
Jira is a project management tool used to track different issues and bugs in any system. More evidently it is used as an issue tracking tool for all types of testing. Jira is an incident management tool and was developed by Atlassian Inc. It is considered to be a platform-independent tool and hence can be used with any operating system. It supports MySQL, Oracle, PostgreSQL and SQL server in the backend. Trello is a lightweight project management tool. It is designed on the basis of the Kanban board tool. All task flow for a project can be easily visualized for all software projects. It largely focuses on general usages.
Head To Head Comparison Between Jira vs Trello (Infographics)
Below is the top 5 difference between Jira vs Trello

Key Difference between Jira vs Trello
Both Jira vs Trello are popular choices in the market; let us discuss some of the major Difference Between Jira vs Trello:
With both these tools being project management tools, JIRA vs Trello have some significant differences. JIRA was built with keeping software teams in mind. Hence it targets on software builders, developers or project managers working on the projects. Trello, on the other hand, has a much broader target audience and offers kind of all project tracking. Jira is built by Atlassian and Trello is built by Fog Creek Software. Jira can be hosted on-premise and also on the cloud. Trello is basically a cloud-hosted tool. The typical customers for Jira are subject matter experts (SMEs) and big enterprises. Trello is used by freelancers and also by SMEs.
Jira provides project and issue tracking and Trello has different Kanban boards. When it comes to integration where Jira allows 100 integration partners and Trello provides 30 integration partners. Both Jira and Trello are customizable and satisfy the needs of the scrum and offer different dashboards and card views. Trello does not have features for providing reporting and creating charts. Jira has task management, time tracking, resource management, reporting, and document and issue management. Trello also has task management, resource management, and document management. It does not provide time tracking, reporting, and issue management.
Jira vs Trello Comparison Table
Below is the topmost comparison between Jira vs Trello
| | | |
| --- | --- | --- |
| Basis Comparison between Jira vs Trello | Jira | Trello |
| Basic difference | It allows easily planning, tracking and releasing any software or even upgrading any software. Jira supports several agile methodologies including scrum boards. Users can also built-in workflow templates and customize those as per requirements. | Trello, on the other hand, is a cloud-based project management tool. It is designed to help different individuals and collaborate in a better way. There are different boards in categorized with lists with each list having individual cards which has all details of the project. |
| Task Management | Jira provides task management features with workflows. The workflows that are built on Jira help to build a team, test and release software. A user can also create custom workflows for any use and also it can be used in product development and different agile scenarios. It can easily be matched directly with any agile framework. It is a bit difficult to manage release wise projects than agile projects. | Trello provides various easy platforms for managing all tasks. Trello uses a three-part hierarchy for logging project work. It provides boards, lists, and cards. One can create and organize all elements as you want and assign these cards to any specific users and assign due dates and also attach files. It also displays a list of all lists, cards that are filled and can be used by either the person who created or by their team. |
| Team Collaboration | Jira offers the traditional collaboration features for all the different issues. It provides facilities for team member and task management and assignments. It does provide features like notifications, file sharing and messaging. | Creating and management of any task in a project is just a step while getting these tasks completed is more important. Trello enables a user to invite any number of people to share on the same board. By using this all people are aware of the progress, status and the tasks. Everyone has the same visibility. Just like Facebook people working on the project can comment directly on created cards. They can also share attachments, mention other teammates and guess what also use emojis. All users assigned to a particular card, list or board receive notifications through email, SMS or push based on the user preferences. |
| Agile PM and different features for Development teams | Jira is was built specially to serve agile software development teams and offers a wide variety of features. From building code to tracking different issues Jira supports all scrum methodologies, Kanban or a mix of two. Sprint planning in Jira is very easy. A user can pull up all user stories or issues in your current sprint and also distributes tasks for your team. It also tracks progress on a scrum board and also displays the sprint days remaining and provides the filtered view of different project cards. This tool also provides reporting features like burn down charts and helps you to keep a track and deliver quickly with all functional product increments. | Trello excels in flexibility and has a visual Kanban task management platform. It does not offer features like Scrum and sprint planning, tracking backlog of different user stories, issue tracking, and code repositories. But Trello does provide Powerups to cover up for these features. |
| Integration | Jira has a massive library of native integrations for time tracking, test management, CRM, reporting, and code review. | Trello has many native applications and integration libraries. To name a few the more famous are Zendesk, FogBugz, Slack, Github, Salesforce, and Google Drive. |
Conclusion – Jira vs Trello
In this Jira vs Trello article, we have seen that Trello is simple and customizable for different teams to work on agile and observes complete liturgy of agile development. Jira, on the other hand, is a project management tool for the perfect agile team building, fixing and releasing software. It becomes difficult to choose software between these two as both Jira vs Trello are very viable products in its range. Jira focuses on software developers and software teams. Trello, in contrast, has a broader audience and offers any kind of project tracking. Before going for any product all organizations should evaluate all tools and decide which will best fit the need.
Recommended Articles
This has a been a guide to the top difference between Jira vs Trello. Here we also discuss the Jira vs Trello key differences with infographics, and comparison table. You may also have a look at the following articles to learn more