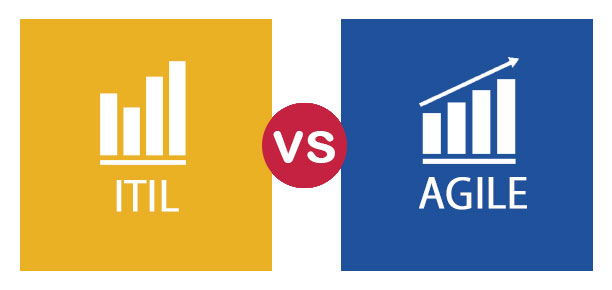 Difference Between Itil vs Agile
Its organizations are currently very much concentrated on improvement or up growing their business very smartly and as much fast as possible. Due to fulfilling their criteria, they are continuously following or planning to follow some specific approach which can be in proper industry standard. In between a lot of business ideology, maximum IT companies planning to follow their business should follow ITIL (Information Technology Infrastructure Library) and in case of some most valuable or big business industry following framework like ITSM (IT Service Management). That kind of framework mainly involved improving organization already provided services more and make them too effective in the competitive industry.
Now improving their services most effectively and quickly, companies are easily able to understand that they have to improve their product quality or most accurately they have to plan for building agility. Their main target to introduce some new technologies or methodologies which can make their product or services more attractive and most competitive in the entire market. Now improving this ability by any IT organization they have to follow proper Agile Software Development policy, which includes basic IT standard feature of software development followed by any kind of IT companies. Agile is too popular mainly in case of working with a cross-functional team for supporting varieties features expected by the end customer, understanding their requirements and providing the solution with following proper agile methodology working with a cross-functional team.
Head To Head Comparison Between Itil vs Agile (Infographics)
Below is the top 2 difference between Itil vs Agile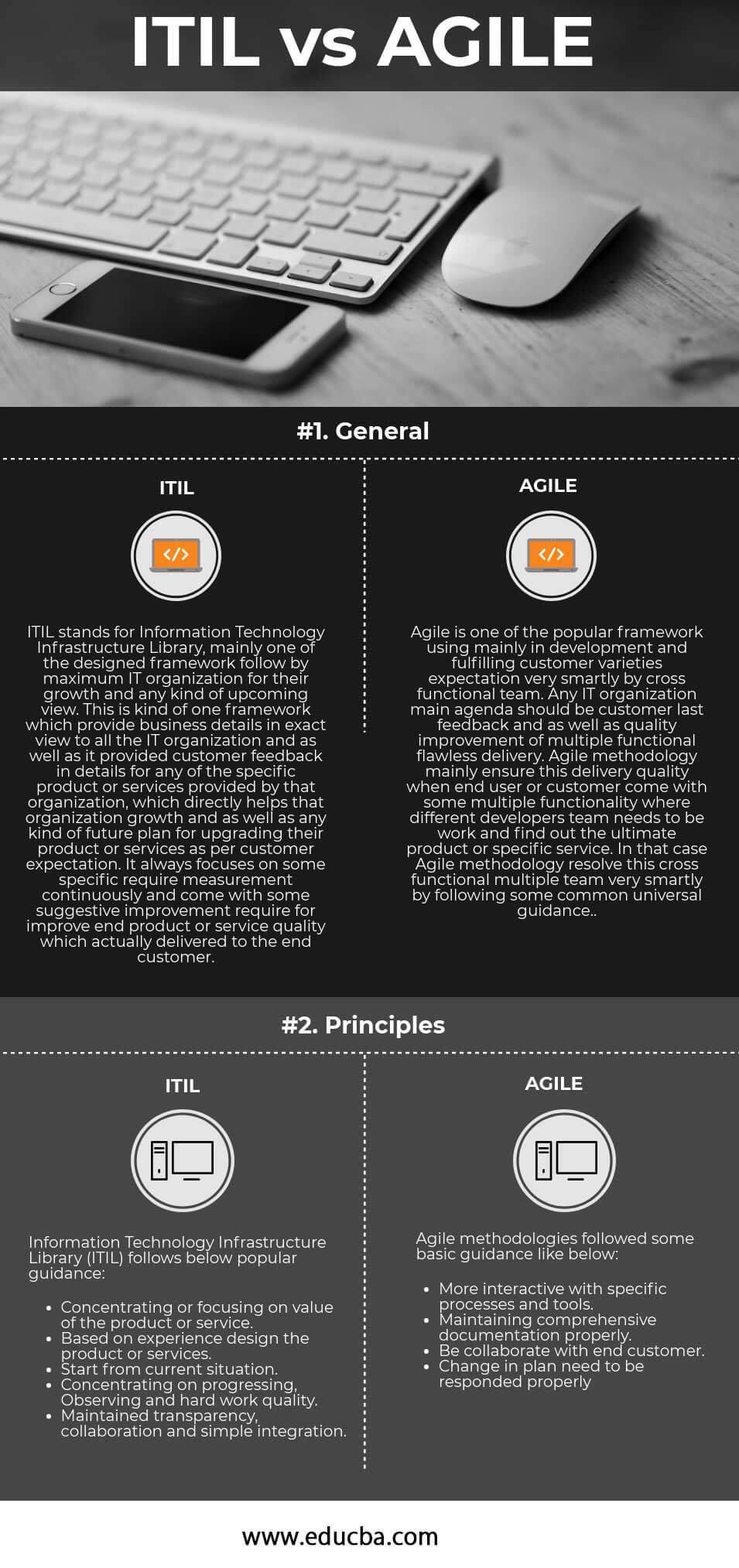 Key Differences Between Itil vs Agile
Both Itil vs Agile are popular choices in the market; let us discuss some of the major Difference Between Itil vs Agile
Information Technology Infrastructure Library (ITIL) concentrate on improving organization ability for any kind of condition comparing with a different organization and end customer feedback. It clearly provides a proper view for information technology organization what are their week points and what are their strong points, also provide and very intelligent view to the organization higher authority regarding their future perspective on their own product or services provided for a long time compared with a current market scenario in a very fair way. It mainly concentrated on cost already sphered for that specific product, Productivity of that entire organization based on resource strength and yearly earning by the organization, customer satisfaction based on some open question answer, revenue generation by that organization in the last couple of financial years, meeting SLA's in a proper manner or not. Whereas agile methodologies mainly maintained two part of characteristics on above-maintained points related to ITIL. One is concentrating on Productivity and SLA. As Agile considering on deliverables in proper and perspective manner, it including understanding client multiple requirements in an accepted manner, distributing the same multiple developer groups based on functionality, preparing requirement understanding documents based on individual cross-functional team, preparing one final design document, developer developed their code base, delivering the same individually, merging and maintaining proper cross-functional team deliverables and deliver the same to the end customer for acceptance. It also including SLA maintenance, support on client not accepted features, implementation plan, and post-production support.
Information Technology Infrastructure Library (ITIL) following some sequential framework, based on that specific sequential framework it decided and provide one expected views to the organization of their growth or some more attentive upcoming expectation. It first considering the value of the product or support and ensuring developing the right thing based on client expectation, then concentrating on specific design based on end customer feedback or proper experience, always starting their calculation from current situation or the organization, maintaining proper resource friendly environment so that anyone not been overloaded and maintaining balance between home and work environment, ensuring progress smoothly, observing other or competitor growth directly for understanding gap or improving points, transparency needs to be maintained between all the resources in the entire organization, collaboration requires especially in case of cost functionality deliverables, avoid complexity in any business critically better to keep it simple as much as possible. Whereas Agile methodologies could not able to follow any sequential framework, as any kind of small changes or minimum impact has to be delivered in a very short period of time, which create instability of the entire system.
Itil vs Agile Comparison Table
Below is the topmost comparison between Itil vs Agile
The Basis Of comparison between Itil vs Agile

ITIL

AGILE

General
ITIL stands for Information Technology Infrastructure Library, mainly one of the designed frameworks follow by maximum IT organization for their growth and any kind of upcoming view. This is kind of one framework which provide business details in exact view to all the IT organization and as well as it provided customer feedback in details for any of the specific product or services provided by that organization, which directly helps that organization growth and as well as any kind of future plan for upgrading their product or services as per customer expectation. It always focuses on some specific require measurement continuously and come with some suggestive improvement require for improve end product or service quality which actually delivered to the end customer.
Agile is one of the popular framework using mainly in development and fulfilling customer varieties expectation very smartly by a cross-functional team. Any IT organization main agenda should be customer last feedback and as well as quality improvement of multiple functional flawless deliveries. Agile methodology mainly ensures this delivery quality when end user or customer come with some multiple functionalities where different developers team needs to be work and find out the ultimate product or specific service. In that case. Agile methodology resolves this cross-functional multiple teams very smartly by following some common universal guidance.
Principles
Information Technology Infrastructure Library (ITIL) follows below popular guidance:

Concentrating or focusing on the value of the product or service.
Based on experience design the product or services.
Start from the current situation.
Concentrating on progressing, Observing and hard work quality.
Maintained transparency, collaboration, and simple integration.

Agile methodologies followed some basic guidance like below:

More interactive with specific processes and tools.
Maintaining comprehensive documentation properly.
We collaborate with the end customer.
Change in plan needs to be responded properly.
Conclusion – Itil vs Agile
ITIL vs Agile both are very popular methodologies followed by all the IT organization directly or indirectly. ITIL ensure entire business growth of any IT organization and as well provide future plan very smartly by given some understandable view. Whereas Agile ensures smoothness delivery to the end customer which automatically helps ITIL for capturing company growth and upcoming future.
Recommended Articles
This has a been a guide to the top difference between ITIL vs Agile. Here we also discuss the ITIL vs Agile key differences with infographics, and comparison table. You may also have a look at the following articles to learn more.
Software Development Course - All in One Bundle
600+ Online Courses
3000+ Hours
Verifiable Certificates
Lifetime Access
Python Certification Course

Programming Languages Courses