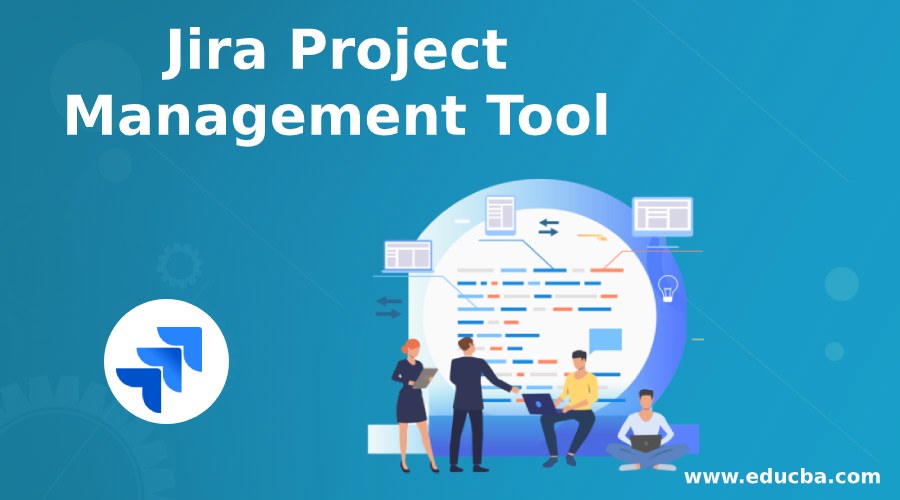 Introduction to Jira Project Management Tool
The following article provides an outline for Jira Project Management Tool. As in the recent market trend, Project Management practices are finding methodologies to increase transparency and to meet the customers' demands quickly. To meet the specific goals in a project, Project Management ensures to achieve the project objectives. This discipline involves initiation, planning, organizing, execution, and project closures.
There are two main frameworks used in project management.
Scrum works on sprints using fixed-length iterations, whereas Kanban focuses on continuous release. The way of stories passing through each stage indicating the completion of tasks. Prioritizing each task, and keeping track of them, the software JIRA is widely used. Jira by Atlassian makes sure that your project is stress-free, leaving you and your team to get started and move forward. Jira assigns a task and customizes the issues and subtasks in a whole team, also manages the workflow and track the progress. It also helps you to change the permission for a particular task within your team. You can change or also edit the permission at any time during the project.
Why Jira?
You have the option to add your unique style into this agile methodology using Jira software.
Let's plan with minimal cost.
Integrate the team in a project.
Keep the project manager aware of the next steps.
Works in accordance with the customer's solution.
Transparency, openness & trust are what the current culture the companies are looking. This attracts the best people in continuous improvement.
Who Benefits from Jira?
It's the IT developers who widely used this tool. It helps them to have a clear vision of the progress regardless of any different methodologies used. Jira as it supports the web and mobile app, making it easier for the team manager to know the status and act upon different levels of complexity. This maintains the balance in the agile framework, and this can be used even on calculating the capex and opex and categorize the expenditure.
As Jira involves many task-related flows, the manager can easily accomplish any other team dependency with the ongoing project. Another most challenging work in project management is the track of deadlines. Now every team member is aware of the deadline and the task priorities. This makes the whole team aware and can finish the tasks on time. Jira works on different APIs to collaborate the customer's experience with the issue tracking system.
Comprehensive Dashboard
The project management tool Jira can be extensively used for budgeting. There is 4 easy classification made based on status.
Pending
Executing
Expired
Closed
This gives you a comprehensive forecast of each stage in a project. The health metrics based on a budget such as revenue, cost, and profits can be easily accessible within a few clicks. You can calculate the billable hours and also enter the timesheets. Have a check on labor costs. Jira makes it feasible to work on Capex and Opex and take corrective decisions. All the budgeting reports can be accessed on a real-time basis.
Anytime & Anywhere
Considering all the benefits of using Jira, another most beneficial aspect has accessibility to mobile apps and tablets, which can be easier and simpler when you are away and still be connected to your team on the same platform.
Also, it gives you the plug and play option where you can connect Jira and add on. Many trending apps can be integrated with Jira software and are compatible with IOS and Android devices.
There are two types of versions available for Jira.
Cloud Version
Server Version
You have an option to set the field, also check for an automated mode on tasks. Write the script solutions or APIs.
Risk Identification with Jira Project Management Tool
Situations such as resource run out, SWOT analysis, project documentation, customer's response, and budget plans are few risks the project manager deals with. Jira makes you aware and keeps you noted on the big picture.
Beyond Jira
Jira is used by IT developers and technical teams, but when it comes to cross-functional teams in the organization. The visibility of the project stays null. The cross-functional teams and other stakeholders are unaware of what's going in a project. Hence to increase visibility, a smartsheet can be introduced. Smartsheets can be used in symbolic, calendar or card views. Any changes done in real-time will be reflected. You can filter up what information needs to be shown.
You can also connect Microsoft teams with both the Jira server and Jira cloud. For field mapping and Salesforce users, the Jira server can collaborate. This leads to seamless communication by escalating the case. Excel connector for Jira plugin can import or export data from MS Excel sheets. You can modify bulk issues using an Excel connector. You can now connect Tableau for trend analysis and integrate timesheets with Jira.
Benefits of Using Jira Connectors
Following are some of the benefits of using Jira connectors:
A collaborative approach towards teams.
To track issues without much hassle.
Easy to synchronize data.
Keep track of issues shared between teams.
Field mapping and automated synchronization.
Classify the issues and filter them based on priority, type, status, and events.
Mistakes to Avoid in Jira Project Management Tool
You can easily make mistakes in Jira as complexity increases. You can minimize them by taking care at each stage and follow them. Below are a few instances where you may be bound to make mistakes in a workflow.
As teams keep moving in and out, duplicating the workflow functionality increases. Make sure you close or remove the custom fields.
Jira has an option of receiving updates like notifications on each team member's actions. This will load up all the notifications and seem messy when you need only a part of useful information.
Adding on more plugin may be crucial times, but this practice needs to be taken care of. We need to check the version compatibility with the current software and also check the updates from time to time if any particular changes in apps are needed.
Recommended Articles
This has been a guide to Jira Project Management Tool. Here we discussed the risk, mistakes to avoid while using Jira and the benefits of the Jira Project Management Tool. You can also go through our other suggested articles to learn more –