Introduction to Install JIRA
JIRA is a project tracking tool developed by an Australian Company named Atlassian Inc. It is a platform-independent tool which means that it can be used with any operating system. It is basically a project management tool for software development useful in workflow management, process management, requirement management, task tracking, bug tracking and many more. Jira is not just powerful but also nonparallel to many advanced online solutions for self-honed project management. It is used by development and technical support teams to get more amount of work done in the set time frame. An important point here to know is that Jira is a web application which means that it can run centrally on a server. Therefore, different users can interact with it through web browsers on any computer that are on the same network. JIRA is handy and is very much like a whiteboard in which you can visually keep a track of the status of all team members in various stages of a project. During the times when it can get really challenging to keep a check on how and where everyone in the team is with the project, Jira proves extremely useful.
As you complete a task, you simply need to click and slide your responsibilities to certain sections(these can be In-progress, Completed, Not Started etc.) of the board, so that status of your own tasks and your team's workflow is visually laid out to everyone in the team. It thereby eliminates the need for constant emails and follow-ups on where each project is at and the status of the task assigned to every individual. Apart from this, the visual progress of everyone in real-time keeps the productivity of the team high and agile-based.
JIRA is a multi-lingual tool, so its content can be presented and translated into English, French, German, Japanese, and Spanish languages. It is also available as a mobile application. It supports all the known internet browsers such as Chrome, IE, Mozilla, and Safari. Jira is a commercial product, so in order to utilize JIRA services, you need to buy a license. However,30 days of free trial for unlimited users is available.
Before going through the detailed steps to install Atlassian's Jira, let us first know the prerequisites for Jira to run properly in the system.
Step 1 – To access the full functionality of the system, Javascript should be enabled in the browser without the use of any script-blocking tool.
Step 2 – JRE/JDK should be updated to the latest version.
Installation of JIRA at server side
Below are the detailed steps for installing Jira are as follows:
Step 1 – To download and install Jira visit the official website of Atlassian. The link to the website is- https://www.atlassian.com/software/jira/download?_ga=1.28526460.1787473978.1 488778536
Step 2 – After selecting the type of Operating System in which you want to install Jira, look for the Download option and click on it. You can change the operating system type by clicking on the dropdown.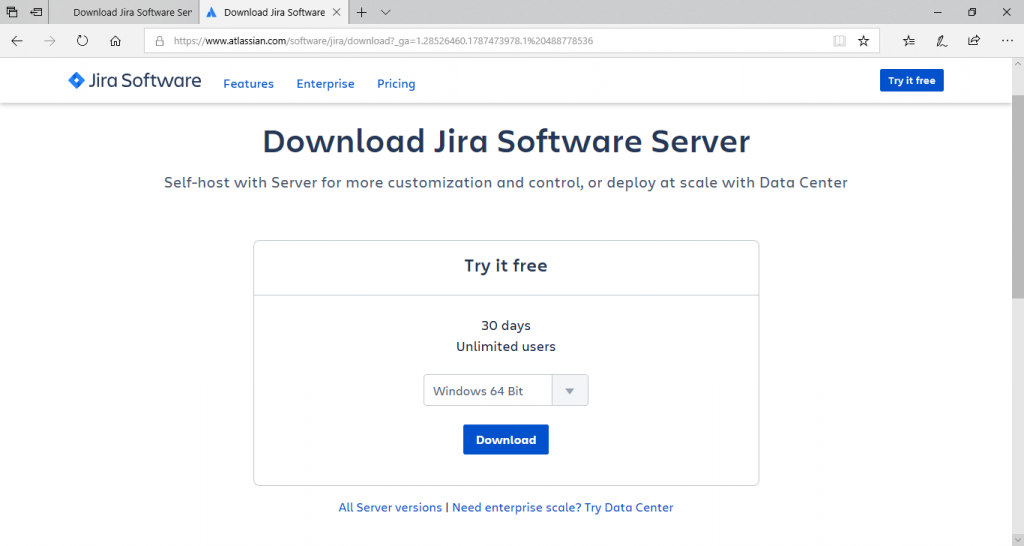 Step 3 – Once Jira is downloaded, click on the .exe file. After this, you will see that the Run confirmation pop-up is displayed, click on RUN to proceed. You can refer to the screenshot below.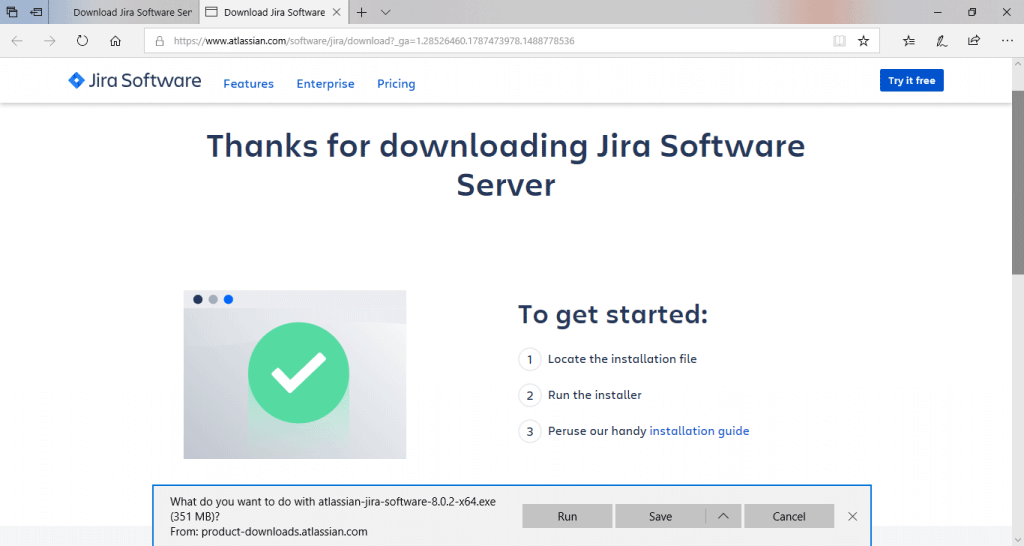 Step 4 – Notice that the JIRA installation wizard would be displayed. If so, click on Next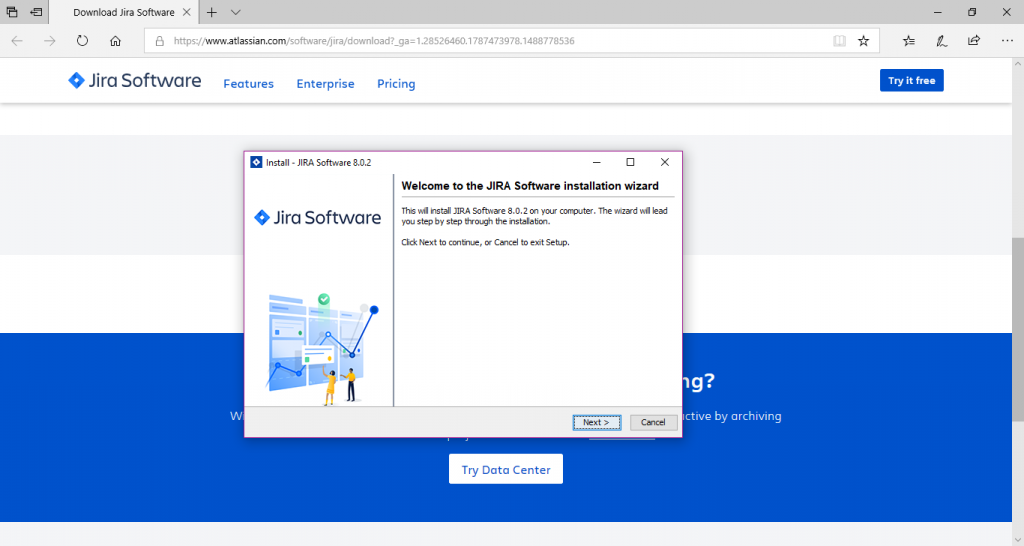 Step 5 – Choose the desired installation option and then click on Next again.
The installation summary would be displayed with the Destination Directory, Home Directory, RMI Port, HTTP Port etc. The screenshots for the same are attached below for your reference.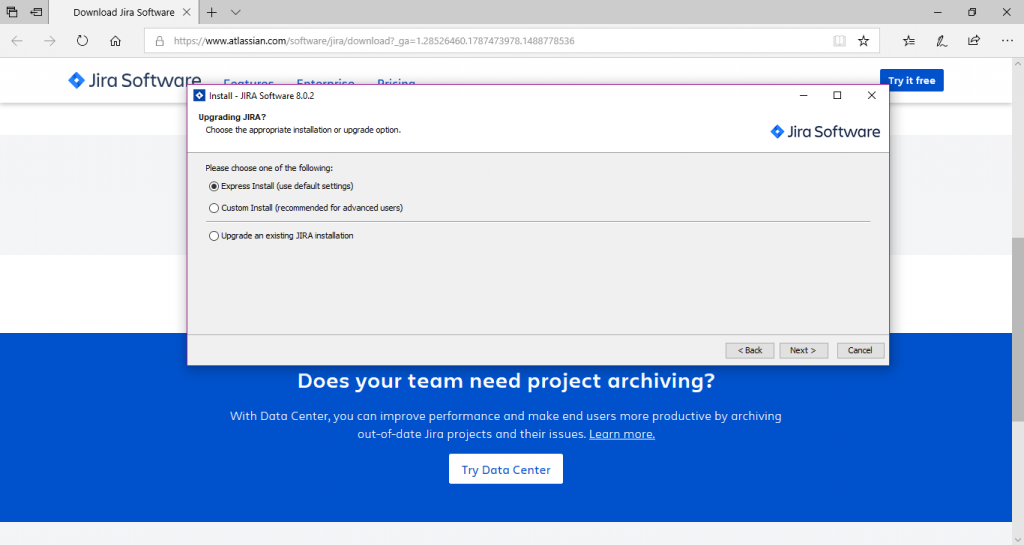 Step 6 – Click on Install. JIRA will start installing. It would take a few minutes for the installation to finish.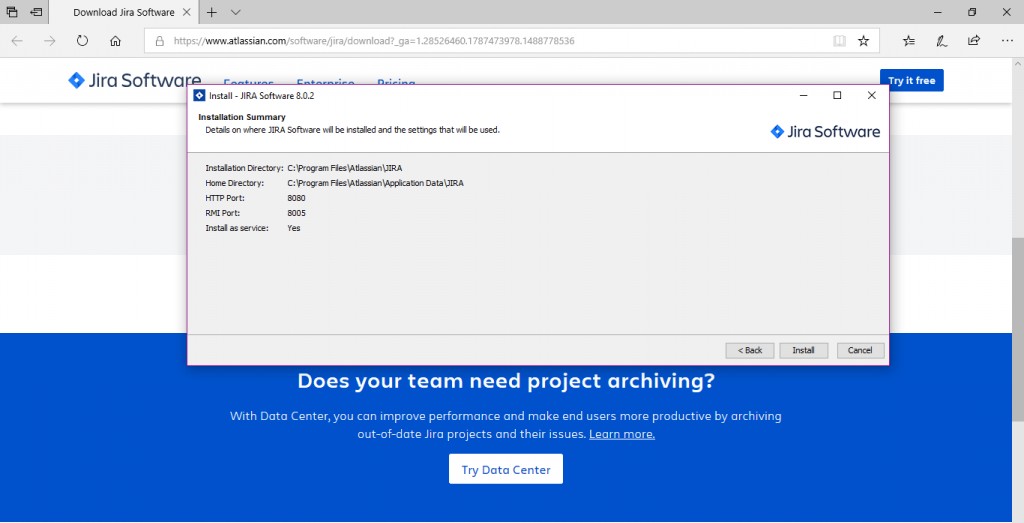 Step 7 – Please make sure that the "Start JIRA Software 8.0.2 now" checkbox is checked in order to start Jira automatically. After that click on Next, if not, it can be accessed using the Windows Start Menu shortcut.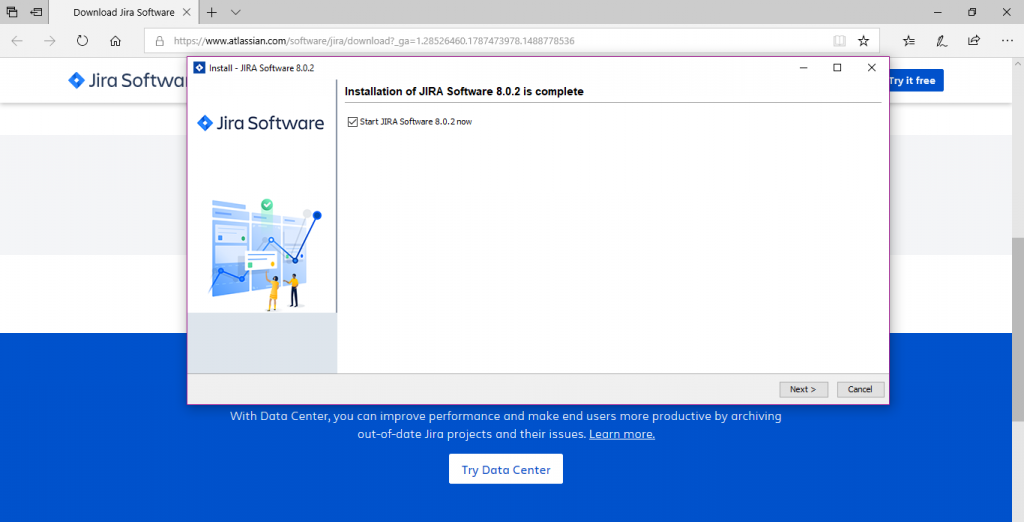 Step 8 – Click the Finish button.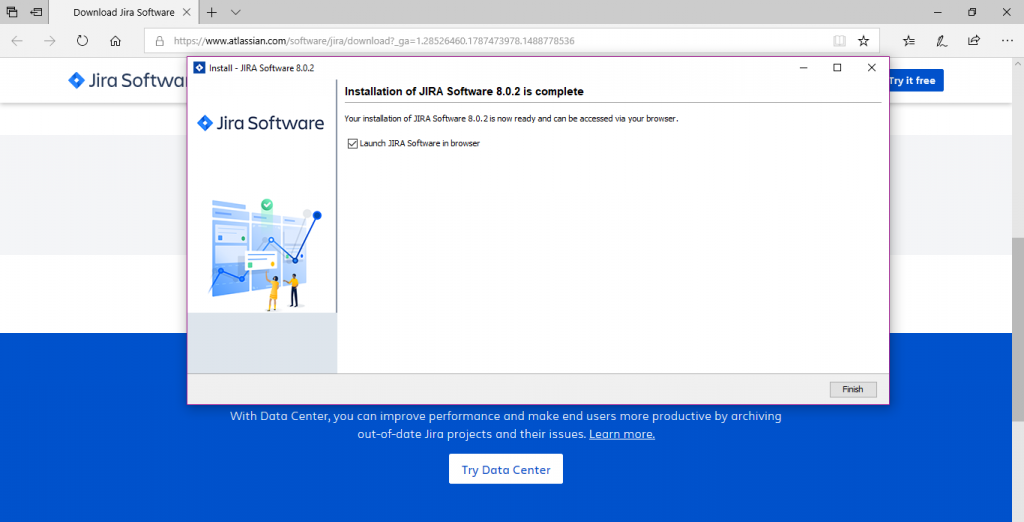 Setting up your JIRA Application
The installer would create the following shortcuts on the start menu −
• Access JIRA
• Start JIRA Server
• Stop JIRA server
• Uninstall JIRA
Step 1 – Click on Access JIRA
Step 2 – Select license type as JIRA SOFTWARE (Server) and organization name as Self.
Step 3 – "Your instance is" field should be up and running
Step 4 – Click on Generate License
Step 5 – A confirmation pop up box would appear. Just click on YES.
Step 6 – You will now have to enter administrator account details and once setup is complete more administrators can be added.
Step 7 – After this enter your mail server details to set email notifications. JIRA will now be able to send notifications when problems differ.
Step 8 – Jira will automatically finish setting up when done!
Once JIRA finishes the setup and starts running in the server, the user can access it from any browser. Your Jira site will be accessible from your base URL or a URL like this: http://<computer_name_or_IP_address>:<port>
Installation of JIRA from ZIP file
Step 1 – Download the zip file for your appropriate operating system:
• Jira Core at https://www.atlassian.com/software/jira/core/download
• Jira Software at https://www.atlassian.com/software/jira/download
Step 2 – You will require a place to install Jira. In order to do so create a directory, also known as installation directory having a path without any spaces. Assuming this to be your <Installation-Directory>.
Make sure, Jira zip file is extracted to <Installation-Directory>.
Step 3 – To store data like files, logs, search indexes in Jira a directory called, home directory should be created. The installation and home directory should not be the same. Assume this to be your <Home-Directory>.
The ways by which Jira can be instructed to find <Home-Directory> on being started are mentioned below :
• Set up environment variables which is the preferred one.
• Edit the jira-application.properties file
Step 4 – The default listening port of Jira is 8080. You may be required to use a different port if there already is an application using the same port to run on the server.
Recommended Articles:
This has been a guide on How to Install JIRA. Here we have discussed the basic concept and different steps to Install JIRA at the server side. You may also look at the following articles to learn more: