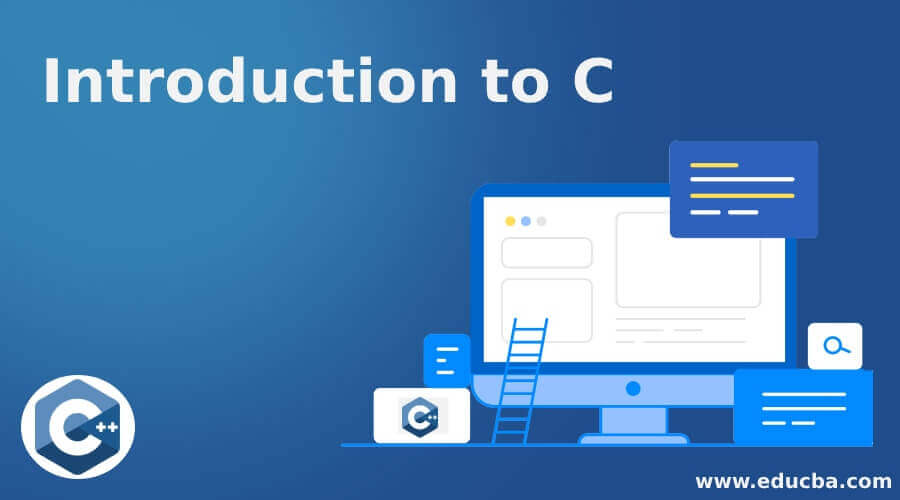 Introduction to C
The following article provides an outline for Introduction to C. C language is one of the most popular high-level programming languages, which was initially developed by the developer named Dennis Ritchie for the Unix OS primarily. It was first used on a Digital Equipment Corporation computer called PDP – 11 was in 1972. It is a procedural programming language whose main purpose was to be used as a system's programming language to write an operating system.
Many popular operating systems, such as Unix operating system and all Unix-related applications, are written in the C language. It is among the most popular languages between developers as it's easy to learn and code, produces efficient programs, is a structured language, able to handle low-level activities, can be compiled on a variety of computers.
Main Components of C
Given below are the main components of C:
This programming language was created so that Unix could be written using it.
This language has B language as its immediate parent language, which was developed in the 1970s.
The ANSI( American National Standard Institute ) formalized this language as an official programming language in 1988.
When it comes about System friendly programming language, there is no better choice than C.
The state of the art software is built using C language.
The main reason for using C language as the system-specific programming language is its high speed and efficiency, which is as close as the assembly language.
The c programs have an extension of .c.
Characteristics of C
Given below are the characteristics of C:
Low-level memory access: The lightweight programming language requires a low level of memory access and hence is a good fit for system programming.
Simplified keyword set: Rich and easy to understand and use a set of simplified keywords that meet one of the most important characteristics of this language.
The clean style: This language focuses on keeping the code neat and tidy, and hence the code flow is clean.
Pointer mechanism: The efficient use of a pointer and addressing mechanism in C language makes it unique and different from all other programming languages.
An efficient language for compiler designing: The reasons such as the lightweight, rich and varied set of commands and features, ability to be able to work extremely well with hardware, low memory utilization makes it an ideal language for the development of compiler designing.
It is a very robust language with a rich set of built-in operators and functions.
The programs which are coded in C are fast and more efficient.
It is a highly portable language. It means that once the programs which are written in C can easily run on various other machines with next to no modification.
It has a huge collection of library or built-in functions. It also provides us with the capabilities to custom or create our own function and include it in the collection of the C library.
It is a highly extensible language.
Applications of C
Given below are the applications of C: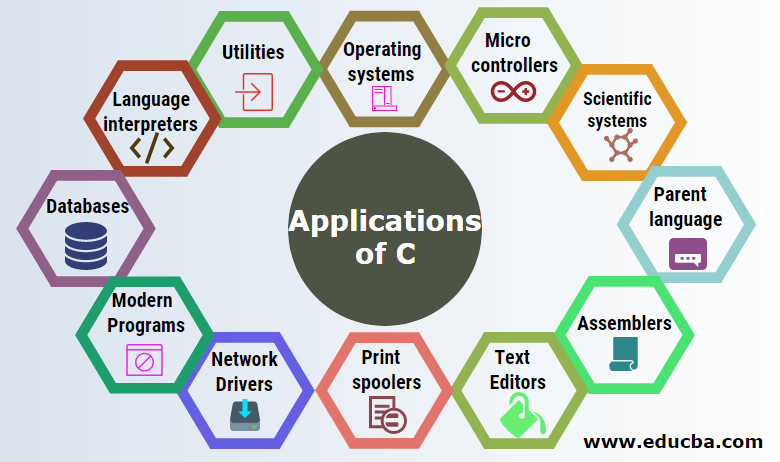 Operating systems: This language is used to develop operating systems because of its high flexibility and versatility.
Microcontrollers: This language is used in system programming due to its efficiency and speed and hence at times replaces the need to use assembly language. The compiler of C directly converts into machine language. It also makes a good choice as it allows maximum control with a minimal set of commands.
Scientific systems: This language is used in building and creating many scientific systems.
Parent language for advanced languages: All the high-level programming languages are a result of the C language; therefore, knowing this language opens many doors for various other programming languages.
Assemblers: All the assemblers which are put to use to execute machine-level hardware-specific systems are created in C language.
Text Editors: One of the important feature or a characteristic of the text editor is that it's lightweight and no language better than C can create the text editors.
Print spoolers: The software program which is responsible for sending the jobs to the printer once the command is fired is created with the help of the C programming language.
Network drivers: The network drivers responsible for accessing the internet and running the WIFI and other kinds of drivers are all written in C language.
Modern programs: Various modern programs whose prime requirement is to consume less memory and be closer to hardware communication are written in the C programming language.
Databases: There are many databases that are required to store a huge amount of data in them and thus are written in C language.
Language interpreters: The various language interpreters are the ones who are responsible for changing the language type from a high level to a machine level language.
Utilities: Various command and program system-specific utilities are also written in C language.
Advantages and Disadvantages of C
Given below are the advantages and disadvantages mentioned:
Advantages
C language forms as the building block for many major programming languages and have huge and powerful operators and data types and therefore makes it a fast and efficient programming language.
It is a highly portable language which means it is interoperable.
The 32 keywords which are present as a part of built-in functions are present in ANSI-C. Alongside, user-built functions are also used widely.
This language can be extended by making use of many other library functions.
The modular structure of the programming language makes debugging, testing, and programming of this language much easier.
Disadvantages
C language is devoid of the terminology and the concept of OOPS, which is a very popular and important concept these days among all high-level programming language.
No Strict type checking possible.
No checks for runtime.
It doesn't give us the provision of having a namespace.
It also doesn't have the concept of the constructor as well as a destructor.
Recommended Articles
This has been a guide to Introduction to C. Here we have discussed the introduction to C, characteristics, components, application, advantages, and disadvantages of C. You may also look at the following articles to learn more –